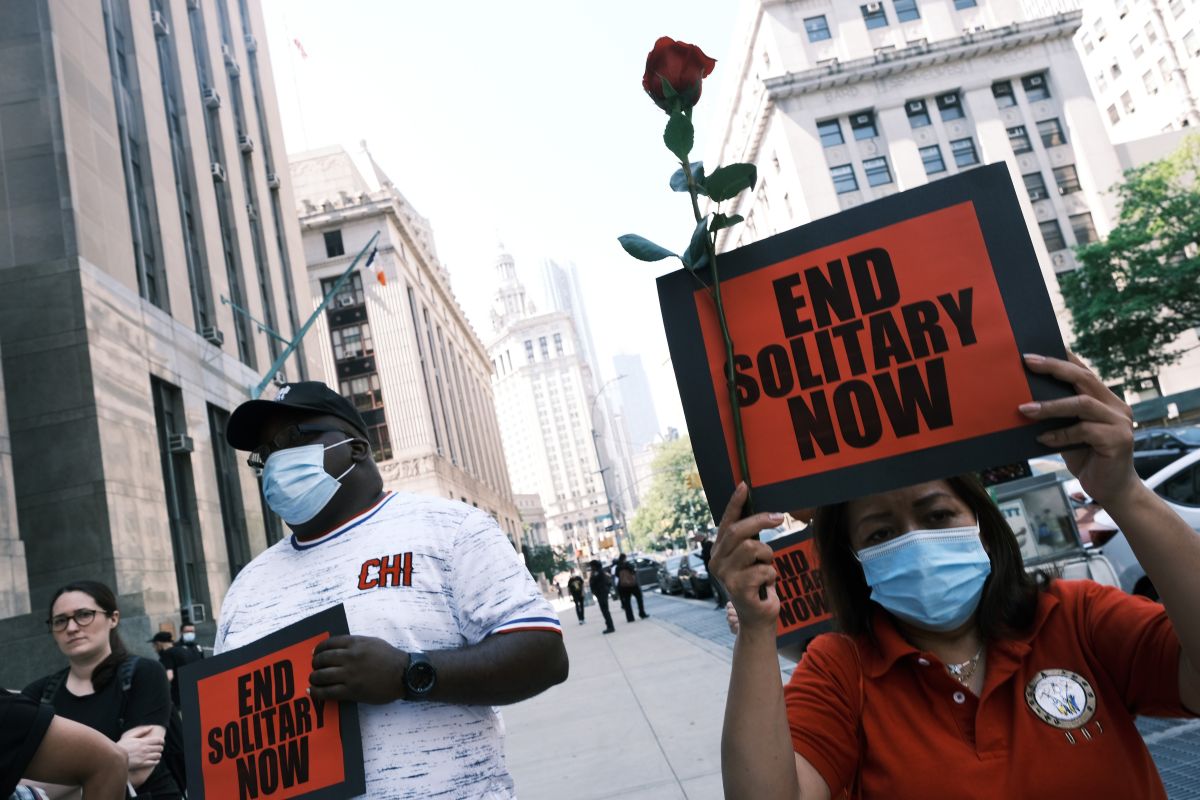 The New York City announced Tuesday that it will eliminate solitary confinement from its prison system next fall as part of a correctional system reform that was approved two years after the prison's death in isolation. transsexual woman Layleen Polanco, whose case gained high profile.
The Correctional Board, an independent body that oversees the municipal prison system, unanimously approved the elimination of this measure that penalized inmates who had committed violent acts with between 20 and 24 hours a day of isolation, according to a statement.
Mayor Bill de Blasio said the Big Apple has gone "further than any other prison system in the country, and that the new plan" provides a safe and humane environment "for inmates and officials.
The model that replaces this restrictive measure implies a minimum of 10 hours outside the cell in which to socialize with at least one other person; daily check-ups by health and mental health personnel; therapeutic programming and the representation of a lawyer throughout the process, among other things.
The measures will take effect in the fall of 2021, that is, from September, and are the result of "extensive discussions and input" from people with experience of solitary confinement, their families, prison staff, activists, researchers and other experts. local and national.
In that sense, the Board "recognizes that solitary confinement creates significant risks of psychological and physical harm for people in custody," after several high-profile cases such as that of Polanco, a 27-year-old transsexual woman who died in Rikers Island on June 7, 2019.
Polanco, who according to the forensic report died as a result of a seizure of epilepsy, was confined by her jailers despite objections raised by a doctor and the seizures she had recently suffered, according to an internal correctional report.
She had been transferred to Rikers after being charged with misdemeanors and failing to pay a bond of $ 500 dollars.
In October 2019, the Board proposed rules to restrict solitary confinement but the vast majority of people who commented or testified for the proposal assured that they were not enough and called for an immediate end.
The organization 'The Legal Aid Society', a law firm that defends low-income people, argued that the new rules "contradict the promises of reform of a broken and abusive system of punishment and isolation" and alleged that it is a money laundering. face without fundamental changes.
"The regulations do not put a limit on how much an incarcerated person can be sentenced to those cages, since the regulations give permission to the Department (of prisons) to extend a sentence forever, without revealing the secret information that supposedly justifies the deprivation," he said. the NGO in a note.
In 2015, a reform was approved that eliminated this measure for young people between 16 and 21 years old and people with serious mental illnesses and established "strict limits" on its general use, which contributed to an 81% decrease in its application, according to the statement.

eldiariony.com
Eddie is an Australian news reporter with over 9 years in the industry and has published on Forbes and tech crunch.