It was a first day on the job that seemed written in southern stars for Pat Cummins, Australia's newly crowned test captain who claimed a five-wicket cast, watching his opposite number walk away after a nine-ball duck and England's batters left in a state of general bewilderment.
From the initial installment of this pandemic-era Ashes, when Rory Burns showed off the footwork of an early Strictly evader and Mitchell Starc nailed the new Kookaburra ball to his leg stump, it all turned to Australian gold; for England, three for 11 in the blink of an eye and then all for 147 in 50.1 overs, this represented the latest chapter in Gabba's great book of troubles.
Even the storm that arrived just moments after Joe Root's tourists were eliminated prevented a challenging final session with the bat under haunting Queensland skies. Instead, Cummins was the enduring image, holding the ball aloft almost in disbelief at five-for-38 figures from 13.1 overs and the beginning of the procedures he and his new subordinates had done.
With a wave of goodwill in this first trial, the 28-year-old only needs to look at his opposite number to remind him that things don't always work out so well. Root announced the start of his own tenure in 2017 with a heavenly 190 against South Africa at Lord's, but 57 matches later he was left lamenting a nine-ball zero against his own name and England's lowest first inning at the Gabba since his 134 at total. in 1958.
He prompted the Queensland police to tweet that they were investigating a group of people posing as a test batting order at the Gabba; Interviewing all the eyewitnesses can be tricky here, but any charges related to Root's decision to win the lottery and the absence of both Jimmy Anderson and Stuart Broad, for the first time in 37 Ashes Tests, will likely split any jury.
Cummins said he intended to hit first (Tim Paine's successor seems too genuine to play mind games here, even if he also added that it was a "50-50" decision), but then the last four test teams that hit. first in Brisbane they have gone to lose. Nasser Hussain's much-lamented first call in 2002 probably has something to answer for when it comes to English thoughts on the matter, and certainly the much-vaunted Australian attack found the conditions to his liking.
Burns said before the series that he hadn't really thought about facing Ashes' first ball, but it was a moment he will likely remember every four years. The quirky southpaw tends to plant the front foot outward, but, perhaps with a hint of added nerves, this was an exaggerated move that exposed a stump of the leg that was kindly met by Starc's full, rocking delivery.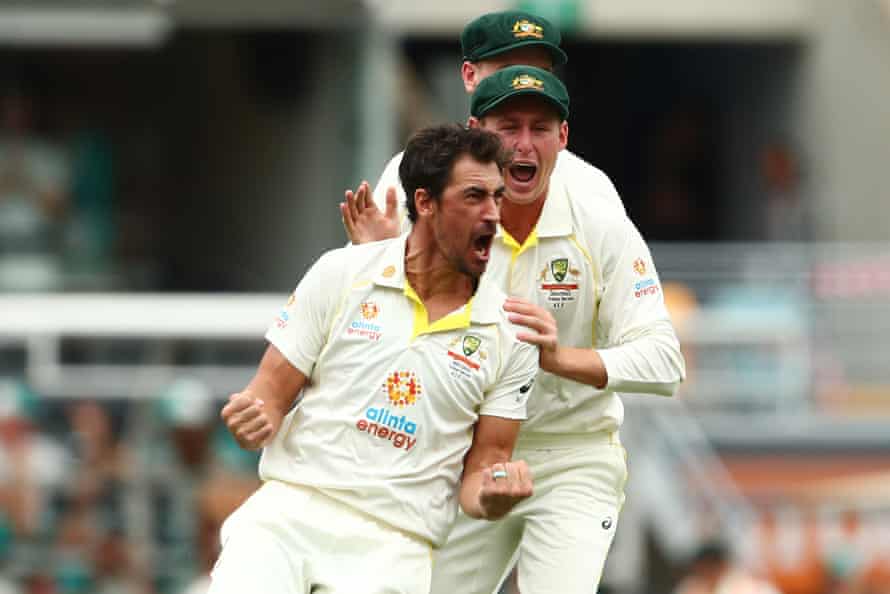 These things happen, though not too often, given that it was the second time a series of Ashes had seen a wicket fall on the first ball after England's Stan Worthington was eliminated by Ernie McCormack in Brisbane in 1936. But what he followed Josh Hazlewood, reducing England to 11-3 for the sixth change, a defining intervention from which recoveries were only fleeting.
Arriving from Stanley Street End, Hazlewood produced a frankly immaculate spell of seven overs, two out of three. Dawid Malan was caught between defense and the exit when rookie Alex Carey bagged a lead from behind, while Root was worked on both sides of the bat before a swinging ball was hit by David Warner. on the first slip. There was a lot of talk about the Cummins-Root encounter before the first test, but with eight layoffs it is Hazlewood who has now had the Yorkshireman number more than anyone else.
Cummins could not be denied his first wicket before lunch, however Ben Stokes' return after a four-month break from cricket – on the first anniversary of his father Ged's passing – ended on the fifth when the captain of Australia went around the wicket. He squared the off-roader and even more bouncing off the green-stained surface saw the bat's shoulder taken for a nosedive catch on the third slide.
The entire time, Haseeb Hameed had been playing solidly on defense, with him and Ollie Pope in a crowded 31st position helping England eat lunch. Although Hameed's poise was a source of slight comfort to watery-eyed fans in the UK, his first over disappearance was a hit after 40 minutes of patience during the break when Cummins was fuller than before and a low hand push forward. offered the cord to another victim.
From the rubble of 60-by-five England staged something of a counterattack, Jos Buttler took little time to surpass Pope as the top inning scorer with a succession of raised or tied units from his playbook as a Twenty20 starter who enjoyed the countryside. in the power play. The cameo may have ended when Starc angled across the bat to introduce Carey to his second catch, but the approach Buttler took seemed encouraging for his tour overall.
So was the fact that hitting briefly seemed easier against Nathan Lyon's spin, in search of his 400 test ground, and once Kookaburra had lost his starting hairspray. As such, when Pope pulled Hazlewood off the thin leg at 35 for the giant Cameron Green's test maiden wicket, it represented something of a gift. Still, over the course of 79 balls, the Surrey man had almost justified a progressive selection ahead of Jonny Bairstow.
However, there remains an alarming problem from four years ago, that of being England's bottom order against the short ball. Cummins, to be fair, was ruthless here, Ollie Robinson backed away as he drove loosely for the third step of the inning, Mark Wood awkwardly caught with the short leg off the bat handle, and Chris Woakes, the last man at 21 down a near-lane. carbon. copy of Pope's earlier disappearance.
But a series that came to life with a Cummins opening day and outings at the Gabba will only go one way if England's tail is once again unable to find a solution.

www.theguardian.com
George is Digismak's reported cum editor with 13 years of experience in Journalism