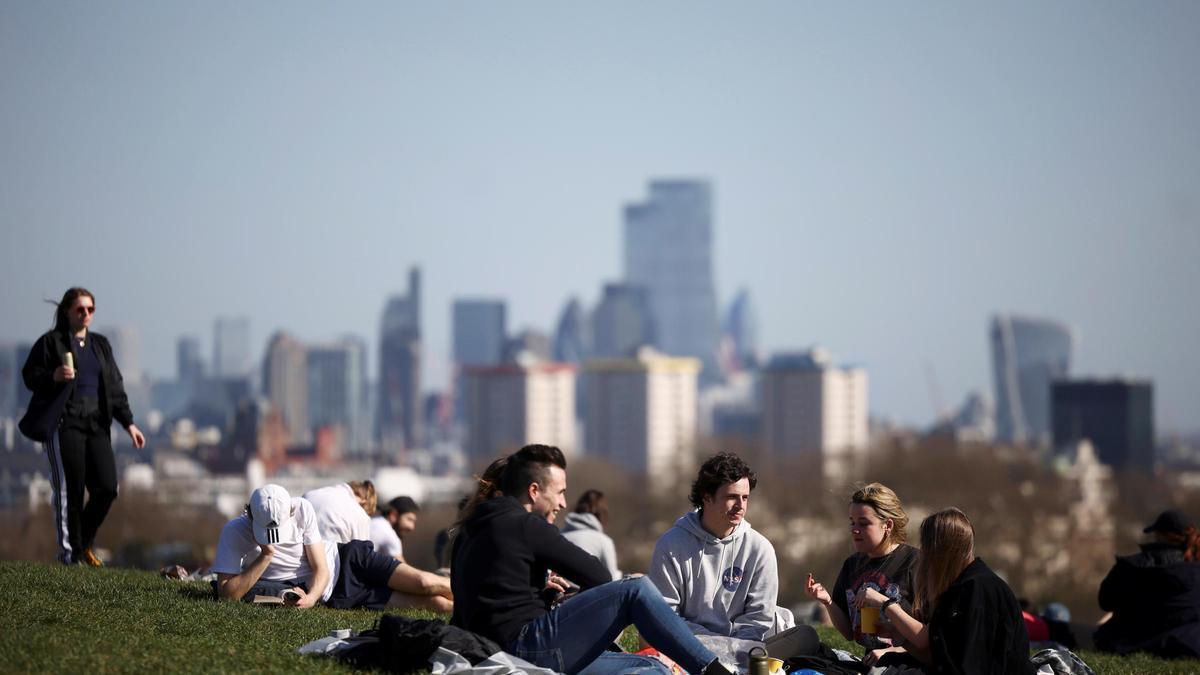 England begins this Monday to relax its strict restrictions to contain the pandemic, giving the green light to outdoor social gatherings of up to six people and outdoor sports.
These are the first steps to return to "human interaction", as pointed out by some citizens, exhausted by the confinement imposed since the beginning of the year. This is one more small step in the calculated de-escalation actions detailed by the British Government in its quest to lift the country out of the pandemic, which they started with the schools reopening, on March 8.
From this Monday, citizens will be allowed to meet again in the street –indoor meetings are not yet authorized– either between two different households or up to a maximum of six individuals, even in private gardens. The Executive also approves the reopening of sports facilities abroad, such as tennis courts or golf courses, as well as the celebration of weddings, although the number of guests is limited to six.
Johnson has urged the "Caution" in the face of the alarming increase in cases that are observed in continental Europe and in the face of the threat of new variants of the virus. If some EU countries shield themselves from the arrival of a fourth wave, the United Kingdom as a whole registered barely 23 deaths due to covid-19 in the last 24 hours, bringing the total to 126,615; and 4,654 new infections were reported. "Despite today's softening, everyone has to continue to abide by the rules (…) and go to get vaccinated when called," stressed the prime minister.
Since the beginning of 2021, England has been subject to a harsh confinement in which non-essential products stores continue to be closed, as well as hair salons, gyms, pubs or restaurants, except those that offer take away meals. The order to stay at home has been withdrawn although citizens are urged to move "locally" and the Executive continues to recommend working from home whenever possible. Everything under a new slogan: "Hands, face, distance and open air".
Joy and restlessness
The British Penelope, 70, and her friend Sylvia, 82, met this Monday in central Hyde Park, where they took advantage of the good weather to chat, each sitting at one end of a bench, maintaining a prudent social distance. Both expressed to Efe their joy to power, again, making social plans in the open air, without hiding at the same time a certain restlessness before the possibility that the situation worsens.
"I am very happy to be able to meet again in the gardens and to be able to be sitting here with up to six friends. I am happy but I am worried that it may be too soon," says Penelope, who has already made reservations to be able to resume lunches with her friends how much he has missed during confinement.
believes that the Government "should be very cautious about the R number, which goes back up to 1", while her friend, Sylvia, 82, fears that now that the rules are relaxed "people do too many things and there will be a rebound (of cases)". Excuse the Executive and remember that "they do what they can: they have realized that they have made a mistake but they do what is best for us and it is up to the citizens to comply with the rules."
More critical is Alistair, a 20-year-old student from the north of England, who, although he thinks that (loosening restrictions) "is the right move, backed by scientific evidence", lashes out against a government that he calls a "disaster". "Boris (Johnson) surrounds himself with idiots and he looks like an idiot himself, although it really is not known what happens behind closed doors, "reflects this young man, who has" missed human interaction, seeing people (…), "he tells Efe.
Beside him, the 21-year-old French student Louise is overflowing with optimism and calls the de-escalation "great". "Everyone's mental health has suffered and knowing that I can see my friends again and go for a walk, talk, makes me feel very optimistic," says this young woman.
The next thing in the official 'roadmap' of the deconfinement is planned for April 12. It will be the time for the long-awaited reopening of terraces of pubs and restaurants as well as non-essential shops, such as hairdressers.

www.informacion.es
Eddie is an Australian news reporter with over 9 years in the industry and has published on Forbes and tech crunch.