It was almost complete, it was almost as sweet. But, lest we forget, it was still sweet anyway.
Italy, not England, are the European champions after a grueling, grueling and occasionally wild Euro 2020 final was decided with the final kick of a penalty shoot-out.
For Gareth Southgate and his young team, the defeat came in the most cruel and operatic way at Wembley, as England's shot at a first tournament victory in 55 years was decided on another one of those brutal movie books by joy and despair.
He is an England coach whose public identity has been defined for much of the last quarter century by his failure on the same field on a Eurocup shootout. As the final stretched into overtime, Southgate watched from his touchline, dragging his substitutes, trying to slow down this train. There were scares, painful collisions, tired attempts to open the game. But of course he was heading this way, a twist out of the silliest scripts in football.
There were tears in the crowd as the three England players were lost on penalties, Bukayo Saka, Jadon Sancho and Marcus Rashford, aged 19, 21 and 23. The Italian players collapsed onto the pitch in spasms of joy after Gianluigi Donnaruma's decisive save. From Saka, as the white shirts collapsed into a frieze of sadness, there was a sense of vertigo around Wembley, but underneath also the sound of something else.
Italy is a deserved champion, a good team that played exciting football, especially for coming back from England's opening goal here. England also produced moments of clarity, and they were bold and fearless in their first men's tournament final since 1966, the Queen's white gloves, Empire Stadium and all that.
There will be pain in defeat. But that sound at the end was a soft hiss of applause. Over the years, moments like these have been met with a reflex waste of guilt, pain, recrimination, tears, and thrown plastic chairs.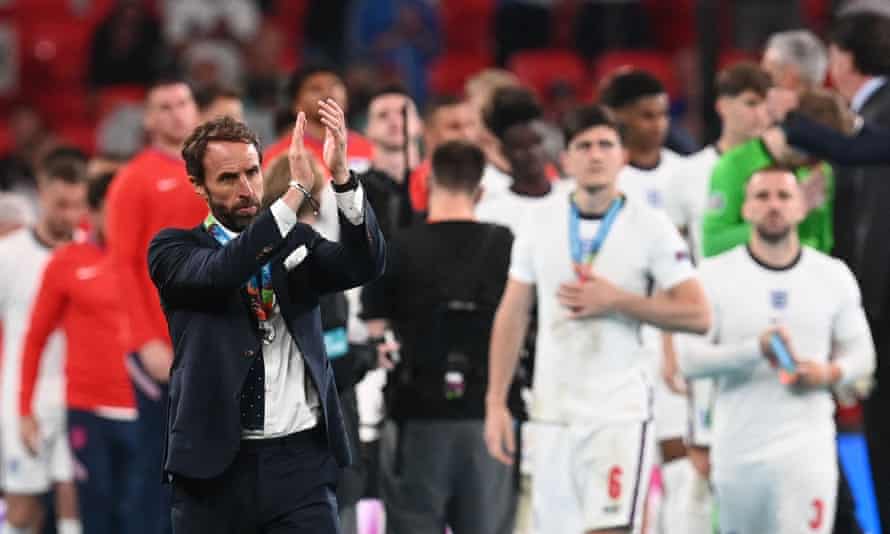 But this was something else. For the past four weeks, and beyond that, back to the sun-kissed pantomime of Russia 2018, Southgate's excellent and personable young team has been a tonic, their clarity, decency and willingness to speak through football. it's uplifting at a time of dissonance and weak leadership elsewhere. At times, Southgate has seemed like the last sensible person left. This iteration of England may or may not continue with more glories from here. But when something is good it never disappears, and this good group of young footballers left a mark here that will not be lost. After a year and a half of fear and isolation, football, for the last few weeks, has been a reminder that there are other things too, that there is also hope and warmth to find, other stories to write.
England's seventh game of this tournament was a wonderfully fulfilling occasion. As the crowd flowed through Wembley, there were reports of hurried gates and hurdles jumped, ticketless fans looking for a spot at the table. Was it ever going to be something else? Soccer can seem irrepressible at times like these.
Wembley was a beautiful sight, the grass was deep lime green, the huge open bleachers pulsing with bodies, flags, banners, people blinking in lights, as if struggling to believe in this waking dream.
There was a pause before kickoff as players from both sides knelt in the final of the world's third-largest televised sporting event, a whole moment for that pre-match ritual. Taking the knee is a nudge. It is a note of sympathy. It costs nothing. It does not have a strict political scheme, unless tolerance and anti-racism seem like new and surprising concepts. But billions of people saw this finale. The warm waves of that gesture will be felt in unexpected places.
The hymns had already played in a hysterical tone, the cameras lingered on Giorgio Chiellini's wonderfully soft and brutal eyebrows as the poster boy from Italy sang Il Canto degli Italiani. We are ready to die, insists the final refrain. But what Italy wasn't ready for was Luke Shaw.
There was something glorious about the fact that England's first goal in two minutes was scored by one winger and two by another. When Southgate chose his squad, there was an idea that he would be fooled by his own winger fetish, that this was an excessive and far-fetched precaution. Well, three of those wingers scored a goal in the final. Kyle Walker's run created space and time for Kieran Trippier to measure a perfect pass to the back post, diving into a perfect parabola on Shaw's stride. The volley to the corner was perfectly executed.
As the ball spun in the back of the net, Shaw jumped up and waved one arm a little vaguely. From that moment on, the last two England players to score in a final were Geoff Hurst and Luke Shaw, two minutes into the game and 55 years apart on this same field.
England came to halftime still ahead, but paddling for the end. And when the second half passed its midpoint, they began to fade. Or rather, Italy started to play. And they are a wonderful team, strong in all areas, trained in great detail.
Southgate frowned at his sideline, occasionally muttering to his assistant Steve Holland, but still cool, still with the air of a junior cavalry officer on his way to a country wedding. At 1-1, England held on until the end. Full time came and went, with England now looking like a young team, stretched by pressure from Italy in midfield, their ability to control the pace. Harry Maguire showed defensive leadership when necessary, patrolling that battered bottom line like a police horse herding an irritated crowd. Then came that final big twist, and a loss that felt as bad as defeat feels, but not like the end.

www.theguardian.com
George is Digismak's reported cum editor with 13 years of experience in Journalism