92nd over: New Zealand 279-6 (Blundell 58, Bracewell 0) Bracewell has shown some batting chops this series, but the ball is doing more for Leach than at any time previously in the series … and what on earth?! Again, there's decent turn, again there's an edge, and again Root, at slip is beaten on his inside, to his left. Will he move finer? Surely he'll have to now. A single follows, but you can sense a change in the atmosphere at Headingley – England, and the crowd, sense opportunity.
91st over: New Zealand 274-6 (Blundell 53, Bracewell 0) Credit too to Richard Kettleborough, who wasn't put off by a verdict of out being overturned just for balls earlier. Can England dig into the tail now?
Well bowled Matty Potts and well done Ben Stokes, who brought his man back at Stuart Broad's end, an act of quite tremendous bravery.
This looked out, but I've said that thrice today.
WICKET! Mitchell lbw b Potts 56 (New Zealand 274-6)
This is another colossal shout! Mitchell moves a long way across to turn to leg, bat gets stuck behind pad, ball strikes pad, finger goes up!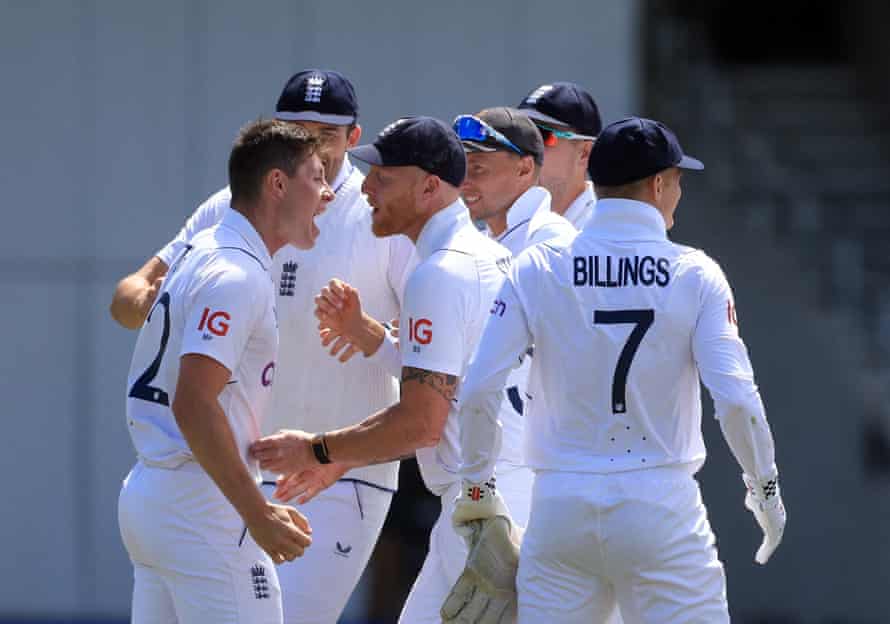 91st over: New Zealand 274-5 (Mitchell 56, Blundell 53) I said at the start of play that the chaotic margins of elite sport have been with England in this series, but perhaps that momentum has altered here. BUT ALLOW ME TO INTERRUPT MYSELF! HAVE A LOOK! After a single to Blundell, Potts contacts pad again!
What on earth! Somehow, that was whizzing past leg peg!
This looked very out on first view…
WICKET! Blundell lbw b Potts 52 (New Zealand 273-6)
Potts comes to the party! Straight, full, into the pad and gone!
90th over: New Zealand 273-5 (Mitchell 56, Blundell 52) Blundell milks a single to cover, then Mitchell gets down to haul Leach from outside off to the fence at deep square; the runs are coming more freely now, and if England can't find a breakthrough soon, they could be looking straight at one of these.
89th over: New Zealand 268-5 (Mitchell 52, Blundell 51) Broad, who's been full today, slants one across Mitchell, he edges … and this time the ball drops short of Root and skips away for four, laughing at him. That raises the hundred partnership, the fourth of the series compiled by these two legends, an absolutely rrrrridiculous effort, and they add four more when Mitchell moves bat from cross to straight, running through third man. That's fifty for him too, and this is great stuff.
88th over: New Zealand 260-5 (Mitchell 44, Blundell 51) Leach into the attack, bowling to a slip on either side … and his fourth delivery is edged by Blundell, who gets forward, presses, and watches the ball skid across his bat … before whizzing away inside Root! Perhaps he was a little wide, but he's trying to cover an area, so probably wasn't at fault; they run two, raising Blundell's fifty. A dot follows, then Leach turns one sharply – it's doing plenty now! – and Blundell bails on a pull accordingly.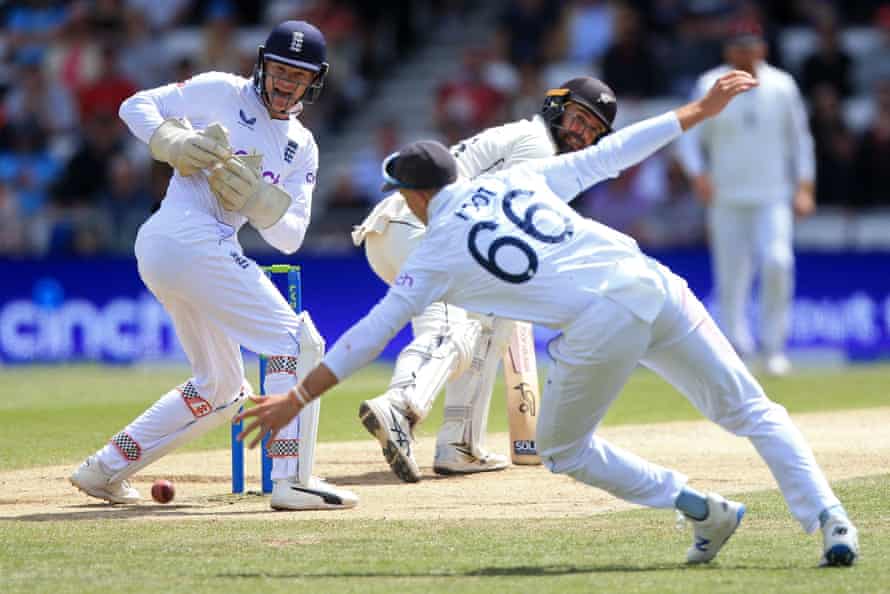 87th over: New Zealand 258-5 (Mitchell 44, Blundell 49) Blundell forces Broad to off and skips through for one, as we learn that entry tomorrow is free – what a heartwarming development this is, that I hope becomes tradition. Broad, meanwhile, is still toiling through today and the final delivery of the over grips a little, whooshing past Mitchell's edge. Who you just know will put it out of his mind and keep doing what he's doing.
86th over: New Zealand 257-5 (Mitchell 44, Blundell 48) Blundell pushes towards cover for a single, and they're ro-tating the strike nicely here, better than they did this morning. The next five balls are dots, and these two have settled immediately – not something you see that often when tow set batters return after a break.
"As well as these two have batted," the quality of England's bowling this morning means they're nowhere near out of sight and a chase of 300 odd is eminently doable. (PS the real reason I'm sending this is whoever I send a message to OBO on some arcane subject during a lull in play, a wicket falls so standby).
I'm not sure we can call England's bowling an arcane subject – England's batting maybe – but for the purposes of blathering in a wicket, it'll suffice.
85th over: New Zealand 256-5 (Mitchell 44, Blundell 47) Have a look! Broad goes full, Blundell goes forward and tries to drive … inside-edging before, in a panic, having to turn and move trickling ball away from stationary stumps. I'm not sure he actually gets a touch on it, but he's still out there so that'll do; he then shoves a single towards mid off and takes the single, before Mitchell again defends positively. They are so equilibrious.
84th over: New Zealand 255-5 (Mitchell 44, Blundell 46) Here comes Potts again, and after two loose deliveries, one leg side and one wide of off, he finds his usual groove … but so does Blundell, who defends positively coming forward, then turns one to deep sqaure.
83rd over: New Zealand 254-5 (Mitchell 44, Blundell 45) England huddle, discussing McCartney's show last night I imagine. On which point, James Anderson, not yet 80 but currently sat on 651 Test wickets, wants 700 but would take 652. How England could do with him this afternoon. But they'll have to make do with Broad who, bowling to three slips, immediately pulls Mitchell forward to defend – five dots follow to complete a, maiden, and though England couldn't convert dry bowling into wickets this morning, they'll fancy themselves harder with the new ball. The lead, by the way, is 223, and it's worth noting that four of the five highest run-chases in England have come at Headingley – though it's worth noting that they've required the performances of a lifetime from Stokes, Butcher and others.
Right, here we go again. Settle in, mates!
I wonder if we might see the match take a big step forward this afternoon. If New Zealand win the session as conclusively as they did this morning, by the end of they'll be close to out of sight – though if one of Baz's batters picks up the Gray-Nicolls of Omes, sight beyond sight is always a possibility.
Lunchtime email: "Good grief. This is actually a wee bit mad," says Robert Wilson. "Mitchell is gaining full death and taxes status here in terms of inevitability and ubiquity. How big is he seeing it in this series? A bin-lorry, a mid-ocean fishing trawler or a 1990s provincial sports centre? I think there's clearly been some kind of Faustian bargain. You know the deal, the old blind beggar at the forest crossroads grants you reverse swing or a doosra but then you have to spend two decades as the cleaner in Darlington's premier swingers' club."
It's absolutely brilliant isn't it – someone totally at one with themselves, in any walk of life, is moving to see, never mind in this thing of ours. I know he's a little bit older, but the way he's taken to Test cricket reminds me a little of Marnus Labuschagne – though perhaps Mike Hussey is a better comparator.
I'm going to step away from my keyboard, but I'll be back presently for what promises to be a crucial first hour of the afternoon sesh.
82nd over: New Zealand 254-5 (Mitchell 44, Blundell 45) What can Matty Potts muster? Mitchell squirts his loosener into the on side for one, then blocks one that keeps a little low outside off. This is like a trailer for the what we'll see after the interval, and it features an alluring performance from Tom Blundell, who cracks a yorker through midwicket for four. The partnership is 93, 86 of those runs scored this morning, and the lead as they head off for fress is 223.
81st over: New Zealand 249-5 (Mitchell 43, Blundell 41) Here comes Stuart Broad, three slips waiting expectantly, and as the ball bounces and jags in, it's worth noting how good the pitches have been in this series – in a cricketing sense, as in good for batting, but in an absolute sense too, in terms of their quality. Broad's into this right away, moving one past Blundell's inside edge then rapping the pad! There's an appeal, of course there is, but it looked outside the line and a replay shows an edge too. Maiden, but Broad isn't entirely happy, concerned about a patch right before where he wants his delivery stride to be. This is intense; can they bump lunch please?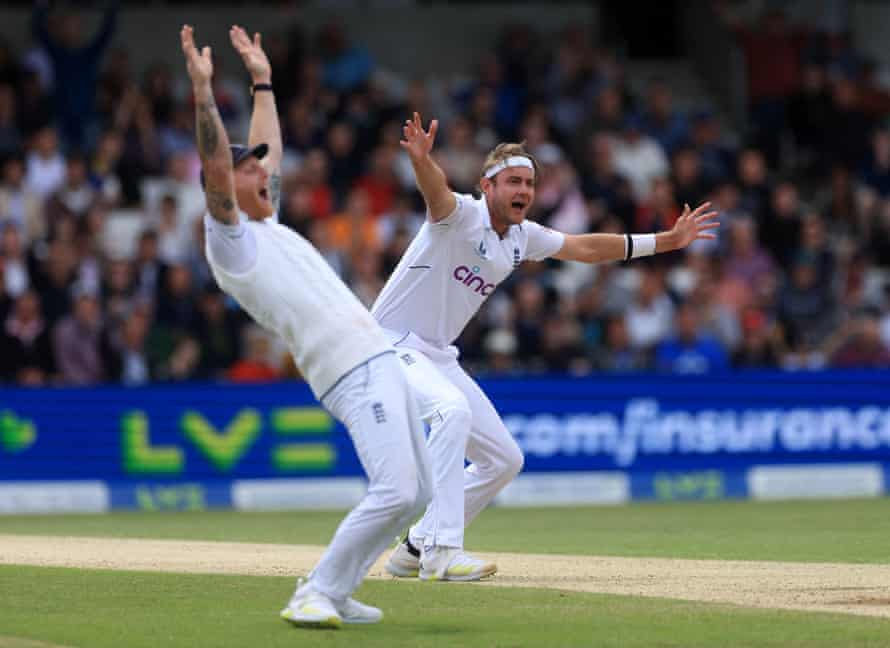 80th over: New Zealand 249-5 (Mitchell 43, Blundell 41) I presume this'll be the final over with the old rambutan because England will get to have a dart with it both before and after lunch. In the meantime, that's another maiden to Leach and indeed England make the change immediately.
79th over: New Zealand 249-5 (Mitchell 43, Blundell 41) Ah yes, I was wondering if Stokes might allow a short leg as well as a slip and leg slip – Leach is bowling a tight line. Root has all three, and Blundell turns his final delivery to midwicket; Overton barrels after it and saves two with a painful-looking dive.
"Of course Jos Buttler watches the ball," returns Tim Sanders. "It's about the incredibly fine margins of how long a batter can keep still and wait, and still have time to decide and play the shot. Jonny did lose his way in Tests for a while, and of course Jos could come back. Here's the late Ted Dexter explaining the art, better than I ever could."
Sure – I'm just saying that I don't think it's beyond Buttler, who's been let down by the carnage around him. How often has he been able to do what he's there to do?
78th over: New Zealand 247-5 (Mitchell 43, Blundell 39) This is another good over from Leach, testing Mitchell with a tight line. I'd written more about it, but somehow it all vanished from my CMS, so you'll have to forgive me and make do with me reporting a maiden.
"I email you after three days being a nurse at Headingley for this Test," says Sam Charlton. "Tired is not the word. I have to say that I've enjoyed being here probably more than the ashes of 2019. I just love it when NZ come to town, it's always a thrilling contest played in the spirit of cricket, solid sportsmanship and no posing. Here's to a similar event next week."
Great to hear and thanks for your efforts.
77th over: New Zealand 247-5 (Mitchell 43, Blundell 39) Better from Root, three dots, then Mitchell looks to turn off the hip when he might've left and the ball goes just over Pope at short leg; they run one. Then Mitchell comes down, can't decide what shot to play, and checks a drive that drops just short of mid on!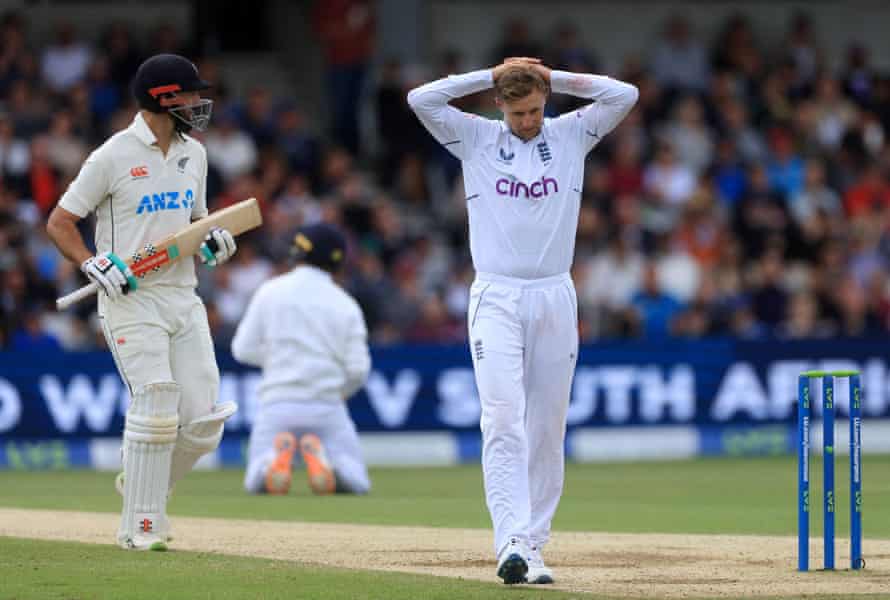 76th over: New Zealand 246-5 (Mitchell 42, Blundell 39) I wonder if England will keep Leach on when they take the new ball – i'd not be averse to seeing what he can do with the extra bounce. This latest over yields just one run, Mitchell nudging into the on side.
75th over: New Zealand 245-5 (Mitchell 41, Blundell 39) Root opens his second over with a dot but then Mitchell asserts his authority, twinkling down to hammer over long on for four, then easing back and clattering a wide one to the cover fence. That picking of length tells us plenty about why yerman has been so successful in this series, and he adds one more into the onside, having overtaken his mate in the scoring stakes. Root's two overs today have yielded 19.
74th over: New Zealand 236-5 (Mitchell 32, Blundell 39) Two singles come from this latest Leach over, the partnership now at 67. These two have batted with such composure this morning.
"You say Buttler at 7 can't work because that would leave keeper at 8 and 'only 3 bowlers'… " says Ewan Glenton. "Well, I was once at the Adelaide Oval (ODI, Jan 1980) and the West Indies lined up v England with an all-rounder (Collis King) down to bat at 6 (he actually went in at 5 because Lawrence Rowe was unfit to bat) – surely Stokes is at least as handy a bowler – and precisely 3 specialist bowlers. That worked fine, Windies thrashed England by 107 runs. Just by way of detail, the three bowlers names were Andy Roberts, Michael Holding & Joel Garner (Croft was deemed surplus that day). No spinner, only Viv Richards (who was surely no better than Root with the ball(?). So it can be a successful formula."
I didn't say it couldn't work, but I don't think this side is good enough to wear it on a regular precisely because they don't have bowlers like Roberts, Holding and Garner, or batters like Richards, Lloyd, Greenidge and Haynes.
73rd over: New Zealand 234-5 (Mitchell 31, Blundell 38) Yup, Overton is despatched to hang about and, with just eight overs until the new igneous, Joe Root will have a twirl. So Mitchell gets down, reverse his first delivery for four, then chases a wide one, shuffles on his knees when it's even wider than he thought, and when slips moves over to block the intended shot, he somehow drags it finer for four more. That's excellent, inventive, improvisational batting, a two to square leg comes next, and that's 10 off the over; the lead is 203, and England need something here.
72nd over: New Zealand 224-5 (Mitchell 21, Blundell 38) "Oh that's so close!" chirps Billings, when Mitchell sweeps a single towards fine leg. I guess he'd have been out had he missed it, but he didn't, so. Two more singles, then three dots complete another riveting Leach over, not words I necessarily expected to type when I stretched and flexed my fingers this morning.
71st over: New Zealand 221-5 (Mitchell 19, Blundell 37) This hasn't been Overton's best spell. Blundell gets on top of a bouncer to earn one towards point, then another bouncer is called wide for height. Mitchell then takes a further single to cover, before Blundell bottom-edges a pull to finest leg for four. Expensive over, and I daresay Overton is off for a graze now.
"Have you ANY idea what Jaffa, or more accurately JAFA, means in New Zealand?" asks Bill Bennett. Er, none whatsoever. "It's what country people say: 'Just Another F***ing Aucklander'."
That's great to know – the OBO is always grateful to expand its vitriol.
70th over: New Zealand 214-5 (Mitchell 18, Blundell 32) Blundell takes a risk moving back to one which keeps low and hurries on; he jams the bat down in the nick of time. For more dots follow, then a single to backward point ends the over.
"Although Jos Buttler is an amazing cricketer," emails Tim Sanders, "I disagree with you and Steve Hudson. The important point that Mark Ramprakash made in his article was about the level of premeditation in limited overs batting generally, and Buttler's in particular. Contrast that with Jonny Bairstow's comments when interviewed on Friday, about watching the ball and responding in the moment. That's what makes the difference against the moving ball."
Perhaps – I don't think watching the ball is beyond him, and it's taken Bairstow plenty of time to find what we've seen from him lately. I'd think about giving Buttler a go when one of 4-6 weren't available or needed dropping, but otherwise I don't now where you fit him on.
69th over: New Zealand 213-5 (Mitchell 18, Blundell 31) Blundell takes one to fine leg then Mitchell does likewise to extra, giving him his 5ooth run of the series; great stuff. So Overton bangs one in and Blundell's eyes light up – he absolutely cleanses a pull to deep square that Bairstow's dive can't yank back. Four to the total, the fifty partnership, and Bairstow runs off for what we can probably assume are minor repairs; a bumper follows and Blundell pulls for a single. The lead is 182.
68th over: New Zealand 206-5 (Mitchell 17, Blundell 25) That's another maiden, and Leach is building pressure now!
That's a great review from Mitchell, though who knows if he knew that was just too high. But it was, the big stride saving him.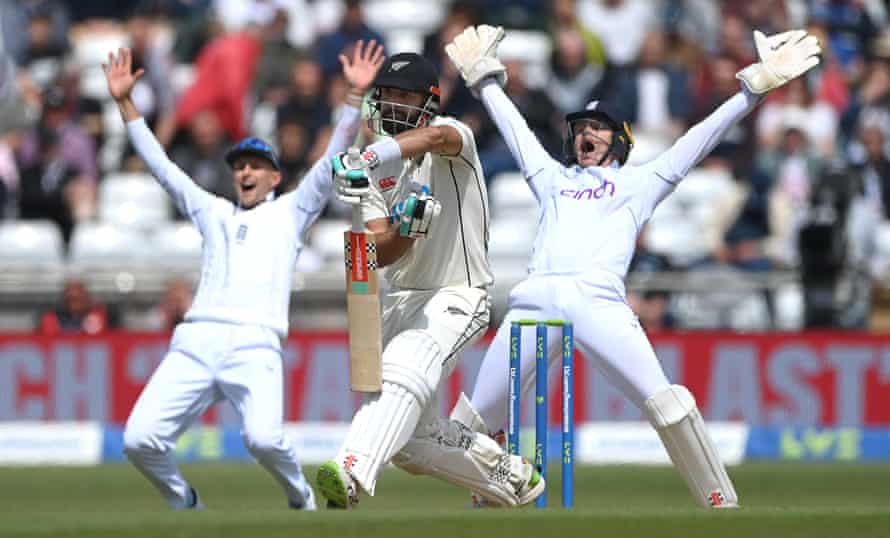 It looked good to me…



www.theguardian.com
George is Digismak's reported cum editor with 13 years of experience in Journalism