KAsper Hjulmand, Denmark's impressive head coach, said he would need a few days to process the penalty decision that ended his country's participation in Euro 2020. For England fans, and a radical generalization is probably legitimate in in this case, a nanosecond was sufficient.
Reactions to the decisive pitch won by Raheem Sterling in Wednesday's European Championship semi-final split along predictable lines, with the mainland media already aggrieved by a match schedule that weighed heavily in England's favor, seizing an opportunity. gold to criticize English hypocrisy. regarding the ability to play and the Corinthian spirit.
"They always say how bad it is when a foreign player tries to trick the referee with a dive," reads an editorial from Marca in Spain. "In pure English football, this does not happen. Apart from, of course, in a semi-final of the European Championship. It would be good if English football stopped giving talks to the rest of the continent about diving ". L'Équipe was more restrained in France, describing the overtime fall as "a questionable penalty, no less generous", while Gazzetta dello Sport in Italy prepared for Sunday's final with a suggestion that UEFA was " returning a favor "to Boris. Johnson for his opposition to the European Super League. "It is a pity that they receive this little help," he added, "because they do not need it." Former German midfielder Dietmar Hamann intervened: "They won with a penalty that was a blatant dunk. England always prides itself on being the home of fair play and not diving. "
Opinion was divided in the BBC studies, where Sterling's poor argument that Joakim Mæhle "touched my leg for what was a penalty" was backed by Jermaine Jenas and disputed by Alan Shearer.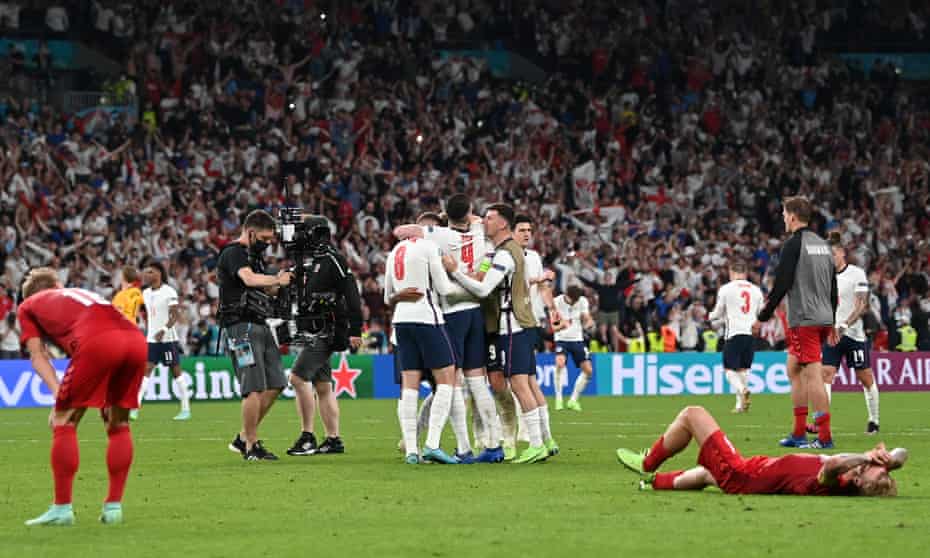 However, there was a common consensus among former referees, players and coaches past and present that this had been another bad night for VAR. They have been few and far between in this tournament, to be fair, with its moderate use and the speed of it reinforcing how poorly it has been used in the Premier League. But as Pol van Boekel did not advise Dutch referee Danny Makkelie to even review his crucial decision on the field monitor, the value of the VAR was once again undermined.
"No penalty," said Arsène Wenger, FIFA director of world football development, on beIN Sports. "I don't understand why they don't ask the referee to take a look at it. At such a time, it is important that the referee is absolutely convinced that it was a penalty. It wasn't clear enough to say 'Yes it is', and I should have at least looked at it on screen.
"I don't know why the VAR didn't ask him to go. For me, it was not a shame. I think the VAR has let the referee down, not Denmark. Denmark is a bit unfortunate. I understand that it is difficult for the referee, but he must take a look at it ".
José Mourinho agreed on TalkSport: "England were very, very good and without a doubt they deserved to win that game, but for me it is never a penalty. I think that at this level, especially at this level, the semifinal of one Euros, I do not understand the referee's decision and I do not understand even more why the VAR did not get the referee to go to the screen or overturn. the decision. As a footballer, I am very happy that England won and I think they deserved to win, don't get me wrong, but as a footballer, I am disappointed that that penalty was taken.
Former Swedish referee Jonas Eriksson, who led Euro 2012 and 2016, said it was "too cheap a penalty for a Euro semi-final. I'm mostly surprised and upset that the VAR doesn't tell the referee. This decides which team passes. "
Sterling has been supported by former Republic of Ireland striker Kevin Doyle who, adopting Sir Alex Ferguson's former Cristiano Ronaldo defender, insisted that it was impossible for the Manchester City winger to stay upright after a touch from Mæhle followed by another. by substitute Mathias Jensen. . Doyle tweeted: "Sterling's right knee is cut off followed by a hip barge from the other side… how is that 'no touch' thing? You try to stand up while running with a ball and that happens. "
Hjulmand was also outraged that Makkelie conceded the penalty when there were two balls on the field. The Dutch referee was either unable to detect the other ball, which Sterling ran past on its way into the box, or decided that it was not interfering with play. "You can't pass the ball on the court, which has so much influence on the game," said the head coach.
Marco Verratti, the Italian midfielder, is also in the field of "generous penalties" and admitted: "If it had been the referee he probably wouldn't have given it, but the referee is there to do his job. Regarding Sterling, every year he is showing that he is a great striker and is having a great tournament with England ". On that point, at least, there is no debate.



www.theguardian.com
George is Digismak's reported cum editor with 13 years of experience in Journalism