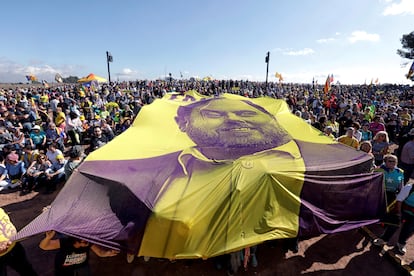 Great politics flies over ideological or administrative issues. Great politics is an artistic genre, closely related to literary creation. A distinguished practitioner of this art was Charles de Gaulle, the military man who invented contemporary France.
France had suffered a humiliating defeat to Nazi Germany and had been occupied for most of the war: from June 1940 to December 1944. Allied bombardments devastated the country. In fact, the French infrastructures were in 1945 almost as destroyed as the German ones. How to raise a ruined and shamed country? It was necessary to invent a beautiful fiction. And de Gaulle did.
As head of the provisional government and former leader of Free France in exile, Charles de Gaulle, who could not stand neither Churchill, nor Stalin nor Roosevelt, managed to sneak in among the victors. That France was officially considered a victorious power, creator of the UN along with the United States, the United Kingdom, the Soviet Union and China, with a fixed seat on the security council and with a presence at any international conference, was much easier than convincing the French that, in effect, they had gained something.
De Gaulle convinced them. He magnified the role of the inner Resistance, heroic but actually very modest, and instilled in his fellow citizens the conviction that France had not just lived through its most miserable years, but rather a glorious feat. Great politics. That fiction was dismantled over time: reality ends up imposing itself. In any case, it served for decades.
Jordi Pujol read with relish the books of Charles de Gaulle and also read the Catholic and conservative authors (Barrés, Péguy, Maritain, Mounier) who had influenced the general. In the final years of the Franco regime, Pujol, who like de Gaulle had the legitimacy of the resistant after suffering torture and jail, began to do great politics.
Pujol became the great reconstructor of a country, Catalonia, that was not destroyed. He worked hard to disseminate this initial idea: although it did not seem like it, Catalonia was indeed destroyed. Culturally destroyed by immigration from the rest of Spain and, earlier, by defeat in the civil war. It was evident that the Catalan bourgeoisie, and a good part of the population in general, were among the Francoist victors in 1939. I do not care. Pujol's achievement was formidable.
Among the human symbols of his success, Primitivo Forastero, a former legionary and fighter in the Blue Division, Falangist, friend of the general and minister Camilo Alonso Vega (called "Camulo" by his own comrades in arms) and mayor of the Tarragona town of Camarles stood out. . From one day to the next, Forastero took off his belt and took out his Convergència card. From one day to the next, like so many, a Francoist became a long-suffering Catalan resistance.
Pujolista fiction has lasted until today. Perhaps because, unlike Gaullist France, Catalonia has not had to face the real world.
I think that the pardon to the independence leaders would not fix anything. I also think that keeping them in jail doesn't fix anything. Things will stay the same until someone is able to come up with a beautiful alternate tale. I doubt that someone has already been born.
Subscribe here to the weekly Ideas newsletter.

elpais.com
Eddie is an Australian news reporter with over 9 years in the industry and has published on Forbes and tech crunch.