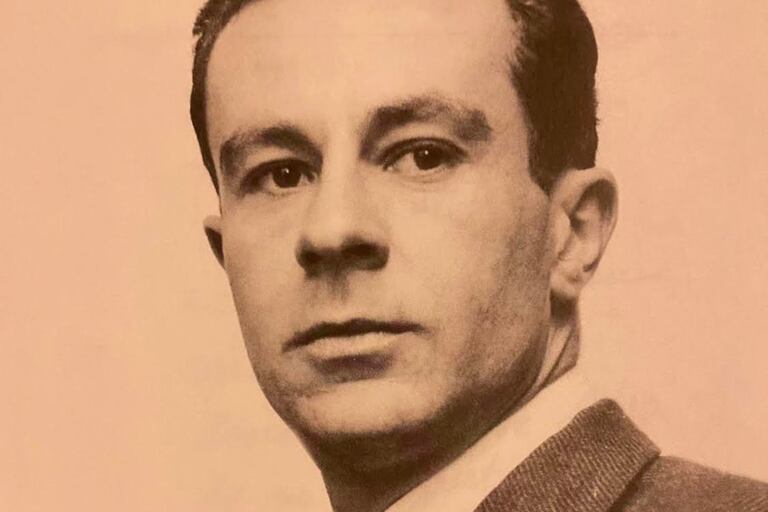 The last coffin in Mexico covered with the Spanish Republican flag has been that of the poet Enrique de Rivas Ibáñez, who was born in Madrid in 1931 and died on Sunday afternoon at 89 years of age. In his head, which learned six languages ​​and created several poetic works and essays, Alzheimer's had been nesting for some time. First the recent memory was spoiled, but from the 1950s towards its birth the memories were intact. The departure from Spain to France, the father imprisoned and with a death sentence that would later be commuted, and the arrival, finally, to the country of promise for thousands of republicans, Mexico, the trip that his uncle, Manuel Azaña, could not make, who died in Montauban in 1940.
The boy was barely 10 years old when he arrived in Mexico with the whole family. Azaña and his wife, Lola Rivas Cherif, had no children and were always very close to her family. Enrique was his nephew, the son of his brother Cipriano Rivas Cherif, a theater director, and Carmen Ibáñez, who was also the poet Enrique de Mesa, whom he adored as a stepfather. Some acquaintances of the now deceased say that part of his love for poetry could come from that remarried grandfather.
The destiny of young Enrique in the Mexican capital was mapped out: first the Madrid school, then the Luis Vives institute, where thousands of exiles were educated. His training was completed at the National Autonomous University of Mexico and Berkley, and he was also rector of Mexico City College, a center for studies in English that was later called the University of the Americas. But the fate of the arts student, what provided him with a livelihood throughout his life was a translator position at FAO, which brought his life to Italy. "He came to Mexico every year for a couple of months and when he found out about the death of his brother, my father, he came here immediately," says one of his nephews, Santiago de Rivas. Enrique never married or had children, but those four orphaned nephews were his wakefulness until they completed their studies. He incorporated them into a program that FAO had to help the orphans of the world war. This was not the case, but Uncle Enrique "before consulting a lawyer, he would read the entire law book and then discuss it with him." He insisted that the FAO program give them shelter and he succeeded. "He signed a document in which he waived that his children, if he ever had them, could benefit from that," recalls Santiago.
In the capital of Mexico, Azana's widow and her brothers and nephews settled, first in a humble apartment that later they changed for a larger one a neighborhood further on. Enrique Rivas participated in the purchase of this, who had it as accommodation every time he returned to Mexico. There he died on Sunday, on Lerma Street in the Cuauhtémoc neighborhood, one of the busiest, commercial and noisy streets. Fernando Serrano Migallón, also a descendant of Republicans in Mexico, remembers Enrique at "the house of dola Lola and her sister Adelaida, both lovely." "He was the age of my brother and both colleagues at Luis Vives," he says. "In recent times he said that he wanted to go live in Spain in a castle that the family had inherited, although there are those who said that such a castle was nothing more than ruins", a good metaphor for the homeland with which many exiles met again on your return.
"My uncle was a man of character. The kindest and most pleasant when it was good and the most extreme when it was bad. There was no diplomacy in his words, he expressed what he thought live. If the food was to his liking, the cook received all the praise, but oh, if something went wrong, he complained and did it seriously, "Santiago recalls by phone from Mexico City. One day, his nephew asked him for advice on making a route through Spain with his wife, and that three-week trip turned Enrique into a tour guide who mixed monuments with family stories: "Your great-grandfather lived here, he said, or he spoke to us. of politics and what happened. He told wonderful anecdotes, very funny stories, "he recalls.
As they said, FAO was his life support, "but his passion was writing. All his life he dedicated himself to promoting the works of Azaña, those of his father, Cipriano Rivas, and his own. He was a cultured man who had fun with culture, "adds Santiago. Among his published works, the childhood memory book When the War ends (Editorial Pre-texts) stands out and all his poetry is compiled under the title On the Threshold of Time (Ediciones Eon).
Enrique did not stop visiting his aunts Lola and Adelaida and his nephews, but he only returned to Mexico four years before he died to settle again in that apartment where yesterday's time was instantly lost in his head while remote memories sprang up: The 40 years waiting for Franco to die, an idea that was inoculated among the children and grandchildren of exile as an unpaid debt, without many of them knowing what that country was that hurt so much at home. One of his nephews spread the Republican flag on his coffin on Monday and the Spanish Athenaeum in Mexico echoed his death. The wake, as dictated by the norms of the pandemic, was only attended by half a dozen people.

elpais.com
Eddie is an Australian news reporter with over 9 years in the industry and has published on Forbes and tech crunch.