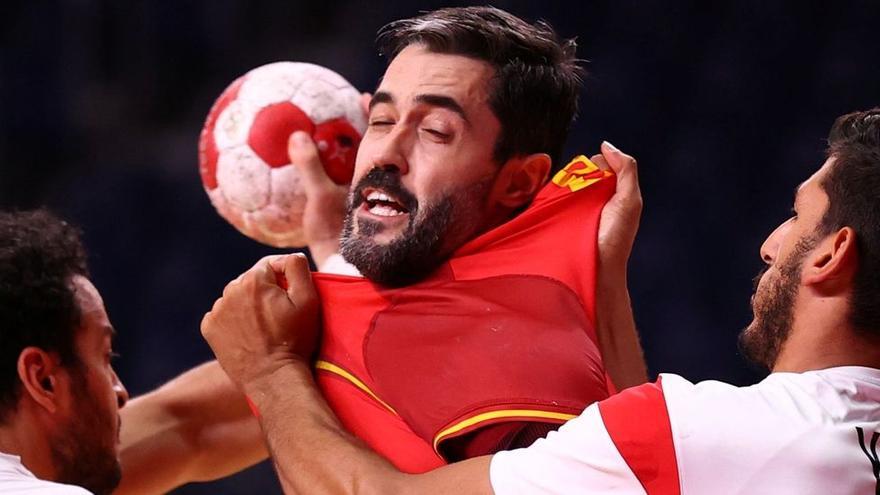 Although he went to Tokyo for the gold medal, the achievement that was missing in his record, Raúl Entrerríos celebrated the bronze with real enthusiasm, as if it were his first big success. In reality, it was the last meeting of a very long career in which the little one from Entrerríos has not only stood out for his sporting brilliance, but has also collected all kinds of accolades for his example and his values. The return trip from Tokyo will serve as a transition to your new task as coordinator of the lower teams of Barcelona and coach of the youth team. The Gijón medalist, all praise and thanks to his teammates, misses a club in Asturias that can serve as a vehicle towards the elite for the young promises.
– Does the euphoria of the end of the game against Egypt still last?
–We are still in a state of happiness, in a cloud, which is difficult to match with another competition or another situation. We are in the Olympic Games and finishing with a bronze medal is something incredible, which will last forever, and for me personally it is a way to close my professional circle in a very special way.
– They did not hide that the objective was the gold. How was the recovery after the blow of losing the semifinal?
–As we have overcome other complicated moments throughout all these years: joining together, getting up and having a drink that is complicated because the possibility of playing an Olympic final, of fighting for a gold, is not easy to achieve and when it escapes you of the hands is a hard blow. There is little time to spare, but from the moment we left the locker room after the semifinal, all the players knew internally that we had to spend that night and that the next day we were going to get to work.
– What is the first thing that comes to mind when you look back and think about your career?
–It has been an inexhaustible source of experiences, of moments, and all of them remain marked in your memory, from the beginning in Gijón to the passage through the different cities and different clubs, the debut with the national team being very young… They are things that happen to you during your career, dreams that come true, but you never think how far they can go. You just try to squeeze them out and work hard so that never stops happening. I feel privileged to be able to close a stage like this, with an Olympic medal.
– When was the first time you realized that you were going to be able to live off handball?
-The moment I left Gijón and signed for Ademar de León, a team that aspired to everything in Spain at that time. I played games in Division of Honor B with Gijón at that time, with my lifelong friends that I had since school, in a more amateur way but at the same time with a lot of involvement from everyone, coaches, managers, colleagues. .. They have always worked hard, at least I have always been lucky to have teams and coaches who have instilled in me that perseverance, that perseverance.
– Did you ever think that you were going to surpass the figures of your brother Alberto, with what he scored in Spanish handball?
–I have been lucky to have my brother as a mirror since I was very young. I have always admired Alberto's way of playing because he has been an honest athlete, generous with his teammates, and that has helped me to learn and appreciate what a team sport means. Everything else was hard to imagine. Much of the path that I have had in the national team I have been able to share with my brother, even the Olympic Games. It is something extraordinary.
–He has been the protagonist of the most successful era of Spanish handball. What do you think have been the keys?
– The operation of this group has always been exemplary. I think we have experienced all kinds of situations, which have given us constant learning about how to compete, how to overcome hard blows, about how to keep our feet on the ground despite winning competitions. That is formed through time and through great people. Since I came to the national team, the team feeling has always been present and in recent years it has pushed us to have a spectacular performance. We can be happy with this Olympic cycle. We have achieved two European championships, a bronze in a World Championship and now this Olympic bronze. I am very happy for the team because each and everyone deserves it, those who are here and those who have participated in other competitions and have not been able to be here due to the circumstances.
–Raúl Entrerríos's dream deprived Antonio Cartón, Egypt's second coach of his.
–Toño and I have known each other since we were very young and we have shared many things in Gijón, in Ademar de León, in the lower category teams… He is a great person. It is a pity that we have reached this point and that only one of us has been able to come out with the medal award. But as I was saying at the end of the game, both him and Roberto García Parrondo, the Egypt coach, who is also a friend, can be very proud of the work they have done because it is not easy at all to reach the semi-finals of the Olympic Games and grow a team as they are doing. They are making Egypt a team to be reckoned with for the future.
– Enter the organization chart of Barcelona at a particularly turbulent time for the club.
–It is clear that the club's situation is difficult because at an economic level the issue of the pandemic has been a very big hit. It's about getting to work, and I appreciate the club's confidence. It will be a significant change because I have been making a career as a player for many years, with many routines, used to doing the same thing year after year. This is going to change, but I will continue to be linked to handball and try to transmit everything I have learned throughout my career to young players.
–Asturias has coaches and players in the elite, but the clubs are in a very low category. What is wrong?
– There is a quarry, there are many people who work at the grassroots level in a spectacular way, players continue to come out despite being a small community and having the resources that we have. Asturian DNA is very well linked to what team sport is and it is something that should be taken advantage of. But it is difficult to consolidate a team in the highest category. I'm talking about the masculine, that in the feminine we do have it with La Calzada Handball. Let's see if private companies can do a little bit to get something that lasts over time and that becomes that place where all those young players have the space to continue growing. I think all of us who have been making a career in handball in other cities miss this.
–They are preparing a tribute match for him in Gijón.
"I can only thank you that this possibility is simply being considered." For me, returning to Gijón has always been very beautiful, when Gijón Jovellanos was in the Asobal League, the Copa del Rey … There is no better way to remember and thank, or to be clear about where one came from, than to go back there and feel it. I would be delighted and, of course, grateful.

www.informacion.es
Eddie is an Australian news reporter with over 9 years in the industry and has published on Forbes and tech crunch.