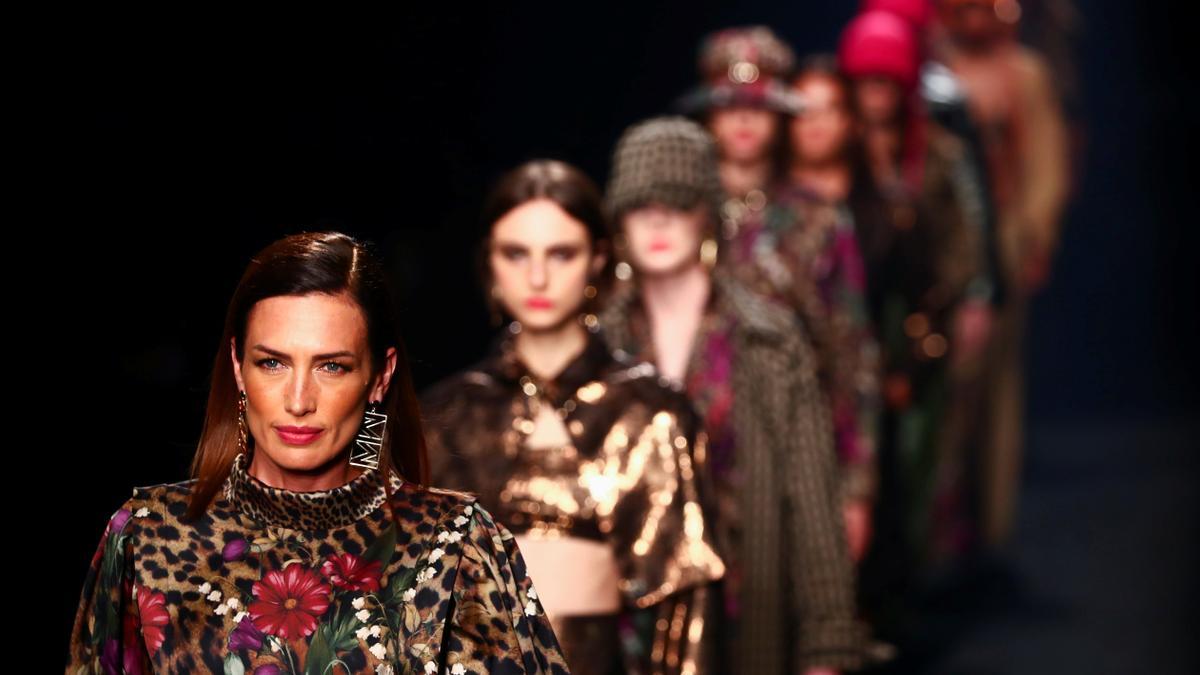 The sorority and crafts are the keys that join the parades of Ernesto Naranjo and Odette Álvarez, that this Friday have shown their proposals in the Mercedes-Benz Fashion Week Madrid through "The theater of life", for the Andalusian designer, and "Odegna", for the Cantabrian creator.
A woman performs on the stage of "The Theater of Life" and her audience is other women who applaud and praise her, freeing her from the prejudices of society. This is the starting point for the new collection by designer Ernesto Naranjo, "007", which does not name his collections as an identifying mark, but rather lists them: "Thus they are more timeless, they are not subject to seasons or trends", says the designer to Efe.
Using digital means for the presentation, which for the moment "is the only way to give 100% to the audience" in addition to "reaching the whole world", Naranjo makes personality and character the protagonists of his new line : "Each woman has to do the theater of life to cover stereotypes that society has marked, such as being beautiful, a good mother or dressing in a certain way," she explains.
"Our DNA is still very present in pieces that are reminiscent of haute couture, but with a modern touch"
A concept that has been reflected in the lines of the collection, introducing changes such as the appearance of separate pieces to be combined instead of one-piece dresses, and a chromatic range and staging in dark tones, replacing the vivid colors that the Andalusian usually uses.
Composed of fifteen "looks" in primary colors that evolve from black to red or Klein blue, the firm exhibits digital prints that "recall the make-up of the eighties", as well as jewelry with a punk aesthetic, which reveals "an attitude combative and rebellious ". "Our DNA is still very present in pieces that are reminiscent of haute couture, but from a modern touch and easy to wear," he explains about the garments, with lines of soft volumes and very geometric shapes that adapt to the body of women in dresses light.
As is customary, handicrafts take on an important place: hands that recover "bits of Andalusian roots", such as bullfighting and Goya iconography "in a different interpretation from the traditional one and adapting it to our essence", he points out.
The Cantabrian Odette Álvarez has taken as a reference her mother Odegna, who gives name to this new collection, the first line of the designer under her own name after ten years of experience with the signature "Tette by Odette".
"Since I was little I have been linked to cutting and making, I have always seen it at my maternal grandmother's house, and when I started with the firm my mother always helped me, she deserved that my first line was a tribute", Álvarez explains to Efe .
A new line that arises after "moments of reflection during confinement" and, although he assures that he had never wanted his name to be the protagonist, "the need arose to take a step forward" in order to give "something more exclusive" to its clients, first line of artisan brand, made to measure and limited edition.
Aware that it is being "A difficult moment" in which the fashion she looks affected, his bet is twofold: "This year I have taken everything with more strength and I have launched two new lines, one of more sporty garments and this first line".
In digital format and recorded at El Espacio Harley in Madrid, the mix of fabrics, anoraks turned into dresses and the characteristic coats of Tete by Odette, in which sewing, folklore and sports style come together. A contrast to the bullfighter jackets with marked shoulder pads and mirror embroidery that were also present.

www.informacion.es
Eddie is an Australian news reporter with over 9 years in the industry and has published on Forbes and tech crunch.