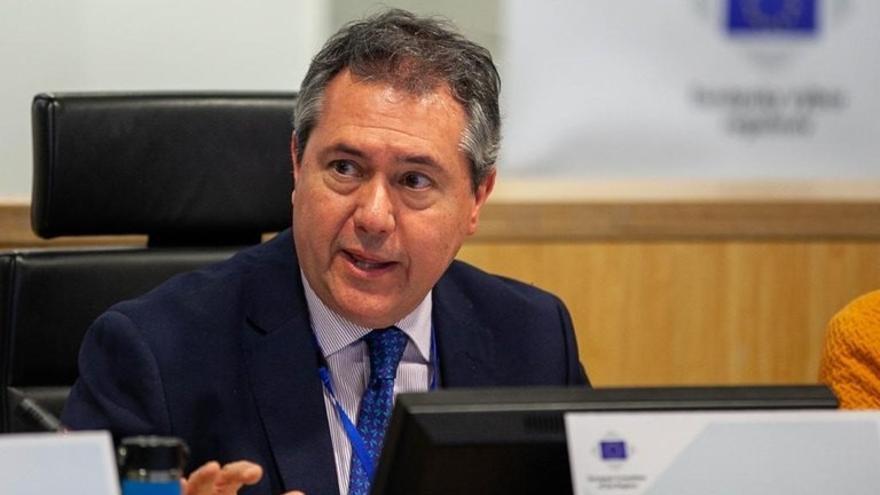 Just a few days after he leaves the mayor's office of Seville, as soon as he approves the municipal budget, and with the doubt of whether or not he will become a territorial senator, Juan Espadas (Sevilla, 1966) assumes the rest of resuscitating the Andalusian PSOE as a candidate for the Junta de Andalucía. There are no elections called, but the constant noise that they will be held, possibly in June, forces him to launch himself into the electoral race. Espadas attends El Periódico de España on the phone, in the midst of the maelstrom of the incipient pre-campaign.
Has the Andalusian president told you when the elections will be, whether in June or November?
We know is that this is what he shuffles. But, with a year of the legislature ahead, it seems to me not very serious, even irresponsible, to continue making predictions. The logical thing would be to say that Andalusia is the only community without budgets, what alternatives does the president propose, if he will send another corrected to the Chamber and will negotiate and seek an agreement. We are ready for a constructive dialogue if our proposals are heeded. Citizens want to talk about solutions to their problems, not about elections.
Yes, but Mr. Espadas, it is undeniable that we are in the pre-electoral campaign. Inés Arrimadas has just offered the PP to go together.
Yes, PP, Cs and Vox already only want to talk about elections in Andalusia. The problems of the Andalusians and their needs do not concern them. Arrimadas' offer completes what Marín has been doing de facto. Delivering Cs to the PP is the first step, what follows is to prepare the government project with Vox that they are secretly incubating. That is why they have not wanted to agree on the budget with the PSOE.
What can a party that governed only three years ago offer Andalusians, and has done so throughout the democracy in Andalusia?
After a pandemic and a government, with the support of the extreme right, which came to change everything and nothing has changed, the PSOE, with a new political project, with a new leadership, which has renewed its structures, has a lot to offer. The challenges now are very different from what we had before.
On the corruption of the Andalusian PSOE: "The courts will make their decisions, I am here to lead a project for the future"
Does the confrontation between Casado and Ayuso hurt Juanma Moreno?
There are many PP within the PP, Casado's leadership is internally questioned. Citizens see different speeches in each territory. I believe that it is the same right that sometimes approaches Vox more or less, depending on what interests it. And that he is clear that at the moment his only option is to radicalize or seek a government coalition with the extreme right. I believe that this is going to suppose an electoral failure for the PP. And the PSOE will be perceived as a political option for the future.
Do you mean that the possibility of a government with Vox will scare off popular voters?
Absolutely. Moreno Bonilla is very aware that the numbers do not come out. They will try to hide it but that is what they are working on. The PP has in Vox its main ally and its main adversary because they are communicating vessels.
But it gives the impression that fear of Vox has tempered in Spanish society and no longer operates the same for the mobilization of the left.
In Andalusia we are not afraid of anything but we do know where we come from. On December 4, 1977, more than two million Andalusians mobilized because the right wing in Spain had denied them bread and salt. Autonomy has been the formula to leave behind a historical backwardness. Andalusia has to continue advancing in rights and opportunities.
Will Cs be saved in Andalusia thanks to the 3% barrier, if in the end it does not concur with the PP?
You have missed a great opportunity to exercise centrality. He has lost all credibility to ask for the vote in a differentiated way. To vote for a force that has clearly surrendered to other acronyms, the PP is voted directly.
Does the candidacy of Macarena Olona (Vox) harm the PP?
I don't want to get into speculation. But there are many people in the PP who abhor that option of a government with the extreme right. Downtown people don't want to prop up Vox. I offer the confidence of my management in the Seville City Council, where I have governed for everyone. A focused government but with a progressive project.
Does the Andalusian PSOE's corruption hindrance weigh on your political project?
When you stand for election, you look to the future. The decisions that have to be made in the courts will be made, but I am here to lead a project for the future.
How does it affect you that several candidacies are presented in the field of the left? Doesn't this hurt you?
First of all, it hurts themselves because it fragments that vote and this can make it difficult to have sufficient representation in Parliament. They are legitimate decisions of forces to the left of the PSOE. I would like to have a more concentrated dialogue, but in any case we are going to talk with all these political formations, in fact we have good communication at the parliamentary headquarters, also depending on their different sensitivities, but always open to progress projects for Andalusia.
Are you worried about the emergence of parties in the so-called emptied Spain?
It is part of the logical and legitimate disenchantment of territories that have long awaited certain strategic infrastructures. And it also means that the administrations have not been sufficiently attentive. I can understand these criticisms and from the PSOE, what we have to do, what I am going to do, is sit down, talk and work with them. We Socialists are a ruling party and, therefore, we can carry out your proposals. Respecting the people who are there, I think it is the most useful thing I can do.
Do you mean that you are going to try not to show up?
Effectively. I am running for the first time as a candidate for the Junta de Andalucía and I also claim my right to have my own commitments to Andalusians. My capacity for dialogue, integration and negotiation. I am also critical of things that we should have done in other stages and that we could not get to do. I feel comfortable talking to these people who need a firmer commitment from the administrations and the Junta de Andalucía. I'm going to try to get us to work together.
"The world of hunting and bulls has socialist roots. Vox is not going to appropriate this identity"
In an autonomy like yours, has the PSOE turned its back on the world of bull or hunting?
Absolutely. I think it is a world with socialist roots. We may have made mistakes but no one doubts that Andalusia is one of the best structured communities and where the most depopulation has been fought. Vox is not going to appropriate these hallmarks of Andalusia.
Yes, but for example the Minister of Agriculture, Luis Planas, has warned that some of the government's environmental policies may not be well understood in the field.
Of course, you have to do pedagogy. But there is also a lot of demagogy. The agricultural sector has to introduce more and more, and is doing so, environmental improvements, among other things, to fight against climate change itself. Farms have to be modernized and this is a positive thing, whoever does it will generate more resources than before.

www.informacion.es
Eddie is an Australian news reporter with over 9 years in the industry and has published on Forbes and tech crunch.