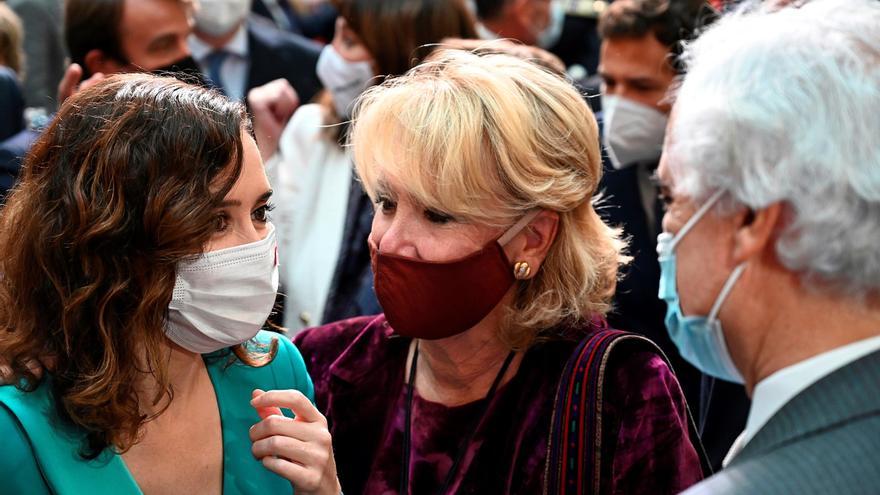 The former president of the Community of Madrid Hope Aguirre has notified this Sunday to the president of the PP, Pablo Casado, that when he is the leader of the Government "he will have to apply the policies" of the Madrid president, Isabel Díaz Ayuso, for having become "the policy that right now has the most popular support in Madrid."
This is how Aguirre expressed himself in an interview in La Sexta, collected by Europa Press, in which he acknowledged being "absolutely surprised" by Casado's behavior and asked him to end "with this absurd discussion" that revolves around the Congress from the PP: "As Pablo put Isabel Díaz Ayuso, it seems to me that what he has to do is end this absurd discussion."
In this key, the former minister has also referred to some statements by the secretary general of the PP, Teodoro Garcia Egea, in which he pointed out that the party has rules and recalled that "the first rule is that every four years a Congress must be held." "It is going to be 5 years since I decided not to present myself and Cristina Cifuentes ", has added.
Although he has not wanted to position himself on whether Ayuso's leadership bothers the leader of the 'popular', Aguirre has assured that he is "convinced that Pablo Casado is the president that the party needs" and that "one of the people who most Isabel Díaz Ayuso is going to help him get to the Presidency of the Government. "
Esperanza Aguirre has indicated that the vote of the PP has been divided in recent years, but that "in Madrid many votes have been recovered" and, on which Vox brought together, has acknowledged being convinced that the PP will not be able to "recover all". However, he has predicted that "Vox will support Pablo Casado to be president of the Government."
About Yolanda Díaz
"Compare Ayuso with Yolanda Diaz is to compare a person who has been voted overwhelmingly by Madrid citizens, with a person who was on a list, "he replied in these terms when asked about women in politics and, specifically, about the leadership of the Second Vice President of the Government and Minister of Labor and Social Economy.
In addition, regarding the controversial statements that Díaz made in which he asserted that he had prepared a guide for companies to face the risk of the coronavirus in February, Aguirre has opined that "If this is as she says, it complicates the government a lot."
Finally, Aguirre has defended "the inviolability of the figure of the King" and has rejected that Podemos wants a remodeling of the Magna Carta because "what he wants is to change the regime and, for this, they want to end the Monarchy and install a Republic ". In addition, on the emeritus has coincided with the former president Mariano Rajoy: "He would have to return and we would have to have the generosity with him that he had with the Spanish," he has settled.

www.informacion.es
Eddie is an Australian news reporter with over 9 years in the industry and has published on Forbes and tech crunch.