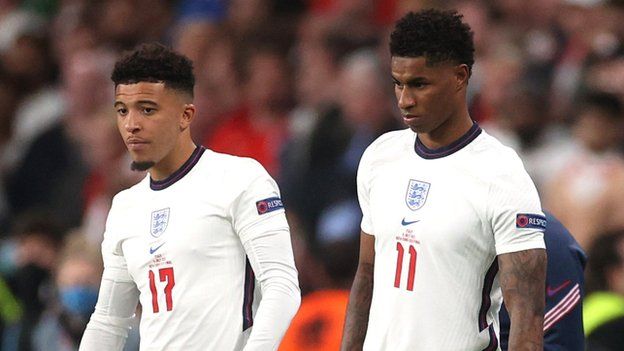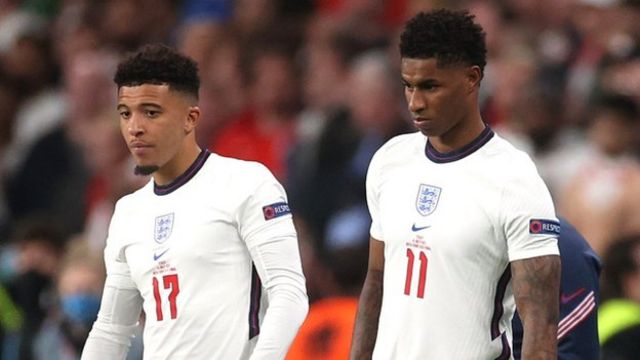 This Sunday England not only lost the Euro Cup final to Italy, but also a battle in their quest to end racism in football.
So much so that the English Football Federation (FA) and British Prime Minister Boris Johnson himself came out to condemn the racist attacks against the young English stars. Jadon Sancho, Marcus Rashford and Bukayo Saka after failing his charges in the penalty shootout that gave the Italian team the title.
After the end of the game, the three players were the target of thousands of racist comments on social networks, where aggressive expressions were mixed with emojis of gorillas and monkeys. .
In addition, a mural that had been painted in the Manchester region with Rashford's face was vandalized.
The police said they are investigating the attackers and that these attacks "will not be allowed."
For its part, eThe British Prime Minister called these racist expressions "appalling".
"This team deserves praise as heroes, not racist comments on social media," Johnson said.
"Those responsible for this appalling abuse should be ashamed of themselves."
But the debate was served and He was heated by the action of the English national team players kneeling before each game, a gesture installed to fight against racial inequality in football.
When the tournament began on June 11, Johnson did not condemn the fans who booed the English players, when they made the gesture of lowering one of their knees to the grass in the preparatory matches for the European Championship.
Instead of condemning the hostile whistles, Johnson then simply said that he wanted the fans. "support the team to cheer it on"for which he was criticized by opposition politicians and accused of" not having the guts to condemn the booing. "
"A pending test": Rory Cellan-Jones, BBC technology journalist.
This is the biggest test for the social media giants in their attempts to crack down on racial attacks against footballers, and so far it is not going well.
The volume of aggressive comments is such that companies increasingly rely on automated systems to eliminate them. But these have serious limitations.
For example, it was used an orangutan emoji in an Instagram comment against one of these players
But the user who reported it received a message that said "we have concluded that this comment does not go against our rules of behavior."
The Instagram post went on to admit that "our technology is not perfect" and made it clear that the manual moderation team had not been able to review the decision due to "the volume of reports."
Of course there will be a lot about companies to make it impossible to use certain words or emojis, but surely they will also cite the criticisms of others who say that they should not monitor the messages of people that may be in bad taste, but that in the end they are not illegal.
"We ask for prompt action from the government"
But it has been the FA itself that has come out most firmly, not only to reject the messages against the English players but to ask that the aggressors be investigated.
The FA also issued a statement saying it was "shocked" by the racism seen on social media against the three black players after the loss to Italy.
He added: "We cannot be clearer: someone behind such disgusting behavior he is not welcome among the ranks of the team's fans".
But it is not the first time this has happened. In May, Rashford had already denounced racist attacks on his social networks after losing the Europa League final with his team Manchester United.
And there could also be involvement in social causes among the reasons for the attacks. Last year, Sancho was among the athletes who came out to protest racism after George Floyd was killed by a police officer in Minneapolis.
Meanwhile, social media companies have been criticized for their lack of control and concrete actions to prevent this type of attack on their platforms.
Instagram reported that it has a tool that allows its users to filter aggressive messages of people who do not follow.
But the situation this Sunday has led these companies to announce other actions. Facebook reported on Monday that it had recently established stricter measures on Instagram (Facebook owns it), with the idea of ​​deleting accounts that repeatedly send racist and violent messages.
"No one should have to suffer racist attacks anywhere, and we don't want it on Instagram"said a Facebook spokesperson.
"We promptly removed comments and accounts targeting England footballers last night and will continue to take action against those who break our rules."
In addition, they asked players to activate the "hidden words" tool, which helps filter out aggressive comments.
"No one will solve this problem overnight, but we are committed to keeping our community safe from attacks," noted the spokesman for the network company.
Now you can receive notifications from BBC Mundo. Download the new version of our app and activate them so you don't miss out on our best content.

www.bbc.com
Eddie is an Australian news reporter with over 9 years in the industry and has published on Forbes and tech crunch.