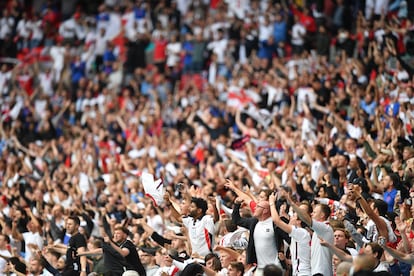 England believes she is living an unprecedented astral conjunction that leads her to glory. It's now or never. "If we don't win this time, we'll never win," English fans have been saying for days. Heaven cannot wait. For England, heaven can wait no more.
In group matches, England delivered without much fuss, with little brilliance but with great efficiency. They won (1-0) against Croatia and then drew (0-0) with Scotland and defeated (1-0) the Czech Republic. Three games, two wins, two meager goals but, importantly, three clean sheets, three clean sheets, three games without conceding a goal. That is to say, the complete opposite of what was expected: the strong point has been the defense, including the unpredictable goalkeeper Jordan Pickford and a central pair, Maguire-Stones, about whom there were many misgivings. But it was not seen that creativity that so many expected from the hand of that herd of young talents that warm the bench: Grealish, Saka, Sancho, Mount, Foden, Bellingham …
"Where is Foden, the most promising player in England?" Many ask. He has hardly been seen, and not much more his colleagues, because the cautious national coach, Gareth Southgate, has chosen pragmatism over creativity and brilliance, a strong defense as the best weapon for attack rather than a good attack as best weapon to defend yourself. That was especially so on the key day: the round of 16 clash against Germany. The game was soporific for the neutrals: eleven defenders against eleven defenders, two teams panicking to lose. Germany, because they have the weakest and most impersonal team that they are remembered for. England, because Germany is the devil to them, the team that has always kicked them out of competition since the glorious 1966 Wembley final.
England had the wisdom to score a goal when extra time was approaching (Sterling, again Sterling, in the 75th minute) and the luck that Harry Kane broke his drought, scored his first goal in the competition, doubled the score and unleashed a wave of national euphoria that does not stop growing from that moment. With the German ghost dead, Ukraine arrived on Saturday, an expert in sweet, statistically the worst of the 16 teams that went to the second round. And a dream start: Kane's goal before minute four. A walk for England, who only hesitated in the last 10 minutes of the first half and those doubts disappeared with a new goal from the reborn Kane as soon as the second started. Total: 4-0.
England have met the goal without losing defense: they have equaled Italy's record of the 1990 World Cup, when they also did not concede a goal in the first five games. The Italians drew (1-1) in the semifinals against Argentina and lost on penalties. They left the World Cup undefeated playing in their own home.
Officially, this Eurocup has no host. That doesn't count for England, who will have played six of their seven matches at Wembley if they reach the final – their only trip has been to friendly Rome to beat even kinder Ukraine. That is a great advantage for a team that has not accumulated the thousands of kilometers of trips, the changes in temperature and the environment that everyone else has endured. Like Denmark, her next rival, she reaches the semifinals rested because she has not had to play any overtime (Italy has one, Spain accumulates two).
That is the seemingly ideal scenario for England. A scene of national euphoria and infinite confidence, reinforced by the field factor and by the magic of Wembley, turned again into a talisman since the victory against Germany. But, if they defeat Denmark, England will not find a sweet tooth in the final: the rival will be Spain or it will be Italy. England is already celebrating, but they have not won anything yet.
You can follow EL PAÍS DEPORTES in Facebook Y Twitter, or sign up here to receive our weekly newsletter.



elpais.com
Eddie is an Australian news reporter with over 9 years in the industry and has published on Forbes and tech crunch.