It was only on Saturday morning that a top executive of one of the biggest clubs in European football realized that the long and loud conversations about the breakup of the European Super League were suddenly, in his words, "on the verge of go nuclear. "
For months, clubs had been making round-robin proposals for a € 6bn (£ 5.2bn) breakaway league, which would see 15 founding clubs receive between € 89m and € 310m immediately for signing on the dotted line. But while each of them had been provided with documents, contracts and asked to come back with ideas, UEFA appeared to have blocked the plan by agreeing to a reformed Champions League, which involved 10 group games in a format at the same time. Swiss style, which were to be announced on Monday.
All of that changed dramatically over the weekend. One by one the "maybes" were told that the getaway was on, that others had signed up, and if they did not become "final" they could be left behind.
"Things that usually take years were done in hours," the executive told The Guardian. "The cash up front was hanging like bait. All clubs need money, and if they tell you that everyone else is involved, you don't want to be left without a chair when the music stops. "
Others speak of frantic calls between rival clubs and leagues, and that no one really trusted each other to share all their cards, before news broke Sunday that 12 clubs, including six from the Premier League, were backing the breakaway. Multiple sources told The Guardian that Juventus president Andrea Agnelli was a key player, supported in particular by the US-owned Premier League clubs (Arsenal, Liverpool and Manchester United) and Spain's Big Three.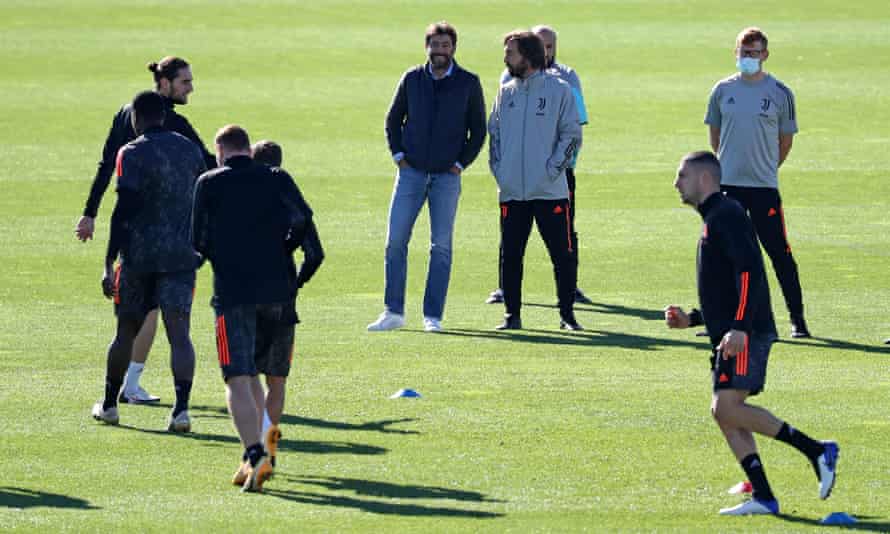 His urgency was understandable. On Friday, UEFA had contacted the media to confirm that its president, Aleksander Ceferin, was about to confirm the new format of the Champions League, which the organization promised "would make a more exciting competition where 'Every. Play. Account '". The separatist clubs had to strike fast and hard. And they did.
On Sunday night it was announced that 12 clubs had decided to create a super league: Milan, Arsenal, Atlético de Madrid, Chelsea, Barcelona, ​​Inter, Juventus, Liverpool, Manchester City, Manchester United, Real Madrid and Tottenham Hotspur joined as ". founding clubs".
"Usually the threat of a super league is a bargaining chip and it's about leverage," says a source with direct knowledge of the talks. "But this is as far as he has ever gone by a considerable distance."
The measure is not just about a short-term cash injection, but a long-term control. The biggest clubs in Europe not only want to relieve their debts, but also run the Champions League instead of UEFA. That was a fight that Europe's governing body mistakenly thought had kicked down the road, until they were caught off guard over the weekend.
A source said Ceferin thought Agnelli would support him and condemn the proposals, but "just stopped talking to him on Sunday."
The 6 billion euro question is what happens next. If all 12 clubs hold the line, which it looks like they are doing right now, they will inevitably head to the courts.
"On a meritocratic basis, people will say, 'How can you even think of owning a competition that you only qualify for season by season?'" A well-positioned source asked. "But from a business perspective, you can see why the big clubs are trying to go down that path. And this time they have brought a bigger bat than ever ".
Others, however, are much more skeptical, especially given the immediate reaction among fans and leagues. They predict UEFA may undermine breakaway 12 and, with big clubs like Bayern Munich or PSG against it, it may only take two or three more to pull out and have the plan die in the water. "This is almost existential for UEFA," says a senior executive. "They will fight it with everything."
One thing is for sure, European football is unlikely to ever be the same again.

www.theguardian.com
George is Digismak's reported cum editor with 13 years of experience in Journalism