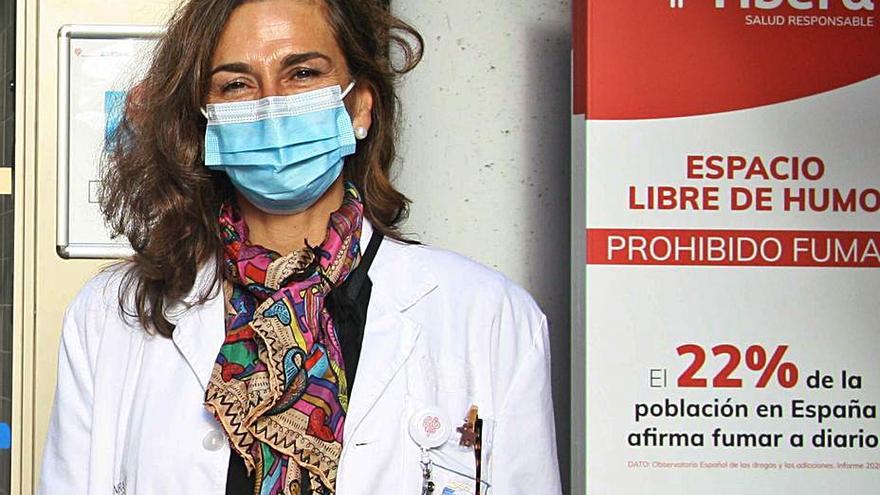 What challenges have you had to face in your professional career and specifically since you held this position?
It has not been easy. Women in the health field have always been very present, but it is true that, in holding positions, it has not been something so common. With my decision I found myself immersed in a fundamentally masculine and older world. But I have to say that I never had a problem with being a woman. The problems were the same for both me and my colleagues. As I already stood out for being the only woman, I worried about standing out for other reasons that made the first one forget.
Do you consider that you have encountered impediments at some point in your professional career due to being a woman?
No, I have to say no. Specific impediments for being a woman, I have not had them. If I have had to fight more than others, or demonstrate more than others, I do not know. I come from a family where I was the only girl of four brothers and I have had the great luck of having magnificent parents who made me never consider that something could be different for me than for any of them. They did well, very well. They taught me to live in equality.
How do you assess the projection that women have in managerial positions within the health sector?
With a lot of optimism. When I started down this path, you could count the women who were occupying positions with the fingers of one hand. Today I see with pride how that has changed, and a lot. And not because of parity, but because of the effort and training of each one of my colleagues, because of their appreciation in the company, because of their training and nothing else.
Refering to family conciliationDo you think it is compatible with the responsibility and commitment that a managerial position like yours demands? What aspects do you think should be improved to achieve a true family conciliation?
This really is the workhorse of all of us. It is something that is very difficult to carry out. I also believe that society must help to make this conciliation easyBut there is a very personal part where each woman and each man must direct, alone or with a partner and at different stages of their life, the decisions to be made. Society has to ensure that we can all fulfill our work and personal aspirations without having to pay large tolls for it.
With a degree in Medicine and Surgery from the Autonomous University of Barcelona, ​​Eva Baró joined the Torrevieja Health Department at the opening of the Hospital and started the Nephrology Service. Later he carried out this same function on the occasion of the launch of the Hospital del Vinalopó.
Why did you decide to specialize in Nephrology? Do you think you have met your professional goals at that time?
I have always liked to attend to the patient in a comprehensive way, that is why my first intention was to specialize in Internal Medicine, but after the internships during the career in the Nephrology Service of Valle Hebrón I was impressed with the comprehensive care provided to kidney patients and fell in love with the specialty. Accompanying these patients and improving their day-to-day life was the love affair that made me choose Nephrology. Personally, I have met my objectives but it is the patients who should give me the "pass" in the achievement of these objectives.
What did it mean for you, on a personal and professional level, to put the Nephrology Service at the Torrevieja University Hospital?
Coming to the Department of Torrevieja almost 15 years ago and being allowed to "design the Nephrology Service of my dreams", with everything that I was missing in others in which I had worked, was for me the best gift and professional project and vital that they could do to me. It has been the most rewarding experience I have had on a professional level.
What professional challenges do you have in mind for this complicated year in terms of the management of the Torrevieja Health Department?
Maintain the healthcare and accessibility data with the excellent that has always accompanied us and continue to grow in the improvement of the service provided. And, of course, to be able to continue managing the health department to continue growing with our citizens who appreciate our work so much.
Do you think that family conciliation is possible?
I have three children. It is evident that in my case it has been possible. There is no infallible recipe for this, each family has to find its ways to make it possible and the company in which you develop will accompany you.
Have you encountered any obstacles until reaching the position you currently occupy as well as the professional promotions you have carried out in your career?
None. On the contrary, what I have always found has been support and help for this. I consider myself very lucky.
Do you think that the recognition that women justly deserve in their contribution to science is really given?
The day that we do not have to ask this question will be the day that we can say that it is so. Science is full of women, especially in the health area but increasingly in the different scientific branches, including the more technical ones, such as engineering. We have come a long way on this path, although the goal is undoubtedly to not have to ask this question. However, we must continue to help and accompany the process until it works alone and the women who are in management positions, as in my case, have the responsibility to do our bit with the following generations so that they have the opportunity to follow our steps if they wish.

www.informacion.es
Eddie is an Australian news reporter with over 9 years in the industry and has published on Forbes and tech crunch.