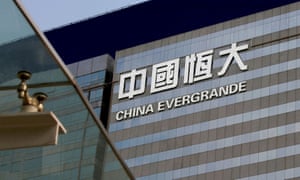 Good morning and welcome to our ongoing coverage of the global economy, financial markets, the eurozone and business.
The liquidity crisis at Evergrande, China's second-largest real estate developer, is affecting the market mood today, and rising energy prices are also causing growing concern for investors.
Evergrande, which has a total liability of more than $ 300 billion, is struggling to raise funds as it teeters between a disorderly collapse with far-reaching impacts, a managed collapse, or a government bailout.
And today, Evergrande's onshore unit has halted trading on all the bonds after a national rating downgrade placed it among the riskiest issuers in the country.
Fears about Evergrande's ability to repay investors have risen in recent weeks, sparking protests and creating anxiety over the implications of a collapse.
Yesterday, Chinese authorities told Evergrande's top lenders not to wait for interest payments due next week on bank loans, taking the cash-strapped developer one step closer to one of the largest debt restructurings in the world. country.
And today, Evergrande's main unit, Hengda Real Estate Group Co Ltd, requested to suspend trading of its onshore corporate bonds, following credit rating downgrades from rating agencies. China Chengxin International (CCXI) and S&P – and trade increasingly nervous.
Reuters explains:



The suspension of trading on Hendga's onshore corporate bonds indicates an increasing likelihood of default and restructuring, market participants said.

A bond trader, who declined to be named, said the changes to the trading mechanism were likely aimed at limiting participation and curbing volatility.

"Many companies would adjust their bond trading mechanism before default," he said.
The crisis is affecting stocks across the real estate sector, at a time when China's real estate sector already appears to be slowing down.
China CSI 300 The stock index is down nearly 1% today, with Jeffrey Halley, Senior Market Analyst, Asia Pacific, OANDTO reporting that Evergrande is "weighing on sentiment".



The Evergrande saga, with its $ 300 billion of liabilities, is coming to an end, with EverTeflon running out of nonstick material. I can see the mother of all debt / equity swaps being "encouraged" by the government, but in the meantime, the combination of the toxic cocktail described above will affect China's equities.

Like I said earlier, buying the dip is a dangerous business right now in China.
Buying power is also becoming a challenging endeavor, with wholesale gas and electricity prices rising to record levels in recent days.
The closure of one of Britain's most important power lines that imports electricity from France after a fire has added to UK supply shortages and record market prices.
These record prices will drive up energy costs for businesses, hurting profitability, and will also hurt consumers next year once bills skyrocket in response.
More seriously, these record prices are also forcing some factories to halt operations, suggesting that the energy crisis could affect economic growth as we are just entering the fall …
United Kingdom Steel CEO Gareth Stace says some steel mills have already been forced to stop operations.



"These exorbitant prices are forcing some UK steelmakers to suspend operations during periods when the cost of energy is trading in thousands per megawatt hour; last year prices were roughly £ 50 per megawatt hour.

Even with the global steel market as buoyant as it is, these blazing prices make it impossible to produce steel profitably at certain times of the day and night.
Jim Reid, Deutsche Bank strategist, told his clients this morning that:



There [are] Growing concerns in the UK as a cable bringing power from France was destroyed by fire, putting it out of service until at least October 13, possibly until 2022 at full capacity.

Supply shortages that haven't been replenished as much as expected after a cold winter is partly responsible, but there is also a lack of coal options as an increasing number of plants are phased out and Russia has shipped fewer supplies. to Europe than expected.
Investors are also keeping an eye on the latest US retail sales figures, which will show whether the Delta variant affected US consumer spending last month.
European equity markets are expected to open higher, with the FTSE 100 called up 0.2%.
The agenda
7 a. M. BST: new vehicle registrations in the euro zone for August
9.30am BST: ONS Real Time UK Economic Indicators
10 a. M. BST: Eurozone Tracking Balance for July
1.30pm BST: Weekly Unemployment Figures in the US
1.30pm BST – August US Retail Sales



www.theguardian.com
George is Digismak's reported cum editor with 13 years of experience in Journalism