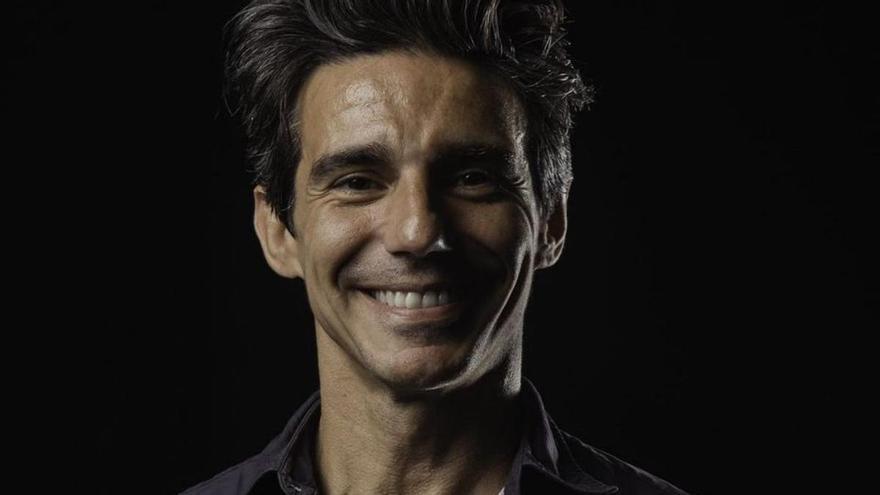 Director of the National Dance Company. Joaquín de Luz has danced for half his life in the United States and for 13 years with the New York City Ballet, where he was principal dancer. In 2019 he changed his "tribe" to direct the largest dance ship in the country and this Sunday he teaches a master class in the Fundación Mediterráneo dance cycle.
Almost three years at the head of the National Dance Company. What balance does it make?
Very positive, despite the one that has fallen in this year of covid. We have been lucky and have been able to take advantage of the time with optimism. I always say that when there is adversity, there is an opportunity to grow and reinvent yourself, and I think we have done things that have been a miracle. My friends in the US, who have been a year and a half without activity, did not understand how we could premiere a new production of Giselle and continue touring and, in fact, the New York Times did an article on us because we were dancing at the Granada Festival in July 2020. We have been very, very careful, we have drawn up a security protocol against covid with Inaem, which has been an example and has been used in many places. We have kept rowing and, luckily, my dancers have followed me.
He wants to create the company that would have made him stay in Spain. Do you see the end closer?
It is very difficult to make a first division company when there are neither the means nor the support. We don't have theater, which is one of the historical demands and one that I continue to make. There is a project, but it is not yet a reality and that is something essential for a first division company: to have an artistic house, to have a theater to make different programs, seasons, strengthen your audience and really build a home for the dancers. It is a very important issue, of first necessity, so that this company can manifest itself and take shape. Regarding the internal work and the quality of the dancers, I begin to see many results, they are leaving their comfort zone. And I'm bringing the repertoire that I think a company should have, a wide range that goes from the most classic ballet to the most avant-garde.
What is it like to go to the other side? Is it hard to stop being a main dancer and direct others?
It costs a lot (laughs). It's a fairly steep mountain at first, it's like changing tribes, even if you always feel like a dancer. That is just as challenging as understanding the management and office part of my job. We dancers are study animals and getting into an office makes us very lazy, but I keep learning. Being in front of more than a hundred people requires many things and I have a great team that accompanies me in this change of tribe.
You have developed your career in the USA. What did you learn there?
Very much, I hope. The New York City Ballet is a company in another league, compared even to the European ones. It's a monster that does 150 performances, 38 different productions in two months, a very New York City machine that goes at an impressive speed and if you're not there with your fingertips, it eats you up. I have been prepared when the train has arrived, I have also been very disciplined, and there they have instilled in me things such as the speed they have when working and collaboration, which is not done much here, we are very sectoral in artistic genres. [Georgte] Balanchine said that music has to be seen and dance, heard. And that's what I try to convey to my dancers.
Do you see yourself identified with the young dancers of today?
I have a little bone to gnaw. I don't feel at all identified with this generation, which I think is a bit lost, partly because of technology, and it will be difficult for them to find themselves. I was educated with values ​​and being more present in life. In ballet I was lucky to have great teachers who spoke clearly to me and now there is a bit of fear of speaking clearly to the new generations because everything is much lighter. And I feel that in the new generations, who go to the shortcut, who see a video on YouTube and believe that by imitating a jump they already know how to dance and they are very wrong. They miss out on the most beautiful part of the profession and of life, which is the journey.
That dance is the poor sister of the performing arts, is it a burden?
It is a great truth. Dancers have very short-lived careers, at 40 you can't dance and the truth is that dancers are not taken care of. It seems normal to me that they leave Spain.
Do the dancers leave Spain out of obligation or out of conviction?
It is out of necessity, not just to be nurtured by experiences. Unfortunately, we cannot offer big companies here, nor what they offer you abroad. The dancer's career is short and must be tried abroad, apart from the fact that in Spain there is only one national company that cannot accommodate all the talent that is here.
Missing companies?
Completely. In each autonomous community there should be a large dance company that would be permanent in a theater. We have some impressive infrastructures, such as the Palau de Les Arts in Valencia, the Liceo in Barcelona, ​​the Maestranza in Seville and the Real or the Zarzuela in Madrid, and none of them is the headquarters of companies. This is unthinkable in other countries.
But public there is…
The public loves dance and fills the theaters every time we go, in Madrid or in other cities we always hang the full sign.

www.informacion.es
Eddie is an Australian news reporter with over 9 years in the industry and has published on Forbes and tech crunch.