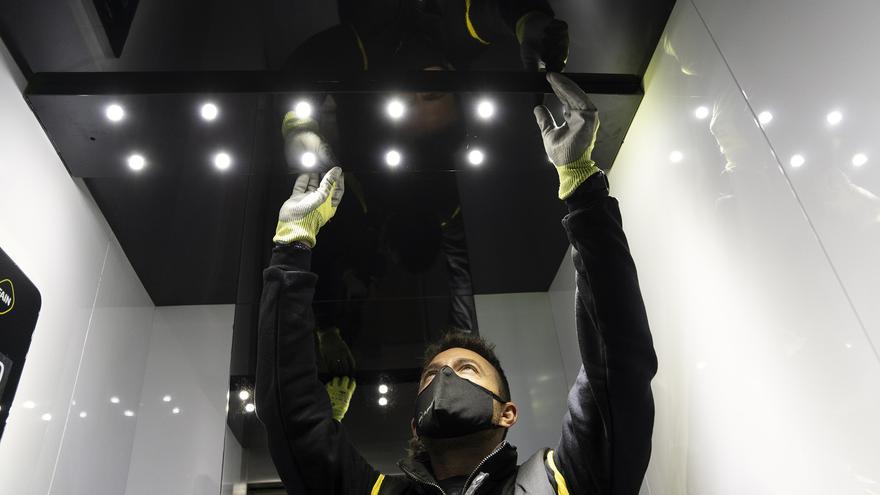 Keep in the elevator in perfect condition of a community of neighbors or a home is a responsibility that goes beyond mere paperwork: a poor service will reduce the useful life of the equipment, assuming in the long run a higher cost for the community and above all a lower availability of the elevator. More notices will be registered throughout the year that will mean days with the elevator inoperative with all the inconvenience that this entails.
Homeowners meetings are the perfect time to evaluate services that our community of owners receives, that is why it is important to understand everything that may be behind the maintenance of our equipment and to audit the status of the elevators in order to be sure that the maintenance company is doing a good job.
Therefore, it is important to have a quality company. FAIN elevators stands out because for them safety and comfort are two indivisible parts of the same service, so that, in addition to performing the mandatory periodic maintenance of the facilities, putting at your disposal the last technology, they are always available for what you need.
Do you know FAIN Ascensores?
FAIN is a Spanish company with an international presence, leader in the lifting sector, they have more than 60 years of experience in multi-brand maintenance, assistance and installation. They perform services in practically all of Spain and they have coverage throughout the province of Alicante
They are experts in maintenance, modernization and installation of elevators and lifting systems. They stand out for offering a fast, efficient and high-quality service thanks to the use of new technologies and the capillarity of its technical team. In addition, they also offer personalized advice in all types of projects: accessibility, energy efficiency improvements, installation of elevators on farms that lack them, new construction, replacement and modernization of elevators.
What services do you offer?
Their services not only focus on the installation or maintenance of elevators, they go further and offer services such as the removal of architectural barriers to facilitate the accessibility and the work of modernization.
It is also necessary to emphasize its use of the technology: geolocation of technicians and videowall, customer portal, a platform from which information on all the teams can be easily accessed.
Your use of technology that enables:
1) Measure and optimize the service, thanks to tools such as geolocation of technicians and the exclusive videowall for a exhaustive monitoring of response times.
2) Guarantees the transparency and comfort of your customers, by making its customer portal available to users where they can easily access the maintenance and repair parts of the equipment, invoices, tax information, and even, if this additional service is available, the status of the elevators in real time!
FAIN Ascensores is a company committed to innovation for this reason, it reinvests 12% of its benefits in R & D & I, and committed to its customers.
FAIN has certain commitments that are part of its differential value, among which the following stand out: transparency, effectiveness Y speed since they take less than 30 minutes in rescues, less than 2 hours in repairs of breakdowns and less than 24 hours in the response of complaints by any possible channel of entry.
What advantages does it offer?
When you contract maintenance with FAIN, you enjoy even more advantages that may go unnoticed. These are:
·24/7 availability of a fully equipped technical team (with its tools, consoles, vehicles, spare parts, mobility application, etc.) and in continuous training in terms of maneuvers, prevention of occupational risks and new products from both FAIN and the competition. This team is not just the zone technician; also the on-call technician, the repair technician, the members of the technical assistance group, those in the warehouse, those in purchases, etc. It is enough to name them to realize that the costs of maintaining this service are much higher than the monthly fee paid for maintenance.
That's it multi-brand specialist, are unique in the analysis, in the measurement of attendance and in the application of improvement processes. Investing 20,000 hours of continuous training per year in which they deal with all kinds of aspects of the different models and elevator elements on the market.
On the other hand, its products and processes are increasingly respectful with the environment, therefore, they offer more sustainable elevators and they consume much less.
In short, a service of comprehensive maintenance what contribution confidence, speed Y quality, along with a fair price, they are the bases for good maintenance.
More information:
FAIN Ascensores provides its maintenance, installation, modernization and replacement services in the entire province of Alicante.
Telephone: 966 10 65 27
Direction: Calle Teulada, 90, 03009 Alicante

www.informacion.es
Eddie is an Australian news reporter with over 9 years in the industry and has published on Forbes and tech crunch.