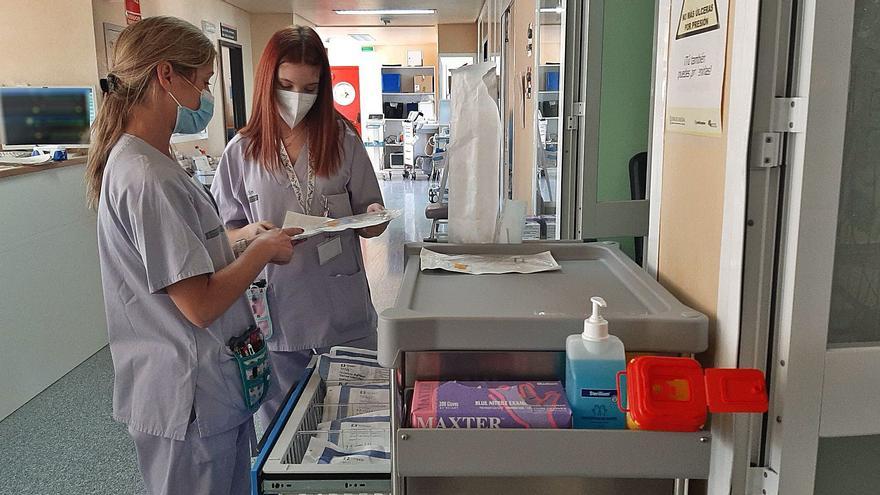 The pandemic has changed many things, including training practices for future healthcare professionals, who have been forced to multiply the attention on each step they take in the hospital, although they assure that, once in front of the patient and conveniently protected with PPE equipment, they forget everything that is not listening and attending properly.
Lorena Marín Segura, in the fourth year of Nursing at the University of Alicante, has already gone through several services at the hands of the supervisor of Teaching Nursing at the General Hospital of Alicante, Sandra Iñesta, and now she is in the ICU, where at the moment she has not coincided with any patient with covid, since the virus has significantly subsided in the last month.
«In Hemodynamics I did coincide with a patient who had suffered a heart attack and had tested positive for covid-19. This forces us to be doubly vigilant, you have to attend a heart attack with the risk of covid, but as soon as you have the patient in front of you, the heart attack is prioritized ", explains this student.
Both Iñesta and the Training supervisor Joan Clement, at the Sant Joan Hospital, coincide in underlining that the pandemic has added training on covid-19 as a priority in the practices, a training session that has been incorporated as mandatory for all who do sanitary practices.
"They are trained the first day they start the practices and their responsibility as health agents in their life outside the hospital is also explained to them," explains Iñesta. "Since all of them have to come into contact with covid patients in their different rotations, or at least they will have to take care of them as possible suspected cases, until we conclude on their positivity or we have not prioritized their training in preventive measures to protect themselves themselves, the rest of our patients, and the organization in general ", Joan Clement abounds.
From basic measures such as correct hand hygiene, as recommended by the WHO, «to the complex management of the use of personal protective equipment (PPE), which require very methodical training to avoid the contagion and spread of the virus, We try to continue with their usual training program, but there is no doubt that we must take into account the exceptional situation we are experiencing, and involve our students so that they can adapt their training to a safe environment, both for the patient and for the professional and the student »Clement specifies.
Paula Fernández, who is studying at the Hospital de Sant Joan, is especially grateful for the extra effort made by professionals to incorporate them into their daily work, despite the enormous overexertion they have to face the pandemic. "The public hospitals have done a lot on their part and it is a pride to be able to help and relieve the pressure of our colleagues, at least with our basic knowledge," he says. He adds that there is a world between putting a line on a plastic doll or a patient who is 20 or 80 years old. "Psychosocial factors matter and practices are essential to know how to listen to the patient."
She also agrees that the covid complicates everything, that there are techniques, such as laying a route, that "it is more difficult when you have to do it with protective equipment", but that she has felt safe all the time in this regard, "There have been no shortages of material," he says.
For her part, Lorena abounds that recently, in the ICU, she was suddenly forced to immediately monitor a patient for pneumothorax or pulmonary collapse, and that by not expecting it she feels a lot of respect "but thanks to the practices you do everything. I have a month of training left and I am going to palliative care », he concludes.
Iñesta and Clement, in turn, agree on the importance of developing interpersonal relationships and empathy with the patient in students, as well as making them feel safe with the professionals around them, "because it directly intervenes in the evolution of the patient. patient. It is something that is learned in day-to-day practice, with the patient ».

www.informacion.es
Eddie is an Australian news reporter with over 9 years in the industry and has published on Forbes and tech crunch.