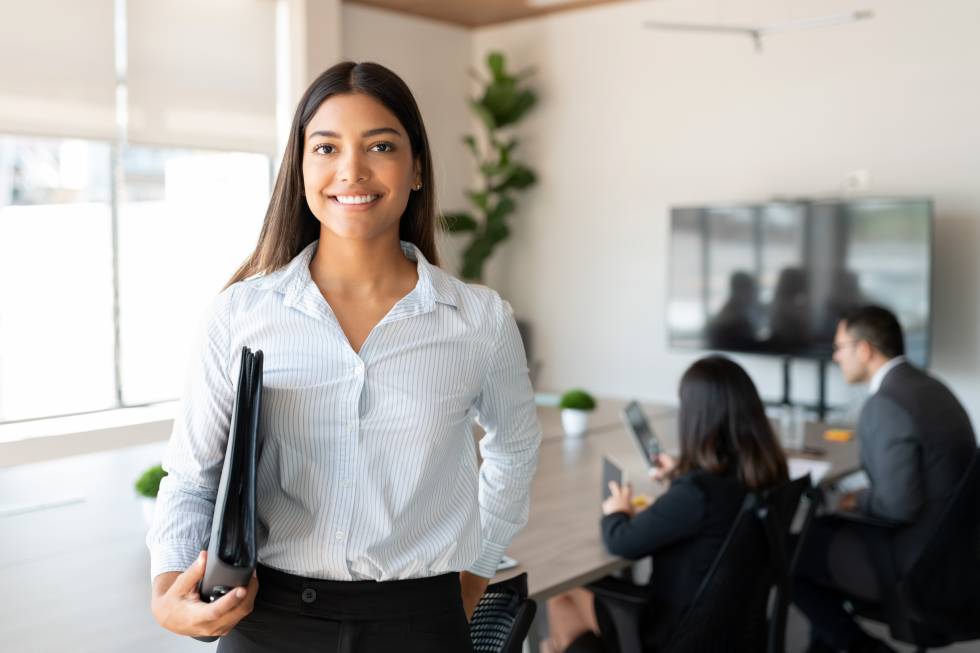 They say that the true failure is the one from which you don't learn. For this reason, it is as important to fight for a goal as knowing how to withdraw on time. In Spain, more than 4,000 people took the entrance exams to the judicial and prosecutorial career to get one of the 300 places called in 2020, according to the list of admitted and excluded published in the BOE. A list that leaves more than 3,700 candidates for the Judiciary without possibilities. With study days close to eight hours a day from Monday to Saturday, with no holidays at Christmas, Easter or summer and with little or no previous professional experience, the competitive examinations become a bet for all or nothing.
However, there are career opportunities for those who fail to pursue these worthy professions that can turn failed opponents into winning horses. After years of memorial activity, many successfully defend the interests of the defendants before the courts or outside of them as legal advisers. Because the opposition, in addition to serving to learn about the legal system, prepares to speak in public, develop ideas and concepts, in addition to training emotional intelligence.
This is how Elena Ordúñez, head of the Intellectual Property and Audiovisual Law Area of ​​the PONS IP law firm, explains it. After competing for "several years" for the judiciary, he found his professional path in the legal profession. "I am the product of an opposition, from what I learned on a professional and personal level and it has gone well for me," he explains. Not surprisingly, he has just legally accompanied Santiago Segura in his latest film.
Titanic effort
But as many applicants often do as they prepare for tests, he did not always see a clear career horizon. Because the candidate "is someone very weak when he opposes, although later he becomes a strong person," he points out. Uncertainty, nerves, stress, social isolation or lack of pay are factors that they have to deal with on a daily basis without any guarantee of obtaining a place.
The effort they make is titanic. As an example, the 2020 call for judicial and fiscal careers consists of three theoretical exercises of an eliminatory nature. The first consists of a 100-question questionnaire, with four alternative answers of which only one is correct. The second and third are held in a public hearing and are based on the oral presentation before the court of five lessons taken from different subjects of the program, which is made up of more than 300 topics of Constitutional, Civil, Criminal, Civil Procedure, Procedural Law. Criminal, Commercial, Administrative and Labor.
"The opposition is very treacherous because as you approve exercises you can come to feel that you have it close, but you can fall in the next test," explains Ordúñez. Thus, many people spend years of their life studying to reach a goal that may never arrive. For this reason, "you also have to be very smart to know when to leave it and not to burn yourself" on a psychological level, he points out. Specifically, the average time to pass these oppositions is four years and four months, according to an analysis carried out by this medium in 2020 based on official sources. It is usually from then on "when the problem begins" because forces falter.
Get over the blow
Christine Weimann, head of the Trademarks department at ABG Intellectual Property, knew how to recover on time. She was studying for two and a half years to be a lawyer at the Spanish Patent and Trademark Office. When he began to prepare the opposition there were four places to fill, but when he presented himself, only one had been summoned and he remained at the gates. "That was the last call for the legal branch in many years, so continuing was no longer an option," he says.
Overcome the initial emotional blow, Weimann took advantage of all the knowledge acquired thanks to the opposition to found the legal area that he directs in the firm. At present, "we have a wide portfolio of clients and we have an excellent reputation recognized in specialized international rankings," he says. In addition, since 2015 she has been included in the list of specialists made by World Trademark Review, a prestigious directory of international reputation specialized in brands.
For this reason, the lawyer explains that there is a future beyond the frustration of not getting one of the positions in the running. "All the study, the preparation and the experience of facing the court has not fallen on deaf ears. Knowledge is acquired that will serve to carry out a profession related to the field of opposition with greater agility. Furthermore, tenacity and capacity for effort are values ​​that are taken into account by employers ", he highlights.
It's never too late
Indeed, lawyers who have tried to approve an opposition are valued by many law firms and companies. Marta Zarco is one of those lawyers. Extraordinary End of Degree Award and for the best record from the Carlos III University of Madrid, he was opposing the body of procedural and administrative management at the same time that he was preparing the Master's Degree in Access to the Legal Profession at the Francisco de Vitoria University. After a year and a half combining both studies, he found work in an office before finishing graduate school, so he decided to "try his luck to see if he liked" the professional practice.
So it was. Specialized in Civil and Commercial Procedural Law, she explains that firms "value opponents because they are people with a fairly high level of sacrifice and dedication." Although many lack practice in the defense of cases, they have the legal concepts "structured and orderly" in the head, so they can "interrelate things in a way that could possibly take much more time" for a new collegiate or a lawyer with few years of experience.
"It is never late for anything. The moment you think that what you are doing no longer makes you happy, you must change, "says Marta Zarco. And it is that, although sometimes it is difficult to see it, "there is always light at the end of the tunnel".
Aarón Quintana has traveled the reverse path. After practicing for almost four years as a lawyer in different firms, at the end of 2017 he decided to stop to prepare the opposition to the Management Body of the State Civil Administration, which is responsible for the organization of administrative procedures. Among the reasons that prompted him to study, he highlights the "precarious working conditions" of certain law firms.
"I was earning 15 thousand euros a year as a false self-employed with a nine-hour day," he says. Unable to become independent due to the high rental price in Madrid or reconcile professional and personal life, she locked herself in her room to prepare the nearly 68 topics that make up the agenda. From this period stands out "the level of effort" involved in carrying out the tests.
Although he recognizes that he is not going to get "rich" with his opposition, it is going to give him "job stability", "fixed hours" and a salary according to his level of training. In the worst case scenario, he would go back to practicing as a lawyer, but now with a much deeper understanding of the legal system. Therefore, he would be in a better position to make a living in offices capable of attracting and retaining talent.

cincodias.elpais.com
Eddie is an Australian news reporter with over 9 years in the industry and has published on Forbes and tech crunch.