In the hiding place where Lorena Gutiérrez and her husband, Jesús Quintana, the parents of Fátima Varinia Quintana, lived, the humidity chilled the bones. After the brutal murder of her daughter in 2015, the rest of the family had to disappear. The fight for justice in Fátima cost them death threats and a very clear warning: bullets against the windows of their house in a small community in the State of Mexico, Lupita Casas Viejas. The crime of Fatima was one of the most atrocious committed in an entity that is already the most violent for women. And, like most, he remained unpunished until this Tuesday. A judge has sentenced the last of the three young men who massacred the little girl that day when she was returning from school for femicide. Life imprisonment and a closed case that has become a symbol of the terror of sexist violence that does not stop in Mexico.
On February 5, 2015, three boys, one of them a minor, dragged their daughter into the forest when her mother was waiting for her, like every day, making food. He was only a few blocks from his house, just 100 meters away. "She was brutally raped, they stabbed her more than 90 times, they opened her chest more than 30 centimeters, they cut her crotch, they broke her ankles, they fractured her hands. And my daughter was a warrior, she fought to the end, even with all that she did not die until three stones weighing more than 30 kilos each were thrown at her, which was what ended her life, "Gutiérrez told this newspaper in the middle of an escape for her and her family, to a secret destination in the north of the country. Without work, money or identification, so that no one could recognize them.
When Lorena realized that her daughter had not come home, she ran to look for her. And he found it, half buried in the back of these boys' house. She found the knife with which they cut her, her bloody clothes. And he found them. "We turned everything over to the police," he recalls. But even so, one of them, the one who was sentenced this Tuesday, allegedly linked to organized crime, was released. And there began the second part of the nightmare.
"They didn't just murder our daughters, they murdered an entire family. 12 people, five children and seven adults. They killed us all. They left us without life, without freedom, We want to regain our peace. We want to be free, because here in Mexico we are the prisoners, "he said hours before the hearing with the judge. Until recently they all lived displaced, without speaking to anyone, they changed their route every day to return to their hiding place and within a few months, they had already spent all their savings. They did not get a job because they asked for an official identification, they did not have it because they had to protect their family. The schizophrenic logic of the bureaucracy also reaches the victims. They tried to apply for asylum in Canada. They denied it.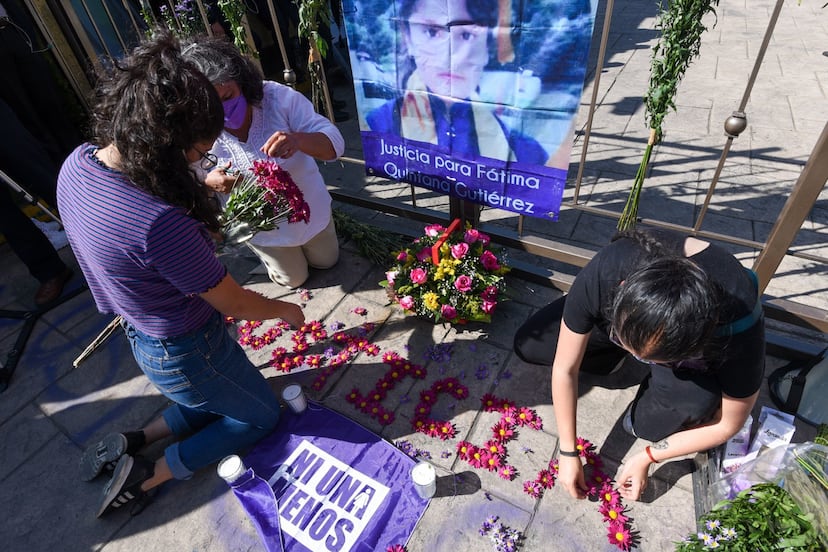 Last November, another tragedy shook the Quintana Gutiérrez family. The youngest son of Lorena and Jesús, who was the one who found his buried sister with his mother, began to feel very ill. Since the Fatima thing happened, Daniel suffered from serious psychological disorders that no authority treated as he deserved. Just as it happened with the rest of the family. But Daniel the day he saw his dead sister was only 11 years old. He died in his mother's arms due to an intestinal obstruction, after having run through five hospitals to obtain a diagnosis for his discomfort that always ended in more anxiolytics and painkillers. After his death, the doctor could not explain how anyone had been able to endure so much pain.
"It is a family in pieces. Many times you wonder how he supports himself, "explains the family's lawyer, Ximena Ugarte, from the other end of the phone. The defender has had the challenge in recent years to dismantle one of the key evidence from José Juan N.'s lawyers. A video from a security camera at the wealthy Sierra Nevada private school showed that he was at that time and that day working as a gardener at their facilities. Ugarte celebrates this Tuesday that after the intervention of expert experts in video security and others of high technical specialty – they came to measure the shadows to confirm if they coincided with the position of the sun that day – a judge has recognized that those images were modified. And dismantled the only alibi of the accused, since there were also witnesses who saw him near the scene of the crime, the sentence has sentenced him to the maximum possible penalty.
This is the first case of all those led by the association, the Mexican Institute of Human Rights and Democracy, to get a sentence. In Mexico, which supports 10 femicides a day, the impunity rate is almost 95% of the cases. In the State of Mexico, the set of most populated municipalities in the country that embraces the capital, the number of unsolved crimes rises to 97%. "Although no one is going to return their daughters to them, we have observed in other cases, very few, that it does give them some relief to know that at least the culprit is obtaining a sentence. Especially because they have become mothers who accompany others and suffer institutional violence and impunity that is so strong. Know that there is at least this minimum number of cases that are resolved ", adds Ugarte.
Gutiérrez, like many mothers who seek justice for their daughters, studied the Penal Code at night and learned the Victims Law of the State of Mexico by heart. She hasn't slept for six years to be ready: "My daughter's justice is my mission in life. But also for the mothers of the femicides who cannot do it, for all the cases that are hidden, I want to be their voice, "he pointed out to this newspaper.
Subscribe here to newsletter of EL PAÍS México and receive all the informative keys of the current situation of this country

elpais.com
Eddie is an Australian news reporter with over 9 years in the industry and has published on Forbes and tech crunch.