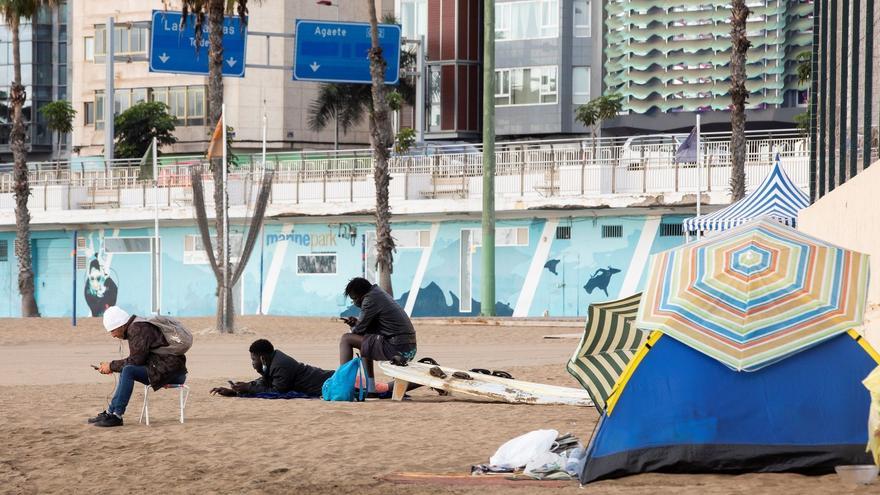 The fear of deportation and the despair generated by the blockade they suffer in the ports and airports of the Canary Islands is pushing more and more migrants out of the camps of the humanitarian network. Nobody knows how many there are, but there are hundreds and they live on the streets.
The fuze was the progressive closure of the hotels that hosted them temporarily in the south of Gran Canaria and the transfer of its occupants to Las Raices camp, in La Laguna, which since its opening has earned the reputation of being the toughest, due to its cold and humid climate. Dozens of immigrants refused to go to Tenerife.
Then came the deportation flights to Morocco; later, to learn that Senegal was beginning to accept returns again and, finally, the conflicts resulting from coexistence and frustration, such as the one experienced last week in the Canarias 50 camp in Las Palmas, which ended with fifty Maghrebis in the street.
They repented after two nights out in the open and wanted to go back to camp. It's not possible. The state network no longer admits them. It is something that everyone who has been expelled from a humanitarian facility for bad behavior, has voluntarily abandoned it or has refused a transfer knows: there is no going back.
Solo Caritas He currently feeds some 300 immigrants in his four dining rooms on Gran Canaria, three located in the capital and one in the south, in San Fernando de Maspalomas. But they are joined by those who resort to other municipally-owned soup kitchens or to citizen solidarity that has begun to weave around the Somos Red platform, which helps a hundred.
The Government Delegation in the Canary Islands ensures that at the moment about 6,500 adult immigrants remain on the islands (in addition to about 2,600 minors in centers of the autonomous community). If only those served by Cáritas and Somos Red in Gran Canaria are taken into account, those who live on the street already exceed 6%.
A budding social problem
"We are very, very concerned. This is today a humanitarian problem, but as the weeks continue to go by, it will be a social problem," Jaime Baleyron, one of the spokesmen for We are Red, an initiative that arose spontaneously to help seven young Senegalese who had been left on the streets after the Police prevented them from taking a flight to the peninsula and that now continues to add volunteers.
The same diagnosis has been made for Cáritas Diocesana de Canarias his secretary general, Caya Suárez. "The situation is getting worse. And when the emergency places that have been enabled expire their term, these people will end up on the street. We must act, because otherwise we will have a social emergency situation," he says.
When it comes to poverty and exclusion, Caritas is usually a good thermometer to measure the magnitude of a problem. He is not the only one, but his is almost always the first door knocked on by whoever meets on the street, with nothing, whatever the circumstance. And, in Gran Canaria, the new situation of homeless immigrants overwhelms him.
"Our attention span is close to collapse. Our kitchens do not give for more. We are negotiating with the Government of the Canary Islands to have another, basically not to stop"Suárez says.
Jorge Hernández, the priest of the parish of San Pedro, in La Isleta, the neighborhood of Las Palmas de Gran Canaria where the Canarias 50 humanitarian camp is located, expresses it clearer. 44 young Maghrebi turned to his parish who left the Canary Islands 50 -or they were expelled, because there are divergent versions- after sleeping one night on the street and another on the beach of El Confital.
This neighborhood parish, which is part of the Caritas network, gave them shelter for one night and food for a couple of days. But he had to admit that he could not continue helping them, unless he neglected the 75 residents of La Isleta whom he feeds daily, including 20 immigrants who have been living in the neighborhood for a few months.
"Sometimes we mismeasure the muscle with which we do things," Hernández was sincere. "I find it hard to explain because it gives the feeling that one has a hard heart … but we can't. "A priest says it.
Frustrated
The situation is not exclusive to Gran Canaria. In Lanzarote, several dozen Maghrebis have been on the streets for a week, after refusing to be transferred to the new El Matorral camp, an old barracks in Fuerteventura, and in Tenerife a large group of sub-Saharan and Maghrebian people sleep in tents erected next to the Las Raices camp as a protest to make their situation visible.
Why do they prefer to be on the street? The spokespersons for Cáritas and Somos Red agree: they are frustrated, they want to continue their migratory project to other places in Spain or Europe, they are not allowed to leave the islands, even if they have a passport or have requested asylum; their families pressure them to send resources and feel that in the camps no one explains why.
"Frustration and helplessness are not relieved by a plate of food. Welcoming means much more"says the Caritas spokeswoman.
Some also suspect that if they are in an official camp they will end up on a deportation flight, because the police know where they are. "I bring food to a couple of kids on the street who don't want to even step on a dining room for fear of being arrested. It is useless to explain to them that where they are best is in the camps, they don't trust them," explains a volunteer with long experience in the world of migration, which prefers to remain anonymous.
In Somos Red they give the same advice to the boys they help on the street: They are better off in the camp, on the street they are vulnerable.
The growing homelessness among immigrants arriving in the boats begins to claim lives, due to the deterioration it produces. A month ago Ali Elhardni died in Lanzarote, drowned in the Charco de San Ginés, This Monday, 19-year-old Ahmed was found dead in the corner of Las Palmas where he spent the night, and on February 24 another North African man was about to be crushed by a garbage truck in Playa del Inglés after falling asleep inside a container .
Jaime Baleyron explains that most of the immigrants that Somos Red helps in Gran Canaria they are not "street boys". They come from very precarious conditions, but in Morocco, Senegal or Guinea they were inserted in a family, they had a certain supportive environment.
"If this lasts for two or three months, the situation of these children will deteriorate a lot, they will be vulnerable to alcohol, drugs and everything on the street. Re-inserting them will cost much more", he warns.
Meanwhile, Cáritas, the parishes and Somos Red are fighting on another front: that of deactivating hoaxes and xenophobic tension that has been generated in recent months. Cáritas explains the reality through his entire network of volunteers, the priest Jorge Hernández acts as a "containment dam" in La Isleta whenever he can and Somos Red shows that there is also a great drive for solidarity in the neighborhoods.

www.informacion.es
Eddie is an Australian news reporter with over 9 years in the industry and has published on Forbes and tech crunch.