Pedro La Calle Marcos *
The Conversation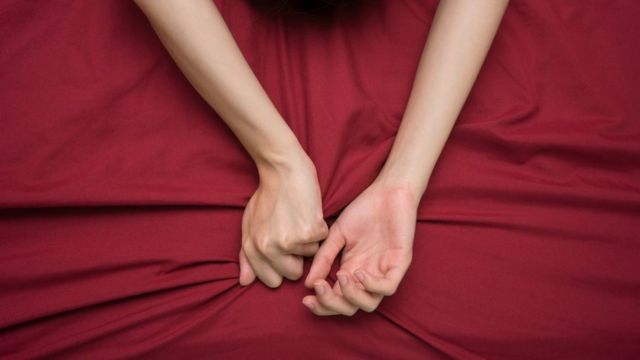 On some occasion while on vacation, we have gone to visit a monument or specific place that had been recommended to us.
When we have been there, still enjoying ourselves, we have wondered if it really was that place we were heading to.
Had we lived the experience? In any case, when we returned home, we said to each other "I think so, it was that."
With orgasm, on many occasions, the same thing happens.
This experience is often thought of as the end of a stage. Perhaps due to the influence of the parents of clinical sexology Masters and Johnson who considered it the last point of progression in the cycle of sexual response.
An experience that George Bataille in his essay on "Eroticism" called the little death, alluding to the brief abandonment and apparent disconnection of consciousness, a feeling of stoppage or suspension that takes about two seconds before a series of muscular contractions that frequently characterize it.
In any case, it is a phenomenon of maximum pleasure that can occur during an episode of sexual arousal. Something that we can describe each one without the words ending up reflecting what we live. A non-transferable experience as it happens with all subjective phenomena.
In our language, we sometimes express experiences or emotional states with metaphors of place. That is why it is common to hear, "I was about to arrive …" or "I am taking a long time to arrive". These metaphors imply that we effectively conceive orgasm as a goal.
It seems logical that when the time came when the scientific study of sexuality could no longer be avoided, a significant moment of sexual response with marked physical and behavioral changes would have to be chosen. It was about studying sexual function and orgasm was its representative.
Orgasmocentric studies on sexuality
In this way, the fabulous reports of the sexologist Alfred Kinsey (between the 40s and 50s) were based, in part, on this measure value of sexual activity which he called "download".
Previously, Wilhelm Reich, in his "Function of the orgasm" had placed this discharge at the center of mental and perhaps social health. In the middle of the 20th century, the orgasm represented one's sexuality.
It could be said that the West became "orgasmocentric" and partially problematized sexual relations, polarizing them. The objective was to reach a goal, to a place that, beyond experience and physiology, had been built by culture, when it is known that the bed should be a space free of goals.
The problem is that this cultural construction on orgasm has followed a male model: a climax with a brief and abrupt ascent pattern, more uniform and usually accompanied by ejaculation. For this reason, many women, when trying to compare it with their own experience, have perceived that it does not happen in the same way.
The fathers of modern clinical sexology argued that women's orgasm was presented as a much more varied experience than men's.
Therefore, it would be appropriate for us to begin to build a more real idea of ​​orgasm, more related as a state or experience of maximum arousal, a state of climax with enormous variability in degree and presentation, that is far from the stereotypical idea that we usually have.
Around it there is a series of discussions on which a lot of ink has been spilled in the few investigations carried out in this regard.
Among them, it is questioned whether the woman's orgasm is vaginal or clitoral. Given this, We can affirm that it can be vaginal, clitoral, cerebral, by rubbing, dreamlike … and a thousand other forms of genital and subjective arousal.
The problem of linking sexuality and reproduction
The vaginal orgasm has long been thought to be, so to speak, the substantive orgasm.
This idea was unfortunately inaugurated by the brilliant psychoanalyst Sigmund Freud, when he proposed the hypothesis that the orgasm produced by the penetration was the one that corresponded to full sexual development.
This was probably an idea based on reproduction as a paradigm of healthy sex, typical of what has been called Victorianism. This has made it difficult to use different paradigms in other investigations.
In addition, there are many other discussions about lubrication and female erection that are not yet closed. We could say that there is a kind of cultural ablation of sexological research, very particularly when it refers to the sexual response of women.
The woman effectively also ejaculates and this ejaculation has the same origin as in the male, the prostate.
Since the 17th century, the female prostate has been described. It is a more or less developed set of paraurethral glands that were called in the XIX Skene's glands, in honor of the president of the American gynecological society Alexander Skene, who was the one who systematically studied the female prostate.
It must be remembered that currently the anatomical payroll does not admit the name of female prostate and we still do not have a consensual model of the erectile system of women.
The reluctance to study sexual phenomena
In most of the female population, these glands that provide genital lubrication are very underdeveloped and ejaculation is not perceived. Another different thing is the urethral expulsion or squirt, of greater quantity.
Most of it is of bladder origin and, therefore, it is shaped like a very dilute urine with a peculiar composition. It is also a phenomenon of sexual response that occurs in an even smaller proportion of women.
All are phenomena of the sexual response that have behind investigations with relative little evidence due to the resistance that has always been to study sexual phenomena.
There is a certain prejudice that the study of sexuality can reveal its mysterious character. However, that is something that science cannot hijack, precisely because that character is experiential, contextual and intentional and what science does is study objective parameters and rationalize them so that they can be useful in solving problems.
The sexual response is above all a phenomenon of excitement, an emotional phenomenon with important psychic, physical and behavioral changes, in technical terms.
The question is the place we give it or the models we build around it, if we have standardized one form or another of sexual expression, if we are imposing or self-imposing it, if we have made it a goal.
Therefore, we should congratulate ourselves on the Day of the female orgasm that is celebrated on August 8 as another symbol of the need for a recognition of the sexual rights of women. Right to own sexuality, not coercion, right to pleasure.
The climax as a form of sexual emotion broader than the concept of orgasm would respond better to that place that we visit from time to time, that place where we have indeed been and that on Women's Orgasm Day represents the right to be herself. .
* Optional specialist of áGynecology and Obstetrics area. External professor, University of Almería, Spainña.
Now you can receive notifications from BBC Mundo. Download the new version of our app and activate them so you don't miss out on our best content.

www.bbc.com
Eddie is an Australian news reporter with over 9 years in the industry and has published on Forbes and tech crunch.