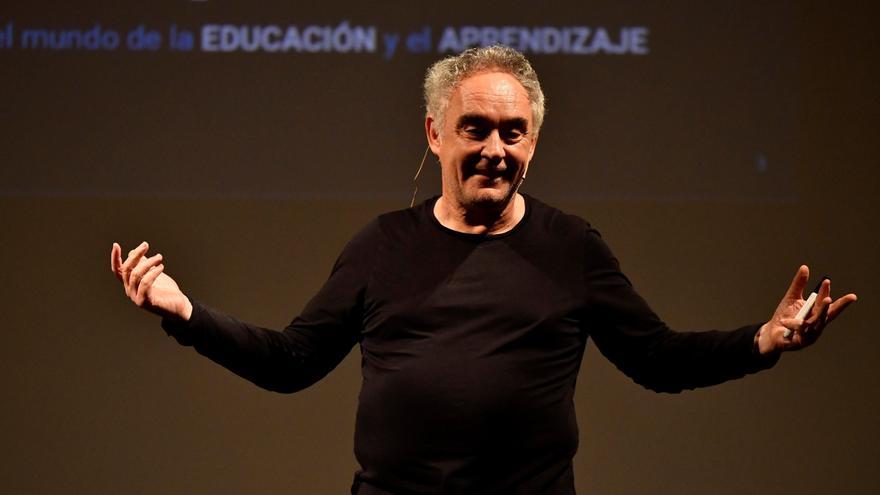 A decade after the closing of elBulli, his ideologue, Ferran Adrià, he assures that he would do it again "without any doubt" because he had pushed creativity to the limit and was tired of management and numbers. The world's greatest genius in gastronomy, now dedicated to analysis and dissemination, sees it unlikely that there will be another restaurant "so disruptive."
Little did the German Schilling couple imagine that the miniature golf course with a grill that they inaugurated in 1961 and which they named after their French bulldogs would years later become the Best Restaurant in the World (from 2006 to 2009), with Ferran Adrià as the first chef on international media covers and intervening in art fairs, universities and forums that until then had nothing to do with cooking.
Ferran Adrià did an internship at the restaurant before joining as head of the game, and later promoted to head chef. Together with the now defunct Juli Soler, responsible for the theater revolution, he bought elBulli in 1990; his brother, Albert Adrià, had joined the team five years earlier.
To review the tradition and the then in vogue "new kitchen" They went on to creation, bringing techno-emotional cuisine to the world by endorsing Jacques Maximin's phrase "creativity is not copying" and being the first restaurant to establish an R&D space in which the dishes that would be served were designed for six months. the rest of the year.
A total of 1,846, a figure that recalls Ferran Adrià in one of the many projects included in the foundation in which he works after "The last waltz" of the restaurant, on July 30, 2011. That same space in Cala Montjoi (Roses, Girona) will house elBulli1846, a museum that will demonstrate that its impact went "beyond spherifications and siphons" and will open to the public in 2023.
Adrià (L´Hospitalet de Llobregat, Barcelona, ​​1962) recalls in an interview with Efe the "strangeness" that produced his decision to close elBulli "having so much demand": "We were consistent with our mission to open the way, seek the limits in the experience in a restaurant, and we had come to the end. "
He was "tired of administration and management", but he emphasizes that he retired from that and not from the kitchen, to which he is still devoted now in a "more theoretical than practical" way. "I have no yearning for the management of the restaurant, which is becoming increasingly difficult. I would close elBulli again without any doubt," he asserts.
He has gone from getting up at ten, dedicating himself to creation of dishes and concepts with his brother Albert and Oriol Castro, head of creativity at elBulli, lead the team in the "mise en place", serve the diners and finish the day "between one and four in the morning", to wake up at eight, have breakfast "quietly", exercise , work at elBulli1846 and finish at six.
As he did in the kitchen before, he continues to innovate. Has developed the Sapiens system, "a methodology for understanding knowledge and ordering information", from which laBullipedia is nourished, a great editorial project from which in the coming years new volumes will come out on cocoa, wines, products, dialogue between science and cuisine or basic culinary techniques. "In 2023 we will have published about 30 very complex books," he advances.
Among them the "elBulli creative audit, the latest analysis of why it was what it was", a necessary work because even Adrià himself is "surprised" today by what they achieved from Cala Montjoi.
"There is a lot of talk about spherifications and foams, of which I am very proud, but there was much more. Juli Soler was the precursor of informal service, we started the Japonismo, the dialogue with the cuisine of Japan; We opened a workshop to systematize innovation, we created the long tasting menu, we allied ourselves with science and entered the University (from interventions at Harvard to the chair that bears his name at Camilo José Cela) ", he recalls.
A revolution that led him to take over a space never seen in the media – including the legendary 2003 cover of The New York Times Magazine – since some 40 books about elBulli. In October, Movistar + will premiere its documentary "The footprints of elBulli".
"We made people reflect and think, in Mexico, in Peru, in the United States … Techno-emotional cuisine, as Pau Arenós baptized it in his book 'The kitchen of the brave', made everyone question everything, but we were not dogmatic, "he vindicates.
Today elBulli has "great-grandchildren", in the form of cooks who, even without going through the restaurant, apply part of their philosophy. "His influence is and will be because it was a paradigm shift," he says.
"It was so disruptive … Since then, never in history has so much culinary been created, it has never been cooked so well. The rupture that elBulli promoted was so strong that it is difficult that there could be another like it; It will take longer, there will be something, but it is hard to see it. "

www.informacion.es
Eddie is an Australian news reporter with over 9 years in the industry and has published on Forbes and tech crunch.