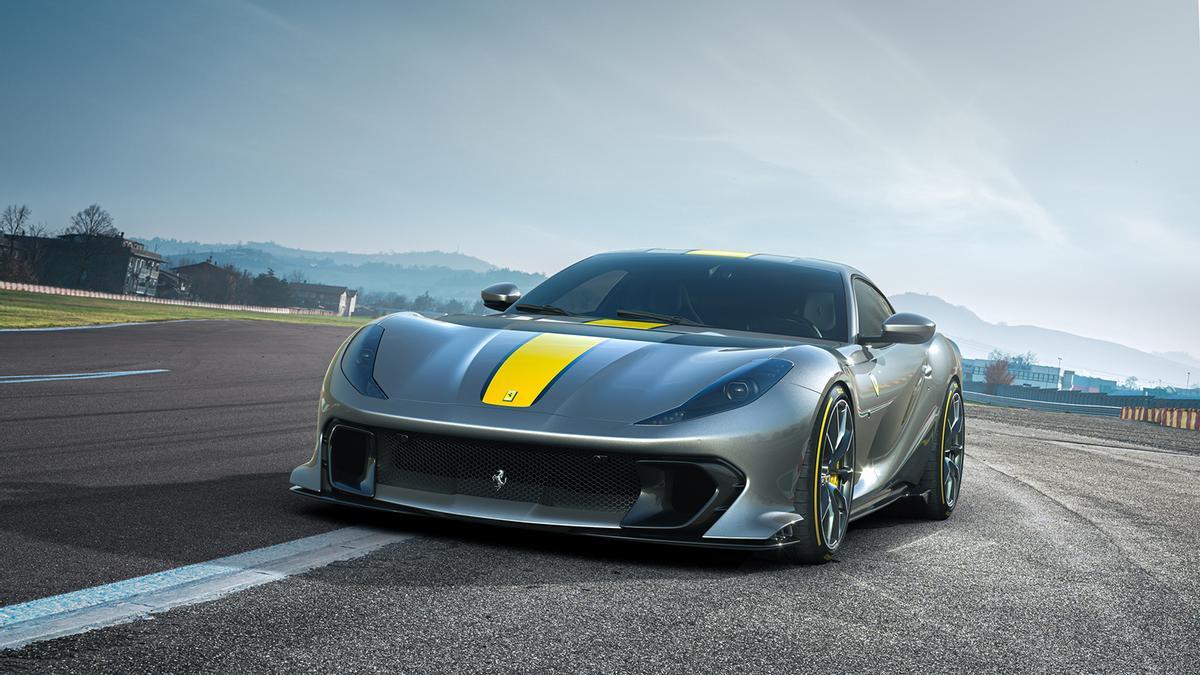 The Ferrari 812 Competizione, and its convertible variant, the 812 Open Competition (A)It is one of those vehicles that you can only dream of. Imagine that we can open the door, enter and tear off one of the most powerful engines ever. In fact, ride the most powerful naturally aspirated engine ever created. Then, it only remains to let your imagination fly, lead it into thoughts wishing you had one. And it is that, even if we had 648.000 euros, its price for the market Español, we could buy it, because all the units to be made, 999 of the coupe and 549 of the convertible, are already sold.
Ferrari brushes the line between supercars and hypercars with this reinterpretation of the 812 Superfast, its grand motor tourism Atmospheric V12. The Italian firm seeks the greatest possible dynamism and the most radical performance with variations made solely for a single purpose: to run. Run a lot. That is why, aesthetically, the main changes will focus, then, on reducing its weight and optimizing its aerodynamics.
Since Maranello They have taken the 812 Superfast and changed the front bumper, with wider air intakes to cool its powerful engine, and have changed its hood for one divided by a large plate of carbon fiber. Carbon fiber, precisely, will be the panel that will serve as the roof for the Aperta variant or its wheels. Not a gram of more have wanted to grant the engineers of the brand to finish declaring 1.487 kilos on the scale, 38 less than the 812 Superfast.
To improve your aerodynamics The fins after the rear wheel arch, a new rear diffuser, a new spoiler and the replacement of the rear window with an aluminum plate developed to generate vortices will be ordered. Altogether, it is capable of generating a 25% more downforce. The rear, in fact, undergoes several aesthetic changes, all functional, such as the relocation of its exhaust outlets, and causes it to look more like that of the SF90 Street than Superfast itself.
830 hp of pure strength
This weight loss is coupled with a significant increase in the power of your Atmospheric V12 from 6.5 liters, which reaches the 830 CV of power at 9,500 rpm and 692 Nm of maximum torque from 7,000 rpm. They are 30 hp more than the standard version, a rise that allows it to deliver a power of 1 CV for every 1.79 kilos of weight. With these changes, in a straight line it is able to go through 100 kilometers per hour in 2.85 seconds, dial 200 km / h in 7.5 seconds and reach a maximum of 340 km/h.
The engine is associated with a seven-speed automatic gearbox with technology developed in its single-seaters of Formula 1 to ensure even faster and more precise shifts. According Ferrari, changes a 5% faster, a number that may seem low, but that is remarkable considering the good response of the 812 Superfast transmission. The new ones 812 Competition they mount a directional rear axle to improve their maneuverability, the new system update Slip Control, which allows a controlled skid when turning and a suspension with variable adjustment.
Ferrari keep betting, as Neomotor advanced, for more powerful and exclusive versions of their cars, which allow them to improve operating margins for each unit sold, to increase their profitability and profits, with the aim of achieving profits of 2,000 million euros for 2022.

www.informacion.es
Eddie is an Australian news reporter with over 9 years in the industry and has published on Forbes and tech crunch.