08:03
FCA: Five Reasons to Be Wary of Crypto Assets
The FCA says it has five concerns about investments that offer the potential for high returns when investing in crypto assets:
Consumer protection: Some investments that advertise high returns based on crypto assets may not be subject to regulations beyond anti-money laundering requirements.
Price volatility: Significant price volatility in crypto assets, combined with the inherent difficulties of valuing crypto assets reliably, places consumers at high risk of loss.
Product complexity: The complexity of some crypto-related products and services can make it difficult for consumers to understand the risks. There is no guarantee that crypto assets can be converted back to cash. Converting a crypto asset to cash depends on the supply and demand in the market.
Charges and fees: Consumers should consider the impact of fees and charges on their investment, which may be greater than those of regulated investment products.
Marketing elements: Companies can exaggerate product returns or underestimate the risks involved.
07:46
Introduction: FCA warns of risky crypto investments
Good morning and welcome to our continued coverage of the global economy, financial markets, the eurozone and business.
Britain's financial watchdog just issued a warning to consumers tempted by the promise of high returns when investing in cryptocurrencies like bitcoin: you could lose all your money.
The Financial Conduct Authority says it is aware that some companies are offering clients the promise of high returns by investing in crypto assets or loans or investments linked to crypto assets.
Such offers, the FCA warns, are risky and speculative.
It also cautions that consumers who put funds into crypto-related investments are unlikely to have access to the Financial Ombudsman Service (FOS) or the Financial services compensation plan (FSCS) if something goes wrong.
The FCA says:



Investing in crypto assets, or investments and loans linked to them, generally involves taking very high risks with investors' money. If consumers invest in these types of products, they must be prepared to lose all their money.

As with all high-risk speculative investments, consumers need to make sure they understand what they are investing in, the risks associated with the investment, and the regulatory protections that are in place.
The FCA warning comes after crypto assets have shown huge gains in recent weeks. This morning, however, the market is slipping.
Bitcoin has fallen back to around $ 34,000, or about 15% below its value over the weekend (at one point it fell below $ 33k, before recovering).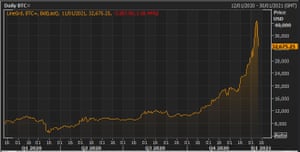 This comes after Bitcoin broke the $ 40,000 mark for the first time on Thursday, doubling its price in just five weeks.

Such volatility is not unusual for bitcoin, of course (which is why the FCA is concerned!).
Kyle rodda, market analyst at I G, Explain:



Perhaps betraying its products as a risky asset in its own right, Bitcoin and other cryptocurrencies are also under selling pressure today as the upward price momentum begins to wane and even threatens to renew itself. Bitcoin is always a victim of tight liquidity, much as it was last week, the drop seen so far in the cryptocurrency could be bought quickly tonight when trading conditions become a bit healthier.

Of course, after such an extraordinary rally in recent weeks, to historically overbought levels, one could say that Bitcoin is another asset that needs to pull back.
The agenda
2pm BST: Speech by Silvana Tenreyro, Bank of England Legislator: Let's Talk About Negative Interest Rates
Updated




www.theguardian.com
George is Digismak's reported cum editor with 13 years of experience in Journalism