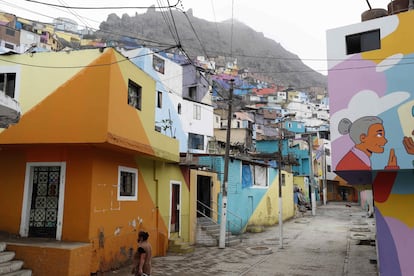 The economies of Chile, Colombia and Peru are showing strength even as the COVID-19 pandemic continues, but their political climates are contributing to volatility in the markets, according to different investment banks, as well as the credit risk rating agency. Fitch Ratings. In reports published this week, analysts expressed concerns about populist policies, pressures on public finances and social unrest.
"The intense electoral cycle in the Andean region increases fiscal uncertainty amid growing pressures from social spending," Fitch Ratings analysts wrote in a report published Thursday. Chile holds elections at the end of this year, Colombia will do so in early 2022 and has recently assumed a new government in Peru. "Political tension and social unrest, which can hamper growth or fiscal consolidation, were building before the pandemic exposed weak health systems and social safety nets, and income inequality. ", Says the firm's report.
Chile
According to official data released on Wednesday, the Chilean economy expanded 1% in the second quarter of the year compared to the previous quarter. This implies a slight slowdown compared to the rise of 3.4% in the first quarter, which is due to the increase in infections seen in March, which forced the authorities to reintroduce containment measures. But economic forces such as private consumption, public spending, and investment continued to advance.
"Looking ahead, another round of retirement retirement, still low interest rates, strong global demand for copper, and a prominent vaccination campaign should help the economy pick up momentum in the coming quarters, which means that Chile is in a good position to lead the region's economic recovery this year, "Luciano Rostagno, market strategist for investment bank Mizuho, ​​said in a note to clients. "We forecast that gross domestic product (GDP) will grow 10% this year, compared to 9.0% previously."
For his part, Fitch emphasized in his report to the public policies promoted by Congress: "Chile's most clearly defined constitutional reform process has given popular frustration an institutional solution, but Congress has initiated populist measures, like pension withdrawals, and the presidential race is still open ". Fitch downgraded Chile's sovereign debt during the pandemic, but retains investment grade.
Colombia
Colombia's GDP grew 17.6% in the second quarter compared to the same period last year, however, in the quarter-on-quarter comparison, a 2.4% drop was recorded – a contraction greater than expected by analysts. "Manufacturing, construction, and wholesale and retail showed sharp drops in production in the second quarter amid a surge in coronavirus infections and disruptions caused by violent protests," Rostagno noted.
"We expect the Colombian economy to gain momentum in the coming quarters, as a notable drop in new coronavirus cases allows the economy to reopen and service activity to recover and favorable terms of trade help boost the industrial sector" said the markets specialist. "We must take into account, however, that political uncertainty continues to be a major headwind and could slow down investments."
Polls suggest that left-wing candidate Gustavo Petro would reach the second round of Colombia's presidential elections next June, Fitch noted in his report. "Petro does not advocate for constitutional changes, and checks and balances would prevent drastic policy changes. The tax reform proposals were reviewed after a popular reaction, "added the risk agency. Fitch downgraded Colombia this year, causing the investment grade loss of its debt.
Peru
The Peruvian economy was also affected by mobility restrictions at the beginning of the second quarter, so analysts expect that the quarterly GDP, which will be published next Monday, will remain close to the level of the previous quarter.
"Activity continued to show a high year-on-year growth rate in June, even being above the level it reached in June 2019 (pre-health crisis)," analysts at the investment bank BBVA said in a report published this week. "And employment also follows a path of normalization, but the weakness of the confidence of private sector agents will probably affect their spending from now on, moderating both the recovery of activity and that of employment."
The weakness in confidence refers to the uncertainty that investors have expressed around Peru since the arrival to power of President Pedro Castillo, whose government has already suffered its first resignation and has been criticized for errors and lack of clarity. "Political uncertainty remains high in Peru after the election of Pedro Castillo on a left-wing populist platform," said Fitch analysts. "Castillo has moderated some campaign proposals and radical changes in the free market economic model would face opposition."
"But his plans for a constitutional assembly could weigh on investment and growth prospects," added the rating agency, "governance challenges cloud prospects for reforms to reduce labor informality."
Subscribe here to the newsletter from EL PAÍS América and receive all the informative keys of the current situation of the region.

elpais.com
Eddie is an Australian news reporter with over 9 years in the industry and has published on Forbes and tech crunch.