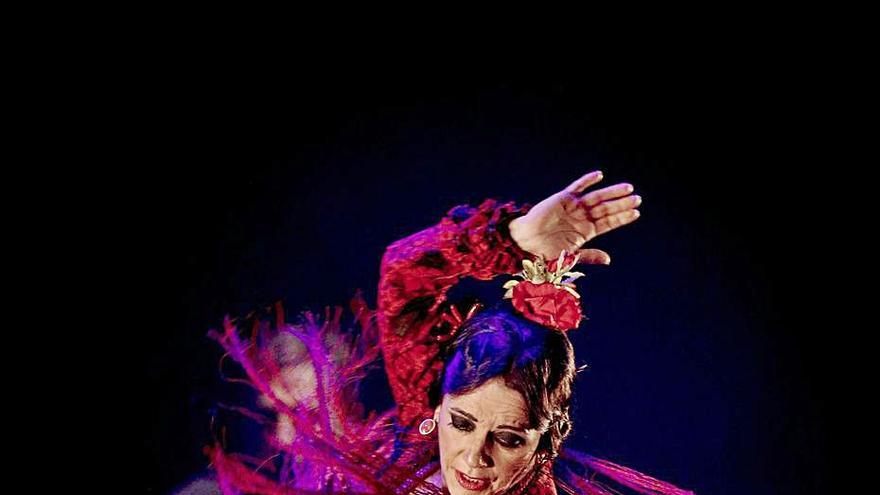 Flesh and bone is the show offered today in Alicante. Is it a metaphor for how far art should move?
Meat and bone is a show that has very much in mind what cante is, what music is, what choreography is. It is for all the senses. A show with which we try to enjoy and share everything that we think we have as a tool and that in some way gives us the possibility to believe and create. The farruca, the petenera, the soleá… I consider that cante is the mother of flamenco, it is the most ancient instrument we have.
More than dance?
It is clear that the first thing we do is move, but as a sound instrument it is the voice. In fact, it is what moves me throughout my life. My lifelong frustration is singing, I would have loved to be a cantaora and there I am, I try to sing with my body.
And what does flamenco, specifically dance, have to make it arrive in a special way?
When an artist takes the stage, he exposes everything that we know physically as organs. But there is another thing that is neither flesh nor bone, which is that magic that flamenco has because it is very direct. When it is real there is no time to escape. It hooks you.
The Teatro Real already has a flamenco program. You have already danced there …
It's not a fight … I don't like that word. But you continually try to make flamenco in these spaces because it has the same level as any other music. It has been said that it was the poor sister, but it is not so. When you say Spain, what they say the most is flamenco. It is the most identity of our country. And I have to say that yes, a space has been opened inside the Real, in the Isabel II Room they have enabled a tablao, because you eat and drink, but we have to keep trying to take the step so that it is on the stage of the theater.
Flamenco dance is perhaps one of the freest. Is it an art for the brave?
Flamenco has always belonged to very brave people, people who have sung and danced their needs, their shortcomings, their experiences… it is the evolution and tradition that we have lived through since the beginning. That is why it identifies us so much and we have to take care of it, and that happens by taking care of the artists.
Orthodox against heterodox. You have never stuck to pure flamenco.
I am a person whose feet are deeply rooted in the Orthodox, but I like to have very large wings. I try to fly anchored to the ground. I can't forget what caught me one day, never that in my life, but there is a daily life that is changing and there are many ways to express it. That if you do it for a need, not for a trend.
You say that even the things that cause us pain can be enriching. What do you get from having to spend several months away from the stage?
Really after a year and a half without being able to speak, because I speak through the movement, it is a moment of great reflection to realize how important it is to get on stage and share all your concerns with the public.
Confinement gave him to create Like You, with music as varied as flamenco, Mexican music and opera.
It is from María Calas to Chico Buarque or Chavela… One of the things I have done is put myself in the shoes of everyone else in this pandemic. You start to listen, to think and you survive with your own culture, of everything that others have put there to make what we have been through as lightly as possible and I decided that all that had to be somewhere.
It is always said that flamenco is better welcomed abroad than in our country.
It's true. In Spain we live a lot from tourism, we have not worried about promoting that education of going to the theater, getting to know the tablaos and valuing what is ours. Maybe we have it so close that we do not value it until you lose it. We have been to wonderful world theaters, such as the Sydney Opera House, with seven days sold out, or the City Center in New York, always with a full theater. Here perhaps we lack the education to go to see shows, but above all our own.
She was one of the promoters of the creation of Unión Flamenca. Was it something necessary?
It was necessary and it will continue to be so. What I want is to dignify something as what it is, which is a job, a profession. It is art, of course, but it is work. I want it to be a dignified profession, regularized because we pay taxes, have my unemployment, my retirement … We must fight for a global pact for Culture.
After a career as complete as yours, what would Eva Yerbabuena like to be when she grew up?
I would love to continue enjoying culture in every way. Being able to be calm, at peace and be happy as much as possible. Nor do I aspire to anything impossible.

www.informacion.es
Eddie is an Australian news reporter with over 9 years in the industry and has published on Forbes and tech crunch.