Iinevitably, it would be the attackers who made the headlines. Amid the uncorked pandemonium of England's 2-0 win against Germany on Tuesday, perhaps it was only natural that the defining motives were England's two scorers. The knotty, hardened features of Harry Kane, staring from the front pages of Wednesday morning like a king restored to his throne. Raheem Sterling's stern thousand-yard gaze adorns a thousand memes and featured memes, challenging you to doubt him ever again.
But perhaps the most interesting element of England's jubilee night at Wembley was that, at first glance, it didn't seem to have an obvious architect. Above all, England's victory was something of a highly collegiate triumph, punctuated by excellent performances and laid out without nervousness by Gareth Southgate. However, highlighting individuals is really missing the essence of what made England so effective.
In a game that lasted much of its duration, the collective dominance of England's territory and space was ultimately the deciding factor. It may not perfectly turn out to be a headline. It is highly unlikely that you will ever come across the words "England's coordinated midfield counterattack and smart, fluid movement off the ball. That's. That's the tweet. "But really, this was a game won and lost in the middle.
To even write these words is to sketch a puzzling parallel reality. For a decade, perhaps longer, England's midfield has been something of an existential disease, a perennial inferiority complex, a reminder of its diminished place in the world. France has N'Golo Kanté and Paul Pogba. Belgium has Kevin De Bruyne. Spain has all the others. England, by contrast, have always treated their midfield as an inexplicable stain on their pants – don't mention it, and maybe no one will notice.
England theoretically have Declan Rice and Kalvin Phillips in midfield, and both have had excellent tournaments. Both were supreme Tuesday: Rice in his positional sense and frugal use of the ball, Phillips in his ability to interrupt the game and get the attacks moving. But the real breakthrough in this tournament has been less about individual personnel and more about tactics and movement.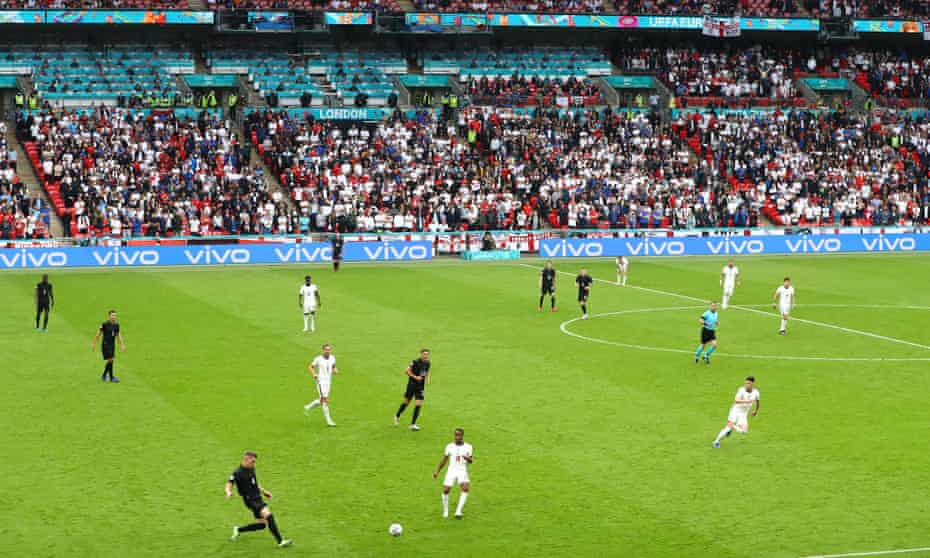 We are often conditioned in this country to think of the midfield as a discrete unit of work. But in the more fluid modern game, where formations and positions have decreasing relevance, it helps rather to think of it as a zone of control that any outfield player can influence. Or, more simply, your midfield is not simply your midfielders. Perhaps this is best illustrated by dividing Germany's game into its four distinct phases.
In the first phase, Germany is rampant. England lose the ball four times in midfield in the first seven minutes. But it's not Rice and Phillips's fault. Almost every time England gets in trouble, it's because Luke Shaw and Kieran Trippier, neither of whom is a natural full back, have reverted to their natural tendency to line up, essentially creating a flat five back with acres of line spacing. . A massacre is coming.
The second phase begins at 12 minutes when Sterling falls to midfield to catch a long shot, spins and runs. Instantly, you can see Germany being flooded again to deal with the implicit threat. Here's what Southgate meant when he later spoke of the "danger" Sterling and Bukayo Saka can create: By rushing teams from midfield, they force them to sit deeper and give up space. For the first time, Rice and Phillips have time and space to play. Harry Maguire approaches. The ailerons can safely advance in support. England no longer have two midfielders but six or seven. Before the long pitch, Germany had 67% possession and both shots. Between 12 and 30 minutes, England have 64% possession and three shots.
The third phase of the game lasts from 30 to 68 minutes. It's small, broken, hard to see. There are great possibilities at both ends. Kane and Trippier spend time receiving treatment. England has gained control of the territorial battle, but it is not deforming Germany. Sterling and Saka are England's only attack threats, and Germany knows it. In the third phase, which ends when both teams make their first substitution, Germany has 55% possession and all three shots.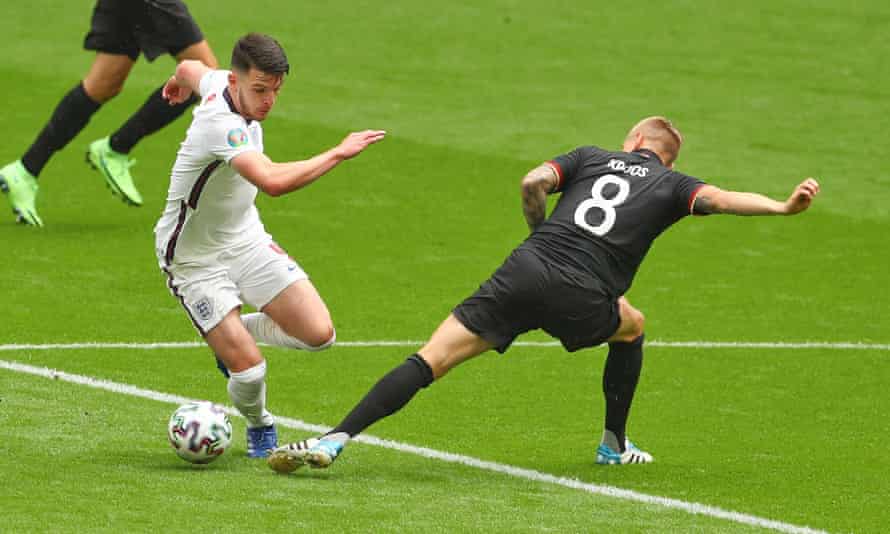 The introduction of Jack Grealish, with Germany beginning to tire, is a decisive game changer. Kyle Walker takes a step beyond Müller and takes increasingly central positions. Sterling plays taller, almost like a second striker. Meanwhile, Grealish goes practically where he wants. As well as offering cool, tight legs, he has the license to dive deep into midfield, and neither Matthias Ginter nor Joshua Kimmich really realize who should be following him.
And so, with 15 minutes to go, Grealish gets in and Kimmich follows, leaving Shaw unguarded on the opposite flank. By the time the ball has been worked around Sterling, Antonio Rüdiger has pushed up, Müller and Toni Kroos have been sucked in, and by the time Grealish throws the ball to Shaw, each German is in a narrow band around the width of the six-yard box. Sterling Scores. Finally, the peculiar and unpredictable movement of England has forced Germany to collapse in on itself.
Germany never regained its shape after that. As a measure of England's dominance in the core areas, Kroos finishes with a pass completion percentage of 82.1%, his fifth-lowest for the club and the country in a full 90 minutes since the start of 2017-18. Or, put another way: England restricted one of the best midfielders in the world to the kind of performance that they only register once a season on average.
That is why England are now only three games away from glory. But here's the irony: If Müller had converted his last one-on-one shot before Kane made it 2-0, it might have been for naught. This is the tightrope of international soccer: a game of fine margins and razor's edge. For now, happily, England is taking the right kind of break.

www.theguardian.com
George is Digismak's reported cum editor with 13 years of experience in Journalism