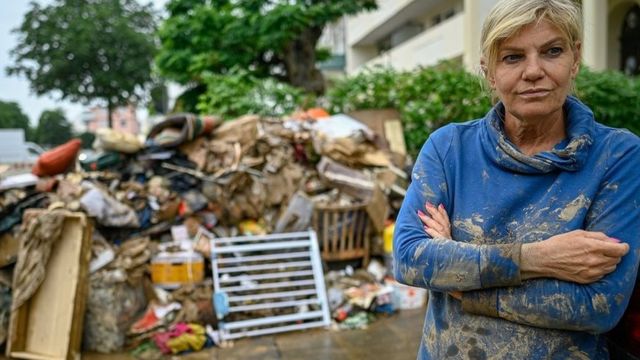 Rescue teams in Western Europe are working around the clock to find survivors of the floods that have wreaked havoc in Western Europe.
More than 150 people have died and hundreds are still missing after record rains caused severe flooding in Germany and Belgium.
Heavy rainfall also affected Switzerland, Luxembourg and the Netherlands, where Prime Minister Mark Rutte declared a national disaster in a southern province.
European leaders blame extreme weather on climate change.
Experts say that global warming the probability of torrential rains increases.
World temperatures have already increased by about 1.2 ° C since the industrial age began.
In Germany, where the death toll exceeds 100, President Frank-Walter Steinmeier, during a visit to a region hit by floods on Saturday, said he was stunned by the devastation.
"Whole places are marked by disaster," Steinmeier told a news conference.
"Many people have lost what they have built all their lives."
Fear for the missing grows
On Friday, the work of rescue teams in Germany was hampered by difficult conditions on the ground, leaving families of the missing anxiously awaiting news.
Telephone networks collapsed, roads were severely damaged and more than 100,000 homes were without power.
The states of North Rhine-Westphalia, Rhineland-Palatinate and Saarland have been the most affected by the rains.
In the Ahrweiler district of Rhineland-Palatinate, authorities said on Friday that some 1,300 people were missing, although they added that the number was "decreasing by the hour."
A resident of the village of Ahrweiler, in Schuld, told the AFP news agency that cars had been swept away and houses torn down in scenes he compared to a "war zone."
Roger Lewentz, the interior minister of Rhineland-Palatinate, told local media that the death toll would likely rise.
"When you haven't heard from people for so long … you have to fear the worst ", he pointed.
Chronicle of an announced disaster
Roger Harrabin, BBC Environment Analyst
Scientists have been predicting for years that summer rains and heat waves would become more intense due to human-induced climate change.
Hannah Cloke, a professor of hydrology at the University of Reading in the UK, notes that "the deaths and destruction in Europe as a result of the floods is a tragedy that should have been avoided."
"The fact that other parts of the Northern Hemisphere are experiencing unprecedented heat waves and fires should serve as a reminder of how much more dangerous our climate could become in an increasingly warmer world."
Scientists indicate that governments must reduce the CO2 emissions that are fueling extreme events and need to prepare for more extreme weather.
In Britain, hit by severe flooding on Monday, the government's climate change advisory committee recently noted that the nation was worse prepared for extreme weather today than it was five years ago.
And just this week, the British government told people they don't need to cut flights because the technology will solve the emissions problem, a notion most experts consider a gamble.
In Belgium, the army was dispatched to four of the country's 10 provinces to help with rescue and evacuations.
Prime Minister Alexander De Croo declared on July 20 national day of mourning.
He said the floods, which have claimed at least 20 lives in Belgium, could be "the most catastrophic our country has ever seen."
Rescuers from France, Italy and Austria were dispatched to the city of Liège, where residents were evacuated after the sudden flooding.
Meanwhile, in the Netherlands, thousands of people fled their homes in the Limburg province as rising waters flooded cities and broke through a dike.
But the waters began to recede in the southern city of Maastricht and nearby towns, where residents were able to return to their homes on Friday.
In Switzerland, the level of lakes and rivers also increased after heavy rains. The river running through the Swiss capital Bern overflowed on Friday.
Lake Lucerne flooded the city and Basel residents were warned to stay away from the River Rhine.
How does climate change cause floods?
Global warming causes more water to evaporate, leading to an increase in the annual amount of rain and snow.
At the same time, a warmer atmosphere means that it can retain more moisture, which also increases the intensity of the rain.
Instead of gently watering the vegetation, this heavy rain causes flooding, as we are now seeing in Northern Europe.
Now you can receive notifications from BBC Mundo. Download the new version of our app and activate them so you don't miss out on our best content.

www.bbc.com
Eddie is an Australian news reporter with over 9 years in the industry and has published on Forbes and tech crunch.