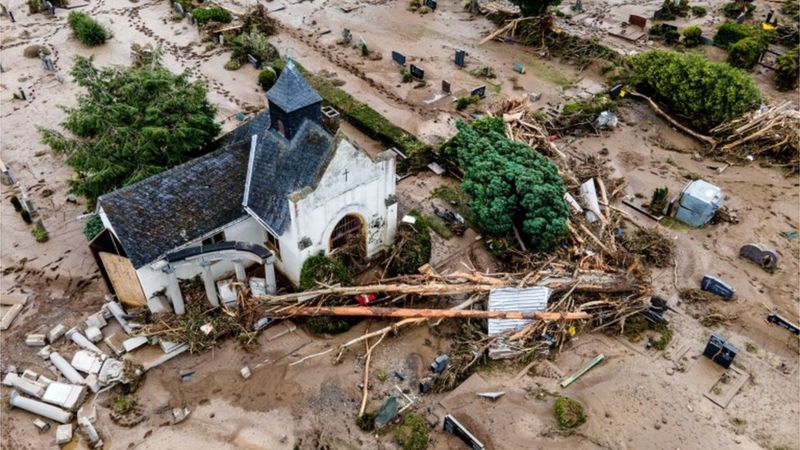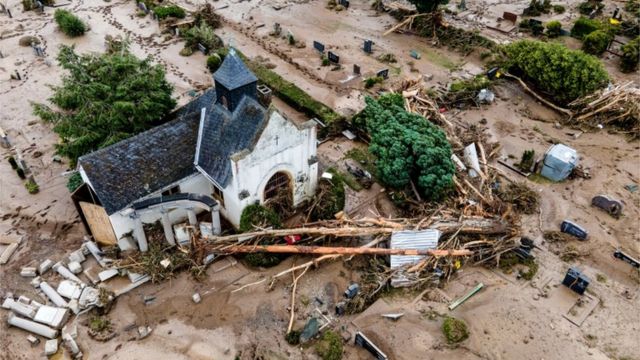 The worst floods in decades.
That is what Germany and Belgium experienced this week, where dozens of deaths were registered.
Record rains caused rivers to overflow their banks, devastating the region and causing some villages to be totally destroyed.
Experts argue that the catastrophic floods in Western Europe are part of a chronicle of an announced disaster and that the culprit is climate change.
Other specialists say that while the weather alarms were raised about the coming rains, they were not expected to be of such magnitude and that better forecasting tools are needed.
"Squeezing more water"
Many factors contribute to flooding, but a warmer atmosphere due to climate change increases the likelihood of extreme rains.
The planet has already warmed by around 1.2 ° C since the industrial age began and temperatures will continue to rise unless governments around the world make drastic cuts in CO2 emissions.
"Climatic events like this (in Europe) happen from time to time. But now, with the general warming of the climate and rising temperatures, air masses can hold more and more water vapor," explained Thomas Endrulat of the Meteorological Service of Germany, to the Reuters agency.
"So when this congestion occurs, more water is being squeezed out of this cloud sponge because of climate change, "he added.
Referring specifically to the weather forecast offered for Germany before these floods, the specialist said that the warnings were given on time but that there are things that cannot be forecast.
"The rain warnings were on time. But what happens is more difficult and depends on the history and saturation of the soil,in addition to the state of the dams and reservoirs. And it also depends on the time factor: if something like this happens at night, if people do not know what the sirens mean or if it is difficult to reach them through the media, "Endrulat explained.
"Those circumstances always differ. And that is why it is much more complicated than a simple weather forecast," he analyzed.
For her part, the environment minister of North Rhine-Westphalia, Ursula Heinen-Esser, said on Friday that the main cause behind the tragedy is climate change.
"The challenge is that sometimes we have to deal with extreme droughts and sometimes extremely heavy rains," he told the local newspaper Koelner Stadt-Anzeiger.
The soil "could hardly absorb more water due to the drought of previous years and the rains of recent weeks," he said, adding that in this situation it is "practically impossible to react in the short term."
Chronicle of an announced disaster
Scientists have been predicting for years that rains and heat waves would become more intense due to climate change.
Your device may not support this visualisation
And they constantly warn politicians that more needs to be done to protect citizens from extreme weather events, like these floods in Europe and the heat dome that hit North America a few days ago.
Hannah Cloke, a professor of hydrology at the University of Reading in the UK, told BBC environment analyst Roger Harrabin that "the deaths and destruction in Europe as a result of the floods is a tragedy that should have been avoided. ".
"Meteorologists issued alerts earlier in the week, and yet warnings were not taken seriously enough and the preparations were inadequate, "he said.
"The fact that other parts of the Northern Hemisphere are experiencing unprecedented heat waves and fires should serve as a reminder of how much more dangerous our climate could become in an increasingly warmer world," Cloke said.
Scientists say governments must reduce the CO2 emissions that are fueling intense events and prepare for more extreme weather.
Supercomputer
In a more general analysis of these extreme events on the planet, scientists also warn about their own difficulties in predicting them.
They recognize that their computers are not powerful enough to accurately project the severity of these events.
Some experts ask governments to invest in a shared climate supercomputer, the new "Bible" of climate science, from the Intergovernmental Panel on Climate Change (IPCC).
But former UK Met Office chief scientist Professor Dame Julia Slingo told the BBC that this would not be entirely helpful "because the IPCC (climate computer) models are not good enough."
"(We need) an international center to make the quantum leap into climate models that capture the fundamental physics that drive extreme (events)," he said.
"Unless we do that, we will continue to underestimate the intensity / frequency of extreme (events) and the increasingly unprecedented nature of them, "added the professor.
Oxford professor Tim Palmer agrees.
"It is impossible to say in what degree of emergency we are because we don't have the tools to answer this question, "Palmer told BBC Environment analyst Roger Harrabin.
"We need a commitment and vision to the magnitude of CERN (Europe's leading physics research center) if we are to build climate models that can accurately simulate climate extremes like the heat wave in Canada," he warned.
Most importantly, researchers must assess whether places like North America or Germany will face extreme weather events like the heat dome and flooding every 20, 10, 5, or even every year.
Currently, this level of precision is not possible.
Remember that you can receive notifications from BBC News Mundo. Download the latest version of our app and activate them so you don't miss out on our best content.

www.bbc.com
Eddie is an Australian news reporter with over 9 years in the industry and has published on Forbes and tech crunch.