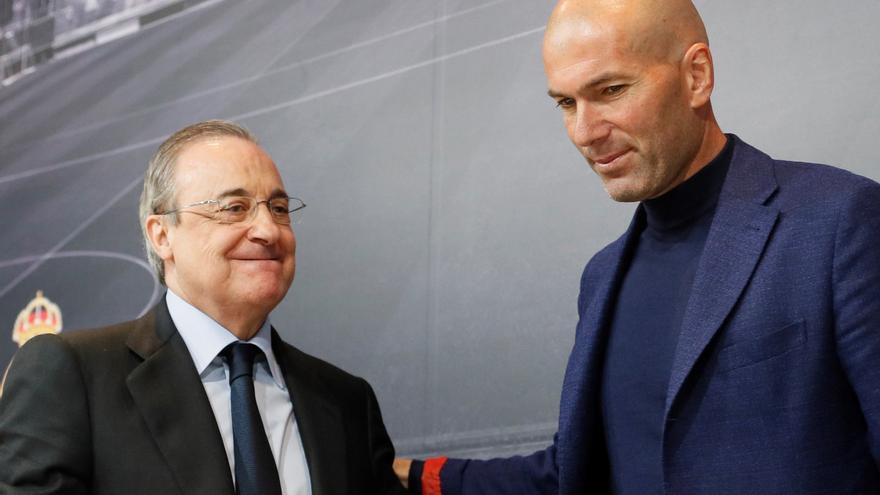 And that was what happened, during the month of December and January last, to Florentino Pérez, president of Real Madrid, who after not firing the French Zinedine Zidane After the European defeat (December 1) against Shakhtar Donetsk (2-0), he was regretting that 'no' decision for the rest of the season. Hence, in many boxes, the white president was heard ranting about 'Zizou' (despite winning).
All those consulted agree that the biggest shouts and protests in the victorious games that followed the threat of dismissal of Zidane after Shakhtar (for example, 0-1 in Sánchez Pizjuán, 2-0 in Europe against Borussia Moenchengladbach and a resounding victory 2-0 in the derby against Atlético), the French coach took them, to the extent that President Joaquín Buitrago and other Elche managers, who shared a box with Florentino Pérez, at the Martínez Valero on the night of December 30 last (1-1), they heard him repeat more than two and three times: "I should have loaded it in December, I don't know why I didn't, but he won three games in a row and I couldn't."
They needed him to go
Both Florentino and Jose Angel Sanchez, General Manager of Real Madrid, they have just seen the gates of heaven open when they learn that Zidane resigned, again, the year of his contract that remains. "The year I don't work, I don't get paid." According to El Periódico de Catalunya people very close to the top of Real Madrid have recognized, "Zinedine is a wonderful person, a great coach, a fantastic representative, the best image of Real Madrid and its ideal spokesperson, but, at the moment, It was not the problem or the solution we were looking for. Everything we have to do in the Valdebebas dressing room cannot be done with Zidane inside, as he is a friend and an accomplice of the players ".
There is no doubt that Real Madrid, which is about to rename the Santiago Bernabéu stadium as the 'flying saucer' of football, is living one of the worst crises in its history. For the first time in 11 years (2010), he has not won a title (0 out of 4); has not contributed footballers to the selection that goes to the Eurocup, worse, he must console himself (bad consolation) with seeing that boys emerged from 'La Fábrica' (Marcos Llorente, Diego Llorente, Pablo Sarabia and Álvaro Morata) will wear the red shirt from other clubs; and Florentino Pérez has to renew, whatever and whatever the price, a squad in which he doesn't know what to do with Sergio Ramos, Hazard, Bale, Marcelo, Lucas Vázquez and many other footballers, 'sacred cows' of Real Madrid.
It goes without saying that the same machinery of the White House that illustrates and floods, every month, the media with spectacular videos of how the works of the 'flying saucer' of the Castellana are progressing and also point out the disastrous sports management of Zidane ( and his physical trainer Gregory Dupont, who they blame for the 63 injuries suffered by the squad this year, 23 from Atlético, second in this painful classification), is the same one who has launched his journalistic spokesmen to blame the VAR for the loss of the League.
These, the spokesmen, repeat that of the 98 clubs in the leagues of Spain, France, Germany, England and Italy, Real Madrid is the penultimate club that has received the fewest penalties in favor (3), surpassed only by Arminia Bielefeld. "For Real Madrid to get a penalty in favor, they have to give 370 passes! in the rival area ", they sentence.
Millions wasted
It is evident that Real Madrid is in the most absolute of sports ruins (we are not talking about the age of its pillars: Courtois, Ramos, Kros, Modric and Benzema) due to the disastrous transfer policy carried out, personally, by Florentino Pérez , which, from 2017 to now, has spent 573 million euros on 15 transfers: Theo (24 million), Ceballos (16.5), Vinicius (45), Courtois (35), Mariano (21), Odriozola (30), Brahim (17), Lunin (8, 5), Harzard (140), Jovic (63), Militao (50), Mendy (48), Rodrigo (45), Reinier (3) and Kubo (1). True, in sales, the white team has raised, in that same period of time, more than 400 million euros.
The anger of Florentino Pérez, whom many see with less desire and hit than a few years ago ("A couple of seasons ago, Florentino would have liquidated the song Zidane, Ramos, Bale or Hazard, in a jiffy"), it focuses on very different reasons, although, yes, in a null self-criticism. Florentino recalls that Zidane has made 54 lineups in the last 54 games. Furthermore, Real Madrid has had 174 league games without repeating the line-up, since matchdays 8 and 9 of the 2016-17 championship. Not to mention the lack of a goal: the great Benzema is the top scorer (3rd in the Pichichi), with 23 goals, but Real Madrid's second top scorer is… Casemiro, with 6.
It is possible that many madridistas find the saving role of Cristiano Ronaldo and, above all, the null contribution of Hazard, but there are also many who remember that this sport is not a (only) thing for megastars, despite what the president thinks, since this year Leo Messi, CR7, Neymar Júnior, Kylian Mbappé and Erling Haaland, the cream of the crop among the candidates for the Ballon d'Or, they have not won their leagues nor, of course, are they in the Champions League final.
The dismissal of Lopetegui
"If something Florentino Pérez de Zidane couldn't bear, who always knew that his president was publicly criticizing him in the fields, meetings and boxes where he went, it is that protected veterans, his faithful, his 'bodyguard', creating a plug for those footballers, young and with projection, who the president believes are the future of Real Madrid, without realizing that they are not as good as he thinks they are or what he paid for them is worth ", says one of the most expert journalists who have followed Real Madrid for more than two decades and who prefers to remain anonymous. "The proof is in how he fired Julen Lopetegui because he did not help him turn Vinicius into the new Messi," adds the informant.
Messi is another obsession of the powerful Real Madrid president. But not because of the goals or titles that he has taken from the merengue team, but because of Florentino's inability and frustration to clone the Argentine star in the Real Madrid squad. Florentino Pérez wants to be more than Santiago Bernabéu and, in that sense, he believes that nobody beats him in construction works (the top is the " flying saucer " of the Castellana), in a sports city, in titles, in the Champions League, but he wants leave as a great legacy a white Messi, another Alfredo Di Stéfano. And he does not find it. And it does not come out, no matter how much you look.
Florentino is obsessed with writing his story, his legacy through the appearance of white Leo MessiHence the desire to explode young footballers, tightrope walkers, filigree, fantasy like Rodrigo, Vinicius, Odegaard, Kubo … but Messi there is only one. It is possible that, finally, he will have no choice, solution to this year of chaos and zerocerism, than to hire Kylian Mbappé, his second ace up his sleeve on his current roadmap, which began with the remodeling of the Santiago Bernabéu stadium.
Farewell to the French
If Barça, immersed in a chilling debt, does not have it easy, Real Madrid, either, because their 'sacred cows' have already played their 100 best games. After the exhaustion of 'Zizou', who has once again demonstrated his dominance by resigning the year of his contract that he had left, perhaps the great captain Sergio Ramos, who, they say, hung the cover of the newspaper 'Marca' in Valdebebas' changing room where it was said what Alaba was going to win ("and they are asking us to lower the record"), he ended up accepting, cornered, injured, with a more than uncertain future, the downward renewal that Florentino offers him. But what is going to cost him blood, sweat and tears, you will see, will be to take power from the Valdebebas dressing room, which the president cannot bear, since he already had them with Hierro and Raúl and, now, he must bear the command of Ramos.
The 'Zidane soap opera' ends as Florentino Pérez or José Ángel Sánchez wanted, without having to fire him and without words of thanks from the leader for the management of the Frenchman. Because, contrary to what many thought, when 'Zizou' told the press: "stop criticizing me behind my back and, if you dare, tell me to my face what you think of me and my management, what I was demanding was a gesture from the club, well, from the president who never arrived. And Zidane leaves without receiving any recognition from Real Madrid. Perhaps for this reason, 'Zizou' did not want to rush his contract and the French was fired.

www.informacion.es
Eddie is an Australian news reporter with over 9 years in the industry and has published on Forbes and tech crunch.