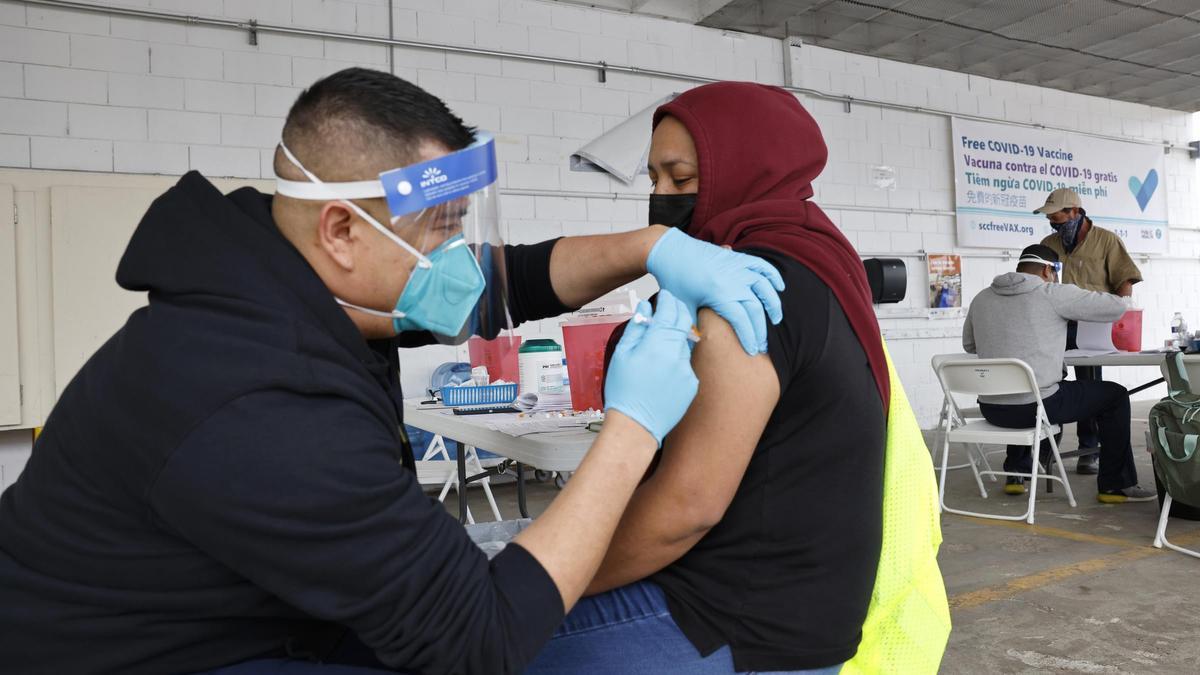 Florida started this Monday the vaccination of people over 40 years of age, a step prior to the inclusion of those over 18 years of age next week, and at a time when the cases of variants of covid-19 are increasing rapidly.
The expansion of the group of people who can be vaccinated as of Monday has gone hand in hand with the increase in the supply of doses in the four open centers in Florida in coordination with the Federal Emergency Management Agency (FEMA) and that to date have vaccinated more than 300,000 people. As reported by the state Department of Health on Monday, the four federal centers in the cities of Jacksonville, Orlando, Tampa and Miami will apply some 3,000 first doses of the Pfizer vaccine from this day, and will also continue to operate until May 26. that is, one month later than initially planned. The one that operates on the North Campus of Miami Dade College has been applying an average of 1,200 first doses per day until last week and today they have gone at a rate of about 500 vaccines every hour, its spokesman Mike Jachles told the Miami Herald newspaper .
According to official figures, Florida has applied almost 8.6 million doses to date, of which 2.9 million correspond to second doses of Pfizer or Moderna, while that of Johnson & Johnson, of a single dose, more than 220,000 have been supplied.
Florida Governor Ron DeSantis announced Monday that he will not allow Florida municipal or county authorities to require a "vaccination passport" for certain activities. "It is completely unacceptable for the government or the private sector to impose the requirement of proving that someone is vaccinated to participate in a normal society," said DeSantos, who announced that he will issue a decree prohibiting any such measure in Florida.
Increase in variants
The lowering of the age criteria comes as new data from the federal Centers for Disease Control and Prevention (CDC) reveal a skyrocketing Florida variants of the covid-19. In this state, 2,274 cases of the British variant (B.1.1.7), 42 of the Brazilian variant (P.1) and 14 of the South African variant (B.1.351) have been identified so far.
Florida is not only the state with the highest number of identified cases of the British variant in the country, which brings together a total of 10,579, but it has doubled its infections compared to last week, when it registered 1,042 cases.
According to epidemiologist Anthony Fauci this Sunday, the recent rebound in cases observed in the country is not only due to the variants, but also to the lifting of restrictions in some cities and states, as well as greater number of trips in the middle of spring break ("spring break"). National media such as CNBC have announced that the country, according to the independent count of Johns Hopkins University, registered an average of 61,821 new cases of covid-19 last week, or what is the same: a rise of 12% compared to the previous week. In Florida, as the local media Tallahasse Democrat points out, 35,656 new cases were accumulated in the week that ended on Sunday, an increase of 13% compared to the previous week that added 31,541 new infections.
Florida has to date a total of 2,047,379 cases of covid-19 and 33,891 deaths from this disease, according to the state Department of Health.
As of Monday, April 5, those over 18 can be vaccinated in the so-called "Sunshine State", although in the case of the Pfizer vaccine even those over 16 can be immunized.

www.informacion.es
Eddie is an Australian news reporter with over 9 years in the industry and has published on Forbes and tech crunch.