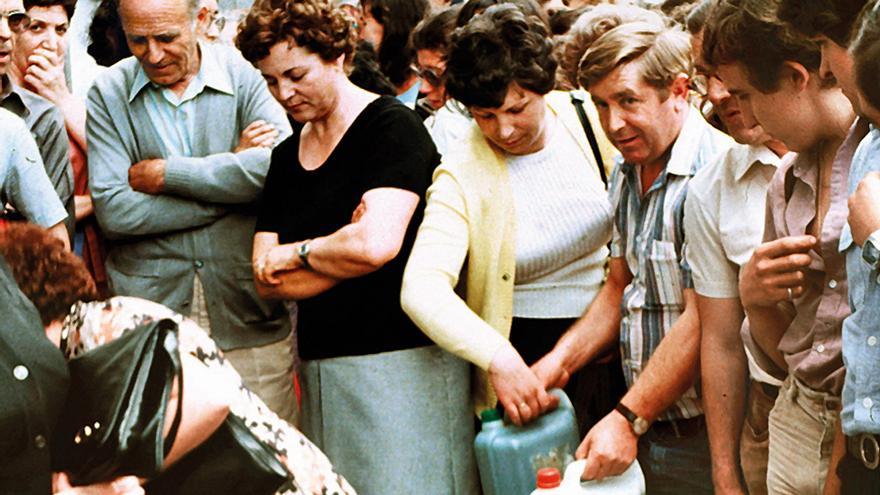 In March 2020, already in a pandemic, the Community of Madrid ordered to destroy 200,000 liters of adulterated rapeseed oil, abandoned in an industrial warehouse in Alcorcón. This May 1, when 40 years have passed since the first death from toxic syndrome, the victims denounce and ask for moral reparation.
The destruction of the last denatured oil silo 39 years after the mass intoxication was declared, in the spring of 1981, obviously came late for the platform of those affected "We continue to live", which in these years has not stopped fighting for get out of oblivion and get "moral reparation, homage of dignity and respect as an act of State for victims, deceased, families and professionals ".
This is how its coordinator explains it to Efe, Carmen Cortes, who lived in the first person and at the age of 15 the ravages of an intoxication that led to a chronic degenerative disease, with an uncertain future and unique in the world.
According to the platform, death toll reaches 5,000 and the number of people affected throughout the national territory amounts to 20,000, the majority in the Community of Madrid, Castilla y La Mancha and Castilla y León, in the fraudulent oil sales circuit.
These figures are far from those provided by the National Institute of Social Security and according to the latest data, the number of affected is 12,881, although the INSS data refer to victims who are receiving a benefit for toxic syndrome.
Of those 12,881, the autonomies that add up the most are Madrid (8,698), Castilla y León (2,771) and Castilla-La Mancha (603). By ages, 41% are over 65 years old.
"They took us out of the way"
Cortés is aware of the fine line that separates death from toxic syndrome or an associated pathology and wonders if death from pulmonary hypertension, one of the most serious conditions, is going to be counted by the State as rapeseed victim.
This coordinator reproaches the Administration for not doing anything in decades to destroy the last waste stored in Alcorcón and for waiting for the complaint to the National Court, which ruled in 2017 and Madrid executed three years later.
Everything too slow for a group whose life expectancy is pressing.
The platform has also been asking for a reference unit of comprehensive assistance that, despite good words, it never gets to be constituted and the inclusion of the part of the group that could never develop a working life, as recipients of a recognized disability, at least with twice the minimum interprofessional salary.
For Cortés, this is an "endless story," and the "damn indemnities" they turned against him and had to return 25% of the aid, some even remained as debtors of the State,
"They paid us and took us out of the way" says this victim who assures that they will not stop fighting because "they destroyed our lives and we are not visible anywhere. It is as if we had never existed".
The doctor who identified the origin
In the spring of 1981, Juan Married He was an adjunct physician in the pediatric intensive care unit of the Niño Jesús Hospital (Madrid).
In a few days, the emergency consultations were saturated and hundreds of apparently healthy children began to be admitted with a picture of respiratory infection that began with fever, rash, itching, headache, shortness of breath and cough.
It was chaos, he says in an interview with Efe, something similar to the collapse of the pandemic. The Ministry of Health made a recommendation that patients be treated with antibiotics and that safety measures be used to avoid contagion.
Married, not convinced with the diagnosis, he opted to investigate and created a group of very young doctors who for four weeks he spent day and night analyzing the clinic from the patients.
The babies gave the hint
The children had many white blood cells of a type called eosinophilia, which grow toxic and allergic but did not respond to antibiotics or antihistamines. The idea that It was not an infectious or allergic disease; some were cured, returned home, and came back sick. So the team started looking for other causes.
Those affected came from peripheral neighborhoods in poor areas, There were no cases in rich areas of Madrid, so the medical team realized that it was a common poison, which was not in the air or in the water, but in food.
Casado observed that babies under 6 months did not get sick even if his family did, so it had to be a food not suitable for children and he thought about preserves.
From there, a survey was carried out between admitted and children who went to consultation and little by little it was concluded that what they shared was a type of oil that was sold in markets in five-liter jugs.
Once the product was limited, the team confirmed that it was a toxic oil for industrial use fraudulently derived for human use.
With this finding, Casado and the then director of the hospital Juan Manuel Tabuenca They were presented to the Health Department to demand that the relationship between the oil and the disease be urgently reported and its non-use recommended.
Casado remembers that the ministry ignored them, but "as it was young, daring and wasted"He demanded that appearance and, if not, threatened to hold a press conference at his own hospital.
And that was how, against prognosis, He convinced Health, which reported that same day of the link between the disease and the oil. The news did not fall on deaf ears and the cases began to disappear.
Dr. Casado, pediatrician emeritus of the Child Jesus, is proud to be a doctor and to have contributed to the improvement of the sick.
Even so, remember that one in two children had muscle and nerve involvement, loss of strength and paresthesia, more common in girls older than 7 years.
And also one in two suffered mucosal involvement, tight and shiny skin, without fat pad and very itchy. Some were bald and with dry eyes. His future became very complicated.
Married continued to observe them for a year and found behavioral disturbances, depression and suicidal thoughts, especially in those over 7 years old. Infant mortality due to toxic syndrome was estimated at 2.1 percent.
Some children who now in 2021, already they would have turned forty.

www.informacion.es
Eddie is an Australian news reporter with over 9 years in the industry and has published on Forbes and tech crunch.