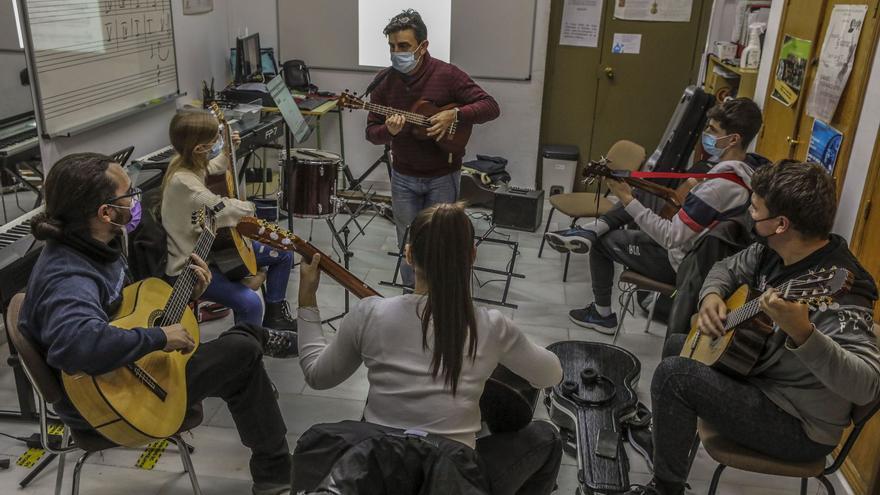 The conservatory celebrated its 40th anniversary this week with an institutional act that was attended by representatives of the local administration. They presented a book that reflects this long journey full of administrative changes in management and, above all, they paid tribute to the dozens of professionals who have made the journey possible and to the thousands of students who have been trained.
The pool of musicians is extensive, and there are those who have ended up playing at the Berlin Philharmonic or even working in the Hollywood industry and landing in Los Angeles as the Crevillent composer Marcos Galvany. A good part of the Misteri family also studied at the Elche Conservatory.
Remembering, this conservatory emerged as a municipal music school and until the 1981-1982 academic year, official academic validity was not recognized with the degree of Elementary Conservatory of Music, not state, to the teachings of the aforementioned school.
Forty years later, the center has reached 17 specialties and has become too small. There have been many demands to give the enclave more space so that it can grow more. Part of the citizens understand that another infrastructure is necessary because the waiting lists are very long and barely a quarter of the children who access elementary education find a place.
Carmen Montesinos Fortea is a cello and chamber music teacher. She has been linked to the conservatory since its inception and even became the director in one of the moments of transition. He came to live that preliminary stage in which there were a dozen specialties but without specific facilities, so the classes were taught at the "El Palmeral" school, which functioned as a pilot center at that time after school hours. "I was very young when I had the square and it is something that I remember with great affection although they were hard years because we started in the afternoons when I finished school and also on Saturdays but we did not have our own headquarters," says the teacher.
It was not until the 1985-86 academic year when classes started at its current location on Avenida del Ferrocarril.
As this professional explains, what has been noticed the most in this career is how society has changed its perception of this musical training. As he relates, at the beginning "older people who had their trades such as doctors, pharmacists, and also young people with artistic concerns began to come, the majority were not children."
He also noted that the general population was quite detached from the conservatory and that is why several campaigns were launched at that time to make themselves known. "There was a time when we did a lot of auditions, we went to schools, those first years were very hard because we needed a quarry when we were little. I went to all the rural games and as a result of that work people realized that we had a conservatory and they started to come little ones, because until that moment people were going to Alicante or Murcia, they did not see that it could be done in Elche ». In line, she expresses that she has given the center "many years as a secretary, director, teacher, and I have moved a lot taking students to international orchestras to work."
Somehow there was a take-off and about 800 students enrolled, increasingly younger. However, as the proportion of professional education grew and progress was made in the regulation of the center, the percentage of students fell to the current 400 line, although there are authorized places for more than 500 that cannot be materialized by the scarcity of spaces. Almost all students are children and during these four decades more than 6,000 students have been trained and there are about fifty teachers, as indicated by the center a few days ago on the occasion of the anniversary. It was in 1995 when it became part of the network of public centers of the Generalitat and this caused part of the teaching staff to be transferred to the Ministry.
Manola Rico became a teacher of musical language, choral ensemble and piano in 1981. At that time, she was managing her own academy but accepted the offer to make a replacement. He didn't even think about it because he saw the future. He spent 24 years at the conservatory until his retirement three decades ago. He assures that it has been his life's work. "The most intense and exciting, the one I always dreamed of." She is also proud that all her children were educated despite the fact that they later chose another career, although she has grandchildren who already excel playing the piano, the guitar or the violin. He also welcomes the great talents who passed through the classrooms, as students or teachers, such as the current Capella del Misteri master, Javier Gonzálvez, or the previous ones such as José Antonio Román and Manolo Ramos, as well as professional tenors of the stature of Javi He roared.
Transformation
José Galiano, current director for two decades, and a pupil for forty, narrates that in all this time there has been a continuous transformation of teaching and space, to the point of sharing rooms. He emphasizes that space is needed because the current conservatory has 1,000 square meters "and we need triple or quadruple" for this reference center in the Baix Vinalopó and Vega Baja region.
One of the difficulties occurs when rehearsing large groups in the 80-square-meter room, because it falls short. Similarly, he understands that acoustically the center is still not prepared and demands a library so that students can combine this training with their studies in Primary and Secondary, for example.
As for challenges, some new specialties such as electric guitar and electric bass remain pending, and from the center they trust the bet of the educational administration although the lack of space is "conditioning", they regret. This is a pending issue that they hope can come soon, without having to wait for many more anniversaries.
Concerts and cultural weeks for their visibility
The development of the conservatory has gone hand in hand with multiple activities through orchestral groups that have focused on concerts and recitals, as well as master classes, conferences, colloquia, cultural weeks and international exchanges. Along the way, the Conservatory Choir and Orchestra were created, as well as the Band association. The Chamber group Phoenix Consort Illice also became the first instrumental ensemble dedicated to early music in Elche, the first in the city.

www.informacion.es
Eddie is an Australian news reporter with over 9 years in the industry and has published on Forbes and tech crunch.