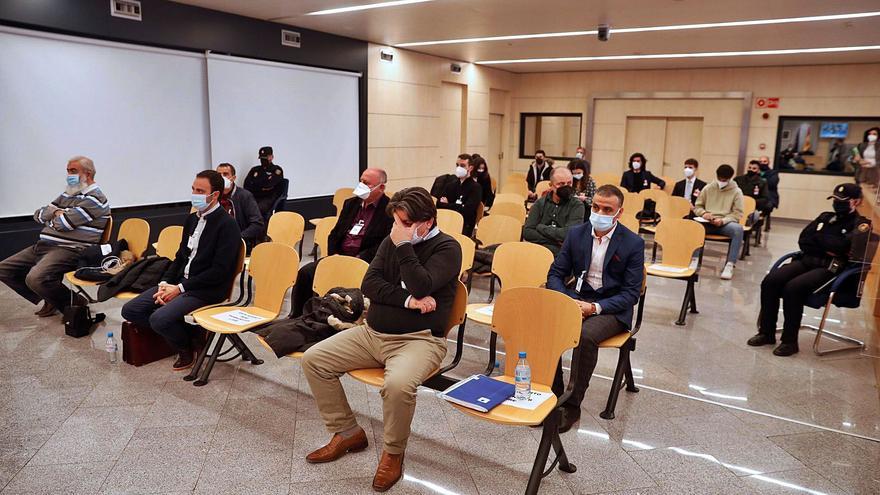 One of the defendants who declared yesterday was the manager of the largest used clothing recycling company that operates in Spain and is in Cocentaina. Nourdine Ch. Assured that he did not maintain any commercial relationship with the businessman arrested in Crevillent, with whom he assures that he only agreed on two occasions, and said that he has never sold merchandise in Syria. Asked about the seizure of military uniforms in a container in the port of Valencia that was destined for his company, the defendant specified that "it is not military clothing, it is camouflage", and is sold in many shops. He pointed out that his company moves "millions of kilos of clothing and camouflage barely represents 0.038%." Nourdine pointed out that the used "camouflage" clothing represented 3.8 tons of the 14 that were in the container and were to be sold in Melilla.
Likewise, he denied that there were NATO or NBRQ suits, as the Prosecutor's Office maintains, and explained that the merchandise was acquired from a company in the United Arab Emirates that buys used clothing from Ones in the United Kingdom and other countries.
Regarding the cash income of ten million euros for three years in his company, he indicated that all his commercial operations are included in the accounting and "that money does not come out." "I have never hidden anything," said Nourdine, who ended his statement by denying his links to terrorist groups.
The Spanish businessman Simón R., from l'Alqueria d'Asnar, explained to the court that he was engaged in importing yarn from China and that in 2013 he met Ammar T., accused by the Prosecutor's Office of running the network. He traveled from Belgium to Cocentaina to open a new used clothing recycling company and claims that he rented a warehouse owned by a company that he owns. He denied having participated in the export of containers from Ammar to Syria and Iraq and only admitted that, at the request of the alleged leader, he financed the shipment of a shipment of used clothing to Angola. He also indicated that he bought in England a batch of baby carriages and another of small appliances, material that he still keeps stored in l'Alqueria.
His relationship with Ammar T. did not end well because he had a debt of 15,000 euros from the rent and ended up forcing him out after cutting off his electricity and water. Simón R. affirmed that he does not share the jihadist ideology and that he did not think that Ammar supported any terrorist organization. "I saw him incapable of doing harm," he added. Another Madrid-based defendant, Hitham S., claimed that he had no relationship with Ammar's company, that it did not collaborate in the export of containers and that it did not work with fertilizers or phosphates. A nationalized Spanish Jordanian pensioner living in Ontinyent, Mohamed AER, claimed that he never exported used clothes with the alleged head of the network, whom he helped to recover money in Iraq and of whom he said "was a secret person in his relationships." . He denied that he was related to the Islamic State and assured that he did not write anything about terrorists on Facebook, where he says that his account was closed "because of my photo with a long beard, not because of the content."

www.informacion.es
Eddie is an Australian news reporter with over 9 years in the industry and has published on Forbes and tech crunch.