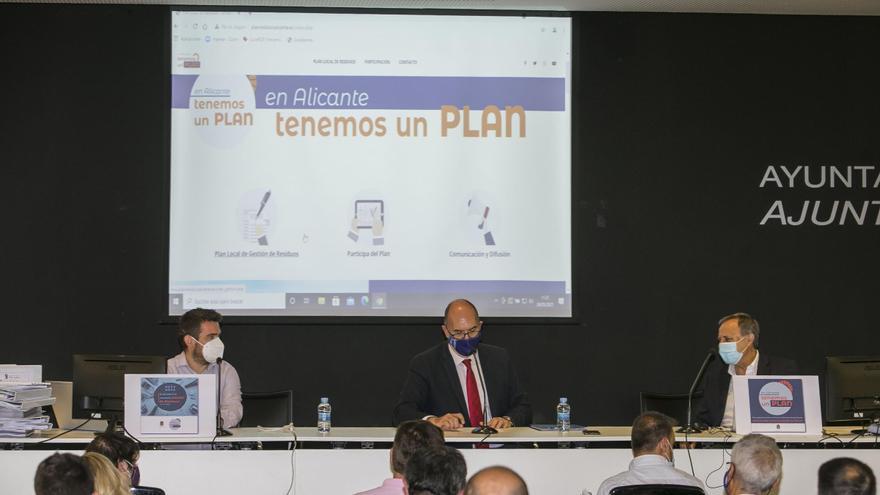 To meet the objectives set (double the selective collection), the document includes the need to expand the current containers by about 4,000. It is planned to go from 88 to 2,056 containers of organic in 2022, from 1,334 to 1,654 glass, from 1,045 to 2,000 packaging, from 875 to 1971 paperboard. In turn, it is expected to reduce the Grey in 650 containers in 2024, from 3,423 to 2,773 units. Also included is the expansion of litter bins: from the current 7,891 to 9,231 to reach the ratio of 27 per 1,000 inhabitants in Alicante.
The collection «door to door», Which is ruled out to be implemented as a generalized system throughout the city, will be made for cardboard in commercial areas, in street markets, with bulky waste such as household goods and, in particular, with cooperation systems for hospitality packaging or glass.
The waste production in Alicante currently around 194,000 tons per year, more than half a ton per inhabitant each year. The bipartisan forecast is to exceed 200,000 tons per year in twenty years. In this sense, the municipal plan establishes objectives such as reaching 47.38% in 2022 in the organic one, which should be around 60% in 2028. Currently, it is only 5.7%. It is also expected to go from the current 12.1% to 25.3% in light packaging in eight years, from 15.2% to 31.2% in paper and cardboard, from 51 to 61% in glass and 14.6% 58.7% in textile [un servicio que todavía no gestiona el Ayuntamiento hasta que lo asuma en el modificado del contrato previsto para este verano].
On the other hand, improvements are foreseen in other services, with three ecoparks more in town and three new mobile ecopoints. It also includes the installation of twelve composting community "scattered around the periphery of the municipality."
Opposition reactions
After knowing the first details of the Waste Plan, the socialists they assured that they have "confirmed their disappointment, a planning without any innovation whose only ambition is to fill the city with containers." "This Plan puts Alicante in a situation contrary to what is intended in the European waste strategy, which asks us to implement alternative methods to the disposal of containers by population ratio, such as the Door to Door system. The Department of Cleaning intends to pass tiptoeing on this community indication, implementing this system only in commercial areas, not for domestic waste as large European capitals, Barcelona and some districts of Madrid do ", according to the socialists, who consider that" if what Europe demands is not done and a better separation at source is facilitated with complementary systems to the container islands, Alicante will never improve its recovery, recycling and disposal numbers ". The Socialists, in the presentation, have been represented in the councilor Raúl Ruiz.
For her part, Councilor Vanessa Romero (United we can) points out that "what this Plan does is recognize the current failure in waste management and, on paper, it marks an itinerary to reach objectives that we should already be meeting". "Measures that we have been defending are contemplated, such as the increase in selective collection or the increase in containers, clearly insufficient. We miss the implementation of other collection systems such as the 'door to door' or the SDDR that we understand would help to improve The objectives. Now it is necessary to know if there is ambition to translate all this into specifications and if the level of demand will be increased while the extension of the current concessionaire lasts, "says the mayor.
Finally, the councilors of Commitment Natxo Bellido and Rafa Mas, who attended the presentation of the plan, have been critical of the municipal government. "This local plan should have been finished for months, as set out in the Comprehensive Waste Plan of the Valencian Community, which indicated January 1, 2021, the deadline for all municipalities with more than 10,000 inhabitants to have a crazy plan. Local Waste Plans are an opportunity, as well as an obligation, for municipalities to establish detailed regulation adjusted to their needs and peculiarities with regard to waste management, "said Bellido, who considers that "the presentation has been interesting, as well as the strategies that are going to be put in place, which require a lot of investment and above all the interest of the bipartisan to modernize cleaning and waste management". For this reason, "we should bet on new alternative measures such as 'door to door'. However, we believe that it is an important step and we will always give support to everything that involves progress in waste management and cleaning of the city since We are still in a very early stage, almost in diapers, "he concluded.
No councilor from Vox.

www.informacion.es
Eddie is an Australian news reporter with over 9 years in the industry and has published on Forbes and tech crunch.