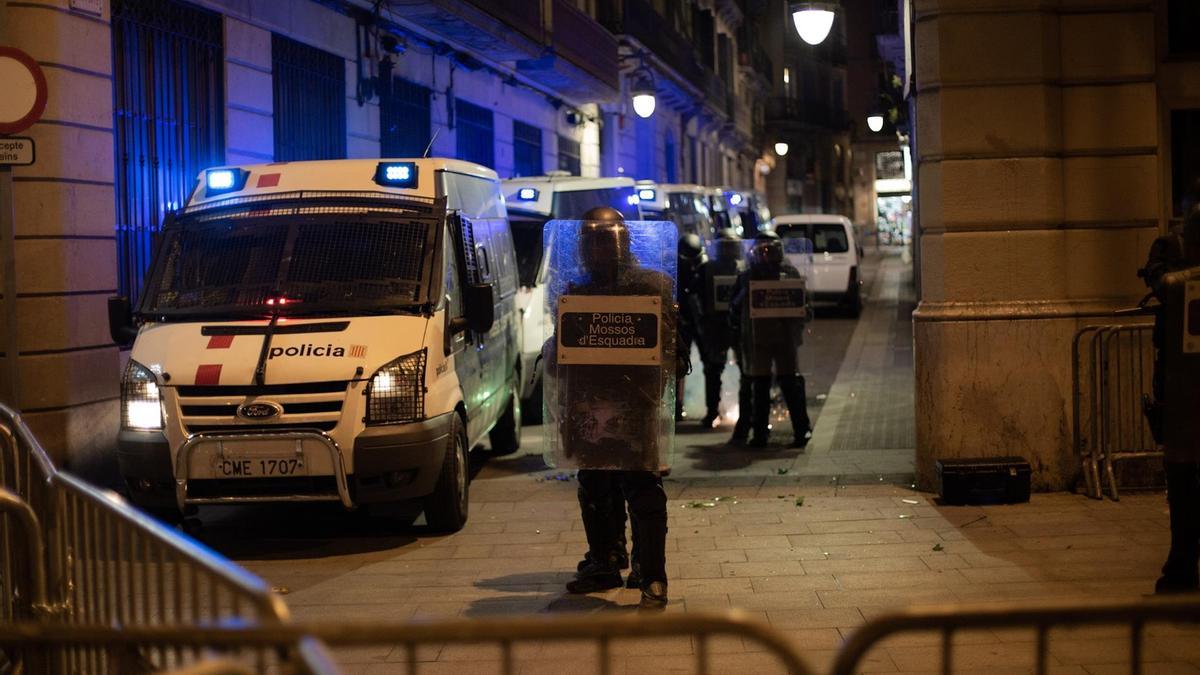 The demonstrations in favor of rapper Pablo Hasél have started late this afternoon in several Catalan cities and, for the fourth day in a row, numerous people launch proclamations for their release in Barcelona, ​​Girona, Tarragona and Vilafranca del Penedès (Barcelona).
A a small group of people gathered around seven this afternoon in the Plaza Universitat de Barcelona, where another new demonstration was called.
Two young men have sung a rap in defense of the land and the environment that ended with shouts of "freedom Pablo Hasel", while the number of people arriving in the central Barcelona square increased, where hours before there was already a strong device of the Mossos d'Esquadra.
Almost an hour later, the protesters began to walk in the direction of Plaza de Catalunya and from there towards Via Laietana, where the National Police station is located, and there they chanted the slogan "out with the occupation forces."
Has been then when the protesters have started throwing glass bottles and firecrackers at the building and the National Police officers guarding it.
The Mossos d'Esquadra, located several meters below, have warned by loudspeaker that they will act, and the protesters have responded to the warning advancing towards the line of the Mossos vehicles.
Painted in Girona
The protests in Girona began at six o'clock in the afternoon before the rectory, led by students who later joined the convocation of the Committees for the Defense of the Republic (CDR) in the Plaza del Mercat del Lleó, where they met about 500 people, according to local police.
From there, They have addressed the delegation of the Generalitat, where they have painted, and then to the Government sub-delegation, which is guarded by the Mossos d'Esquadra.
In Tarragona, hundreds of people have gathered in the Imperial Tarraco square, from where they have marched to the Rector's Office of the Rovira i Virgili University behind a banner with the slogan "Libertad Pablo Hasel".
The protests over the imprisonment of the Lleida rapper have brought together almost two hundred people in Vilafranca del Penedès (Barcelona) under the slogan "We continue. We spread rage everywhere", in a protest that began in the Plaza de la Vila and has traveled through the city center.
A hundreds of students convened by the Student Union of the Catalan Countries (SEPC) have gathered this afternoon at the doors of the Rector's Office of the University of Lleida (UdL) to demand the freedom of Pablo Hasel.
The manifesto read by the representative of the SEPC Júlia Figueres denounces the "repressive rage" of the last nights of altercations in different cities and accuses the State of "frontally attacking basic rights and legal guarantees".

www.informacion.es
Eddie is an Australian news reporter with over 9 years in the industry and has published on Forbes and tech crunch.