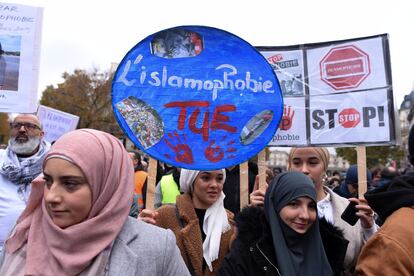 The French extreme right has once again demonstrated its structural and ideological insubordination with democracy as an instrument of social inclusion. The speech delivered last Sunday by Marine Le Pen, candidate for the National Regrouping (RN) in the presidential elections of April 10, 2022, has openly incurred an Islamophobia that installs her in the dirty waters of shameless demagogy and distills a dangerous generic blame on a part of the citizenry. They are not strange practices to that party, and they are not strange either to a related party, as Vox is in Spain: the alarm caused by both speeches is the same, and it is just as objectionable in democratic terms.
Le Pen's party suffered a resounding failure in the regional elections last June. Shortly after, the now candidate for the Elysee said she was betting on a strategy consisting of filing the most radical tones of her message and getting rid of the image of a racist and authoritarian party that dragged her formation. Exactly one summer that attitude has lasted. Le Pen has returned to the discourse of law and order, promising to end the "Talibanization" of some areas of France and what he defined as "drug development", in reference to organized drug trafficking gangs.
The strategy is an old acquaintance: it consists of demonizing a part of society with insulting and degrading generalizations. The refusal to find out with reliable data and information the complexity of the situation of the Muslim community deviates from the behavior expected in a party that aspires to the presidency of the Republic. But associating the integration difficulties of that community with drug trafficking networks borders on criminality, as well as being deeply immoral.
It is important not to lose sight of the fact that this far-right discourse is contaminating to some extent the rest of the French political spectrum, sometimes too tepid with the distance it demands. In February 2020, President Emmanuel Macron launched – also in the name of Republican values ​​- a "strategy to fight Islamist separatism" with a focus on marginalized neighborhoods. This approach to the problem caused many voices to warn of a potential boomerang effect by unintentionally encouraging a reaction contrary to the desired one.
In this scenario, the interventions of the socialist candidate, Anne Hidalgo, have emphasized the concepts that are truly part of the French identity —such as the need to reinforce public education and raise the salary of its teachers. They may seem less effective, more predictable and of little media impact, but they place the defense of the Republic at the center of the discussion and seek to undermine the agenda that the far right aspires to impose on public debate.

elpais.com
Eddie is an Australian news reporter with over 9 years in the industry and has published on Forbes and tech crunch.