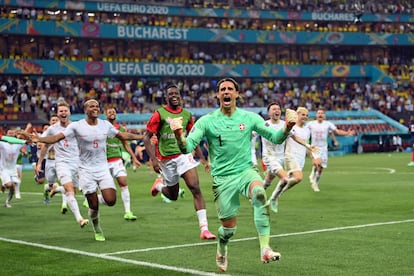 June 28 will be a day to remember in Switzerland, capable of winning a duel as passionate as it is open to the world champion after being dejected and recovering, after a round of penalties in which Yann Sommer (Morges, Switzerland; 32 years old ) stopped Mbappé last. It was also the day that the Swiss national team went from Little Swiss —As the French called them mockingly— to Asterix and Obelix because they broke the last 16 jinx, a curse that had lasted since the 1954 World Cup, when they reached the quarterfinals for the first time in their history. Then, they fell to Austria in the match with the most goals ever seen in the tournament (5-7). It does not seem likely that something similar will happen against Spain and with Sommer under the sticks. "Whoever wins the world champion can dream of much more," the goalkeeper, who has written on his gloves, resolved after landing France. Summer in reference to his surname and because, among other things, he is fluent in German, Swiss, French, Italian and Spanish. And this may be his best season ever, leader of Switzerland under the sticks and recently father for the second time, so he left the concentration for two days to meet his daughter.
Sommer does not mind dreaming because so far many of his wishes have been fulfilled, even though it was not easy at the beginning, disputed by his height (1.82 meters, not very tall for a goalkeeper). In 2008, after going through the lower ranks of Basel, he went on loan to Vaduz, in the Second Division, at the request of Heinz Herrmann, who had directed him in the U21 team. He ascended, returned and this time the Grasshopper requested it, already in First. A year that made him win minutes, also coming back to stay.
It was to the chagrin of Franco Costanzo, who passed through Alavés in the 2005-2006 season. "It was not a decision against Costanzo but in favor of Yann. I know very few players who work as hard and pay such meticulous attention to every detail as he does, "explained Georg Heitz, once sporting director of Basel and now Chicago Fire, from the United States. "He is not the biggest, but his confidence and play with his feet give him confidence. If he has broken the record for the number of appearances as a goalkeeper in the national team (65 to 61 for Benaglio), it is for something, "says Philippe Senderos, former Arsenal and Switzerland player, now Servette sports director, from the other end of the phone.
There were also doubts in Borussia Mönchengladbach, who signed him in 2104 when he transferred Ter Stegen to Barcelona and comparisons were born. Especially in preseason and at the beginning of the course. Until it was intoned and in the entire second round he only received 10 goals – the team finished third after signing 17 games without losing – a record in the Bundesliga. "Although he is not that tall, he is very fast and has excellent reflexes. He is also very good with the ball on his feet and knows how to play. I think he's a bit like Ter Stegen ", Raffael, a former teammate at Mönchengladbach, acknowledged.
Sommer explains why he responds best in times of heightened stress. "For years, I have had the support of a mental coach who presents me with tasks to be able to focus on the first match of a European Championship, first match of a World Cup…", he resolves as part of the explanation. "He has a lot of mental strength. He is always at one hundred percent, fully focused even in training. Furthermore, he is never seen to be in difficulties ", praises Senderos, who also recognizes his ease in communicating in the dressing room; "He is appreciated quickly."
A starter at Borussia, he had little time to take over from Diego Benaglio in the Swiss goal, a decision by Ottmar Hitzfeld. And he exploited his fame, the image of brands such as Nivea and Panasonic, also from Nike, as well as an occasional model. But what he likes the most is cooking – he has a blog where he shares his recipes – and singing (he receives weekly classes), as well as playing the guitar as a student at the Düsseldorf School of Music. He is also a friend of Roger Federer. Although what he does best is putting on gloves. And stop penalties.
Especially with the national team, as Sergio Ramos knows well, who in the last League of Nations stopped him two in the same match and broke a streak of 25 consecutive hits by the former Madrid player. Thus, with the Swiss jersey, Sommer has stopped half of those who have thrown him – four of eight -, although his global numbers are 19 of 82 (23.2%). "As it is very agile and moves very well on the line, for many, yes," says Senderos; "But there is always that part of the lottery …". Little for Sommer. "He is a calm person who exudes security. He stands out for his mental state and his coldness in dealing with pressure and emotions ", highlights Patrick Foletti, the national team's goalkeeping coach. Pierluigi Tami, the Swiss sports director who directed him in the youth teams, went further: "Sommer in goal is like wearing a coat in the middle of winter that leaves your heart warm".
Before the selection of Deschamps it was enough to stop the decisive penalty to Mbappé. "The French are very strong, but they had a moment when they were a bit arrogant," Sommer resolved. Now, it is Spain's turn.
Subscribe here to our special newsletter about Euro 2021

elpais.com
Eddie is an Australian news reporter with over 9 years in the industry and has published on Forbes and tech crunch.