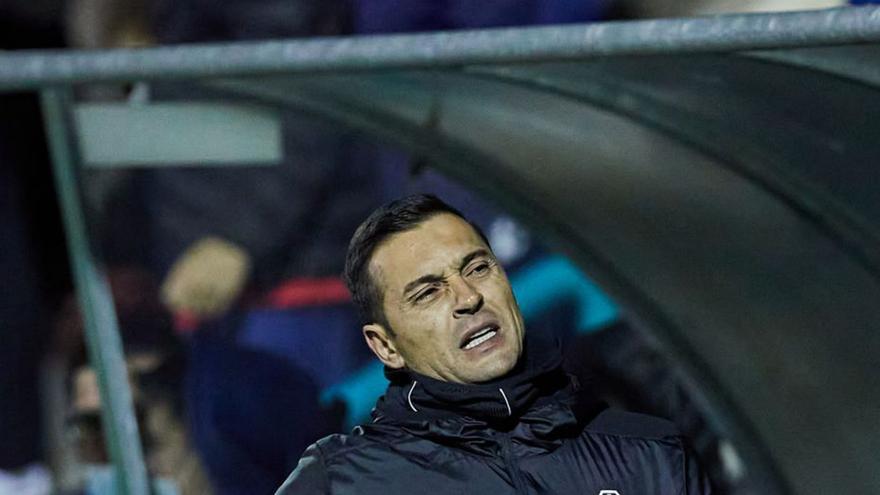 Elche's new coach, Francisco Rodríguez, from Almeria, debuted yesterday on the Franco-green bench and in the press room after the game. His intervention showed his satisfaction at the victory. He positively valued the dedication of his players: «It is difficult to play in a situation with just a few days of preparation, with an opponent who wants to win, a field that is too soft due to the rain … In the end, I am happy because we have passed the tie, that it was our duty, against a good rival who has also done things very well ", Francisco summarized.
The franjiverde coach explained that "as we told the players before the game, we had to come with all the respect in the world to compete against a historic rival, a team that had great enthusiasm and desire … We must congratulate them because they have competed very well" .
The game was "difficult, but we have taken it forward. We've suffered. The feeling when you win is good, always. I leave satisfied. Of course there are many things that must continue to be improved and we are going to talk about them and work on them. Also important have been the two goals from Carrillo, the participation of footballers who did not have minutes, so that they can pick up pace, and that everyone is offering their best level.
Francisco assumed that "it is not easy against an inferior rival and with a field as it was. I asked them for the maximum and they have given it. But the important game for us, with all due respect for Leioa, comes on Sunday. We now have three days to recover and that is what we are going to try ».
In general, "we ask that everyone achieve their best level. We have very good players but at the moment the classification does not show that we are at that level. It is important that players like Casillas, Benedetto or Carrillo, show it and the rest of the players do the same ».
In the end, "the effort was very good against an opponent who made it difficult." Regarding the youth players, the coach assured that "although I know them less because they have not been playing, the club trusts them and I will count on them. Jony surprised me because his player profile was not very clear to him and for me he has been at a very good level ».
Regarding his work these days, he acknowledged that «it is difficult to be able to show automatisms that we want to generate in the face of movements with the ball because neither the field nor the rival allowed it, but it is true that today that winning mentality has been seen, of an ambitious team , which I have broadcast since I got here. To be very competitive. From now on we are going to grow from the base of being the competitive team that our people require of us. And when we succeed, the level of the game will also raise.
For his part, the top scorer of the night, Guido Carrillo, acknowledged that "in the first minutes they pushed a lot, but in the end we got a good victory that helps us gain confidence." The forward stated that "when a new coach comes, the illusions of those of us who have been playing the least are renewed. Not only mine, but everyone's, who have done very well. Welcome to the competition. Sum for the group ». In addition, he detailed that "goals are always confidence for the strikers, regardless of whether it is in the Cup. They always come in handy. Today I had to play the whole game. He served from the physical side and from the confidence ». In turn, he remarked that from now on "I hope I have more minutes. You want to always be, you work for that. This year we have a very good squad and the competition will be tough, but this serves to show that I am going to be there and that I am going to fight it.

www.informacion.es
Eddie is an Australian news reporter with over 9 years in the industry and has published on Forbes and tech crunch.