"I I was struck by the beauty, "says Frédéric Kanouté. His first glimpse was 15 years ago, but it remains in the mind's eye, more impressive than he had imagined, even though what he imagined was already enough to leave a city he loves and be drawn to. And if this was an unusual reason for joining a soccer club, it was proven correct.
Ask the Sevilla fans for the greatest player in their history and many, perhaps most, will name the French-born Malian who went from London to Spain to help lead them to their first trophy in over half a century and the most successful era they ever had. To think that it could not have happened without the Moorish culture and architecture of Al-Andalus.
Which is a good place to start a conversation about soccer, faith, community and identity with a man who has thought deeply about them. There is a silent authority in the way Kanouté speaks, learning and discovery in his memories. About him, especially; about how Lyon, Bamako, London and Seville made him who he is, and the culture that got him there in the first place. "When I was at Tottenham and heard that Sevilla were interested, I thought about the club, the UEFA Cup that year and La Liga, which I always thought would be a great experience," he says. "But I also thought: Seville, Andalusia, with the great heritage it has. That played a role.
"There are still some Muslims from generations back, but not many. It was more architecture and although those monuments were turned into tourist sites or cathedrals, they are beautiful. That culture really interested me a lot. The Giralda in Seville, which had been a mosque. I went to the minaret, the highest point, and there was a ramp inside so that people could go up on horseback. I went there, I went everywhere: the mosque in Córdoba, the Alhambra in Granada. The place is special. It was a fantastic seven years. "
In the second of them, 2006-07, Sevilla won the European Super Cup, the UEFA Cup and the King's Cup, and Kanouté scored in all three finals. They were also agonizingly close to the title. Up for the first time in 60 years: They came to the last weekend with a shot. But after having played 63 games, more than anyone else, they were running out of nothing, real hope had slipped from their grasp. As for Kanoute, it hurt.
"Later you see the difference between the big, big budgets of Madrid, Barcelona and us, in many competitions with a smaller squad. I started to feel pain in my abductor and we were very tired. It was natural for it to fall a bit. "
Back then, it felt like a tragedy, a unique missed opportunity for a team that tore everyone apart and, indeed, for the game itself; More than a decade later, that suspicion was confirmed, the disappointment is deeper. And yet it was the beginning for Sevilla and a year celebrated, not regretted. "It was incredible," says Kanouté. "We had no complex, we were first for a long time, I was scoring goals like crazy."
He had become an idol. That season he scored 21 league goals. In total, he got 136 for Sevilla, won the Copa del Rey twice, the Uefa Cup twice and the European and Spanish Super Cups. Not bad for a man who scored 11 each of his seasons at West Ham, seven at Spurs, a Guardian article asked: where did Kanouté do so well? There is a smile. "Footballers, sometimes we also fool ourselves a bit," he says. "So I'd rather ask: why didn't it go so well in England? I did some good things, but the injuries and the lack of coherence stopped me, I admit it. It seems that I reached my maturity around 27, 28.
"The environment plays an important role. I came to Spain and discovered another football, another culture. The approach was different, which caught my attention from the first session: straight to the rounds: all with the ball, all with a smile, just happy to be there. That is the memory I have. I was lucky, I came to the right place at the right time. We had a fantastic team ". Dani Alves, Jesús Navas, Luís Fabiano, to name just the players that Kanouté has. (In England, by the way, it talks about Trevor Sinclair, Robbie Keane, Paolo Di Canio and Jermain Defoe.)
Still, the goals were surprising. "In my academy years I was not a forward: I was a winger or a central midfielder, dribbling," says Kanouté. "I had to learn on the spot. West Ham was the beginning for me as a center forward. When I talk about reaching maturity at 27, maybe that's the reason; When you think about it, I didn't have much training as a number 9. I had to adjust my game to run less but more effectively; there was a lot that I had to unlearn and relearn ".
Who did you look at? "Ronaldo Nazário was just incredible. In Lyon we played Inter in the UEFA Cup and he was crazy. I was doing things that … "There are no words, just a look that says Woof. And when I was young, I really loved George Weah. He could dribble, shoot, accelerate, do everything. He was the first African to win the Ballon d'Or, a player that beyond football makes us proud ".
And that matters, says Kanouté. "To explain: I'm more of a Muhammad Ali fan than [Michael] Jordan. As athletes, I respect both equally. But Ali had a fantastic impact on society, his community. "
It is an example that Kanouté embraces, considers indispensable. A conscience means contributing: soccer academies in Africa, buying a mosque in Seville, building a children's village in Mali. A message of support for Palestine under his Sevilla jersey. Ambassador of La Liga, he believes that if his is a voice that can be heard, it must be used; selfishness would be do not to. And yet it is used lightly.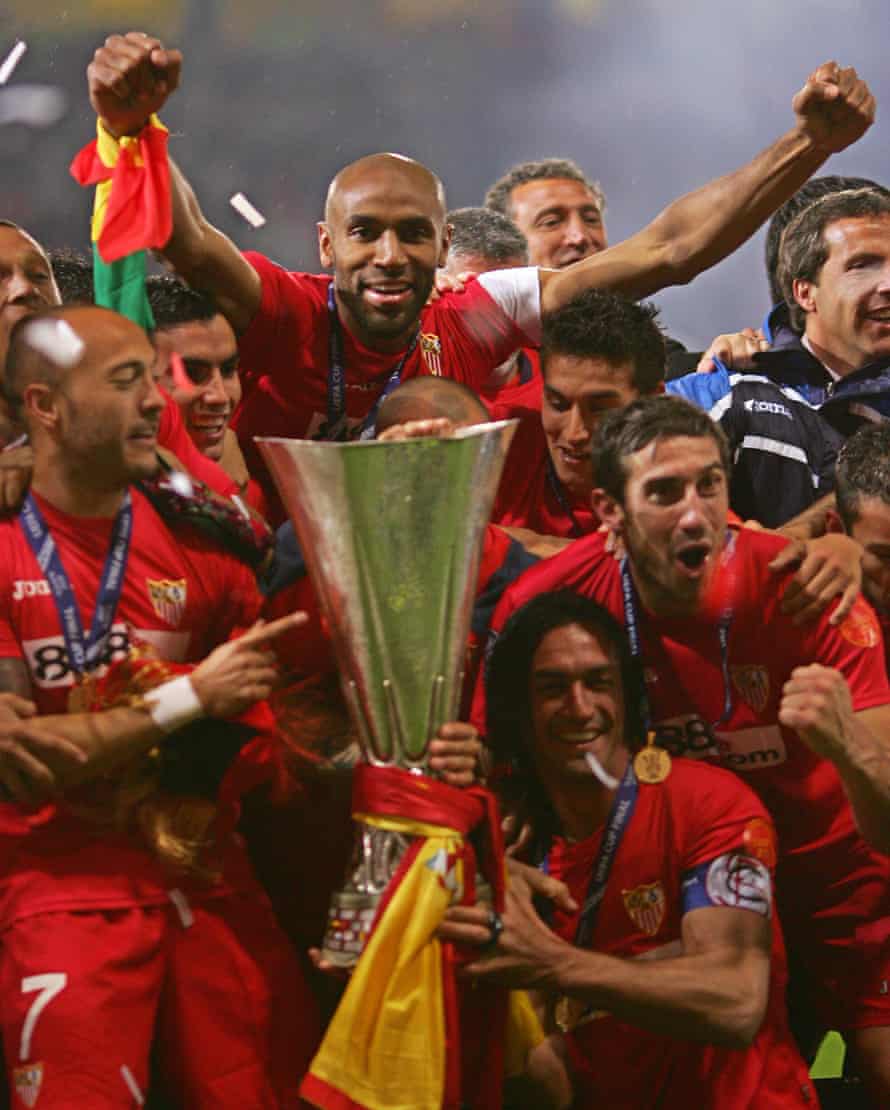 "We are citizens and human beings rather than athletes; the responsibility goes beyond our field of activity ", says Kanouté. "What we do is a means to achieve bigger things, a platform. We have to understand that even when we talk about racism we are privileged, not living in the real world but in the 'footballer' bubble. In many places, they do not treat me as black but as 'Kanouté'. I would realize that where I was not recognized: sometimes I was seeing shocking things. If we are smart, we understand that privilege is also responsibility. Use it well and we can do good to people who don't have those opportunities.
Why? "Freedom," he says quietly. "I grew up in France, surrounded by cement. In Mali, I played with children as if we had been best friends all our lives. All day, outside. I remember that I literally came back crying, returning to this concrete world. I have good memories of that freedom. "
He pauses. But that's a romanticized view. Those children grow up with so few opportunities. When you get older, you understand that this is true freedom: education, being able to go to school. When you are a child you do not realize that, I learned it in the streets of Bamako, but they are certainly not privileged ".
His journey led him to Islam, at the age of 20. "For me, [faith] that's all. That may sound a bit extreme, but it is the opposite: it is as simple as life; If it doesn't help me to live, to be a better person, it's useless. That is what has been misunderstood and it is difficult for Muslims who live in peace, try to improve, make a better world, see the same cliches all the time.
Then Andalusia called: his best years as a footballer, another dimension as a man. Another generation: their children are 19, 17 and 11 years old. "It's crazy," he says with a smile. "They grew up in Seville, it is their first culture. We have a complicated home. We live in London. I speak French, they speak perfect English, my wife sometimes speaks to them in Spanish. When we ask our children where they are from, it is confusing. They know they have Malian blood, but they only have been a couple of times. They also know that they are French. And in Seville they felt Spanish. In the end, they don't care; it is shared and that is beautiful. It is a lesson that they are teaching us, to appreciate everything you have and what you are. "



www.theguardian.com
George is Digismak's reported cum editor with 13 years of experience in Journalism