After spending a third of his location in France trapped in a confinement, modern language student Elliot Bellman was concerned that his conversational skills could suffer. But his weekly talks with Mme. Tolu, a resident of a Parisian nursing home in her 80s, has helped her keep her fluency up to par.
"During the pandemic, it's hard to travel and have those normal experiences, go out and talk to new people," said Bellman, 20, a junior at the University of Warwick. "So this allows me to continue speaking to someone in French. And Mrs. Tolu no longer has family around her, so I feel like I'm helping a little with loneliness. It's mutually beneficial. "
He is one of 107 students around the world who have been paired with an older person in France as part of the ShareAmi scheme, which aims to combat the isolation many older people feel during France's strict closures and also helps students. of languages ​​to develop your skills. while they cannot travel abroad.
"During the lockdowns we saw this growing isolation among the elderly in France, in addition to the fact that students were not able to do exchanges or internships." said Juliette Neyran, one of the organizers of the charity-run plan Oldyssey. "The whole idea behind this is to develop a two-way solidarity where the older person is less isolated, but at the same time is also contributing.
"It's not that there is a helper and a person who has helped, it works both ways, and I think that's what really helps build relationships."
The scheme was first tested with about five language students from the University of Warwick and has now expanded to students from around the world, with more than 6,800 enrolled so far. The small team has struggled to keep up with demand, but is looking to expand with more couples in the coming months.
Neyran said he also hopes the scheme will help build intergenerational relationships at a time when young and old are being kept apart due to the pandemic. "I was definitely nervous starting out, because I don't really have a lot of experience talking to older people," Bellman said. "But she's very easy to talk to and she's great at keeping the conversation going."
"When I was younger, I used to travel a lot, so we've talked about that a lot; He has been to England, lived in Africa for quite some time. And we talk a lot about sports, because she loved to swim. She always asks me what I've been doing, so I talk about my reading and my classes, and we also talk about politics. "
French and Chinese student Isabel Cartwright has also bonded with her language partners, both in their 70s, through a love of travel – she's been talking to Martine, who lives with her husband in Marseille, and Marie-Christine, who she lives alone in Strasbourg. , for several months and plan to visit them both in the summer if you can.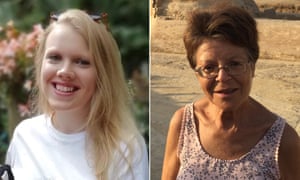 "Martine has been literally all over the world. We are both pretty outgoing people to be honest, she is honestly a pleasure talking to her. And we learn a lot about each other's cultures, "Cartwight said. "Marie-Christine lives alone and her family lives far away, and I know she loves talking to me. He really only has contact with his neighbor during the confinement. "
Cartwright, a sophomore from Stoke-on-Trent, had always struggled with her oral skills in French, but the conversations "really increased my confidence and my ability to speak." Now Martine also has weekly video calls with Cartwright's father to help him improve his English skills.
"It has become a family connection now and I think we give each other a lot to be honest," he said. "The restrictions have been much stricter there and I think it's very important that people have someone else to talk to."

www.theguardian.com
George is Digismak's reported cum editor with 13 years of experience in Journalism