Frida Kahlo is one of the most famous artists in Mexico and has become an icon of pop culture. His story is told in international exhibitions; books; his house and his studio become museums and even souvenirs that are sold everywhere.
Born in Mexico City, in the well-known Casa Azul, Frida Kahlo was the daughter of the German photographer Wilhelm Kahlo known as Guillermo Kahlo and Matilde Calderón. The painter wrote in her diary that she was born in 1910 because of what, she said, was a daughter of the Revolution; however, his date of birth is July 6, 1907.
Her father, who was a photographer and painter, became an example for the artist and they became extremely close. Guillermo Kahlo suffered from epileptic episodes and when at the age of six Frida suffered polio, her father was the one who took care of her, the same when she had the bus accident that marked her life and her spinal problems. Frida describes him in her diary as an example of tenderness and work and above all, she says, of understanding.
Frida Kahlo was the third of four sisters. She studied at the National Preparatory School and during those school years she met Alejandro Gómez Arias, who, in addition to being her partner, was the one with whom Kahlo discussed and was interested in social classes and the uprising of the masses.
While Alejandro and Frida were traveling by bus, a tram collided with them. In this accident an iron tube pierced his hip and pelvis. The severity of the accident was such that they had to wrap her in plaster and bandages so that her multiple fractures would heal.
Due to his injuries and paralysis, he had to remain in bed. It was then that he began to paint more frequently. Her friends praised her work and she gave them her canvases, which at that time had no value. The painter strengthened her work and made countless self-portraits that later became the essence of her work.
Three years after the accident, in 1928, Frida was able to get out of bed and began to frequent circles of political debate in which she met the photographer Tina Modotti and Diego Rivera, who by then was already a renowned painter.
One of the anecdotes of their first encounters tells that Frida Kahlo sought out Diego Rivera to criticize her paintings. After Diego asked him to paint a picture, the famous artist told him that he was talented. Just a year after meeting they got married.
With more than 150 works, the painter is known for her self-portraits and scenes that André Breton tried to classify as surreal and that Frida Kahlo denied, saying that they were simply scenes from her life. In one of the pages of her diary, the painter talks about Bosco and Brueghel the Elder, who perhaps were her true inspiration for her paintings: "Hyeronymus Bosch died in Hertongenbosch in 1516, a wonderful painter. Maybe he was born in Aachen. I am very disturbed that almost nothing is known about this fantastic man of genius. Almost a century later, (less) lived the magnificent Brueghel, The Old Man, my beloved ".
Among his most famous paintings are 'The two Fridas',' A few piquetitos', 'Viva la vida', 'The broken column', 'My nana and I', 'The bus',' The little deer 'or' Self-portrait as Tehuana '.
His work was exhibited for the first time at the Art Gallery of the National Autonomous University of Mexico and his first solo exhibition was held at the Julien Levy gallery in 1938. A year later he exhibited in Paris as part of the Mexique exhibition that took place in the Colle Gallery. The Louvre museum acquired his work 'Self-portrait: The Frame'. It would not be until 1953 that Frida Kahlo's work was exhibited individually in Mexico. In that year her health was extremely deteriorated but the painter did not want to miss the exhibition.
Frida Kahlo passed away on July 13, 1954. The last words she wrote in her diary were: "Thanks to the nurses, orderlies, caregivers and waiters at the English Hospital. Thanks to Dr. Vargas, Navarro, Dr. Polo and my willpower. I look forward to the departure and I hope never to return.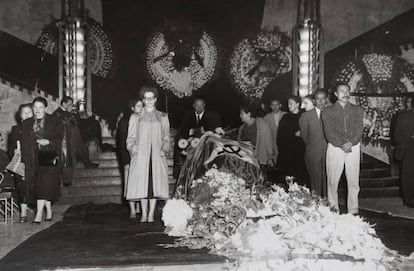 Subscribe here to newsletter of EL PAÍS México and receive all the informative keys of the current situation of this country

elpais.com
Eddie is an Australian news reporter with over 9 years in the industry and has published on Forbes and tech crunch.