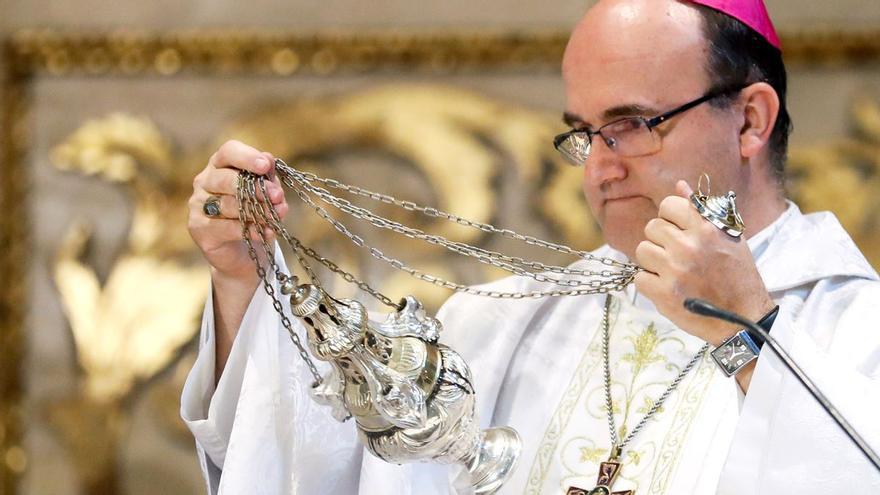 Next June 27 will be the centenary of the appointment of Francisco Javier de Irastorza y ​​Loinaz as bishop of the diocese of Orihuela. A century later, another prelate born in San Sebastián, José Ignacio Munilla Aguirre, will occupy this episcopal see. He would be replaced by a new Guipuzcoan, this time from Hernani, José García Goldáraz, who would end up being Archbishop of Valladolid.
The little-known biography of Monsignor Irastorza is worthy of a thesis as there are surprising dark points that the passing of the years did not clarify and that were hidden in times of informative secrecy, especially for high-ranking religious.
We know that on September 24, 1923, months after taking possession of the Orcelitan headquarters, he had to go to San Sebastián to testify on an issue of capital evasion of which nothing else was known.
In 1935 he asked the Vatican for a dispensation to leave Orihuela for two years due to a 'disease' whose cure the bishop was able to quantify in 24 months. He left as apostolic administrator Juan de Dios Ponce y Pozo, from Granada, from Guadix, assassinated on November 30, 1936 on the outskirts of Elche with nine other priests.
In this troubled time he had to re-testify for another matter of foreign currency flight, moving to Great Britain where he spent much of the civil war as a refugee.
Finished this he returned to Orihuela, but soon, after commemorating the bicentennial of the Diocesan Seminary of San Miguel in 1942, he went back to his native land, without renouncing the episcopal see, dying in San Sebastián of pneumonia on December 29, 1943 His embalmed remains were transferred to the capital of Oriola to receive burial in the cathedral chapel of Nuestro Padre Jesús 'El Ahogado'.
One only has to read the Basque press or the newspaper Religión Digital to see how controversial Munilla's passage through the diocese of San Sebastián has been, where, after being appointed, 77% of its priests, in a statement made public, rejected, indicating that his arrival had caused "pain and deep concern", in addition to the controversial nature of his emphatic views on homosexuality, marital breakdowns, the role of women in society and other issues where he has come to contradict the statements themselves. of Pope Francis.
In recent times we have observed astonished that Xavier Novell, the last bishop of Solsona, a strict defender of independentist and sexual reconversion therapies, had a lover, a writer of erotic and satanic novels, to whom he has made twins. Coincidentally, that diocese was occupied by an Oriolan, José Bascuñana López, between 1964 and 1977.
Another surprising case has been that of the Archbishop of Paris, Michel Aupetit, who has resigned due to an old but ambiguous love affair with a woman, although it seems that the iron authoritarianism with his subordinates could have had more influence.
All this, together with the very serious cases of pedophilia by religious, should put on the table of serene and reasoned discussion the issue of optional celibacy, as it happens in other Christian confessions and in the Eastern Rite Catholic churches, which can be assumed from the moment when it is not a dogma of faith.
Without leaving the diocese, any Oriolan who knows the curiosities of his city, will be able to explain why there is a square and a street called del Rodeo, together, what things, to another public road called La Mancebería, very close to the cathedral .
The Church needs to flee from corporatism, make self-criticism and, of course, temper some radical non-dogmatic positions that can obscure the work of so many Catholics, religious and laity, who do great pastoral and social work.
Munilla should go humbly, affable and helpfully to a land whose idiosyncrasies he does not know and in which he has never been, not to ratify his aura of uncompromising authoritarianism that will find a sure support of the most conservative with, for example, homosexuals, whom It is labeled as sick, but rather to, without looking only at the LGTBI collective, to reach out to other less immobile believers and not belligerent gays, who will find themselves in a tolerant, open and liberal Alicante society that could ignore it because I do not think they want to commune with mill wheels.

www.informacion.es
Eddie is an Australian news reporter with over 9 years in the industry and has published on Forbes and tech crunch.