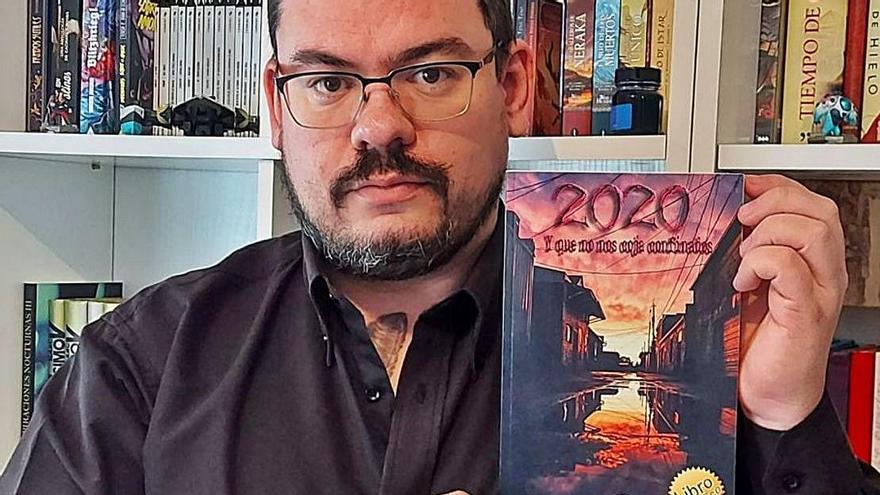 Ten months have passed since an invisible threat changed the rules of the game. Reality surpassed fiction and although we have changed the year, a terrible chapter has not yet been completed. There are few sectors for which the health crisis caused by covid-19 has been good for them and the literary sector is one of the many that is suffering the consequences. To try to come out stronger, a dozen novice writers from all over the country, including two from Alicante, have decided to join together to edit an anthology of stories with which to gather funds that will be directed to the Spanish Association of People Affected by the Coronavirus.
"Literary Avengers", making a nod to the renowned superhero saga, is the name of the literary community that these authors have set up to edit "2020, and let us not be confined", an anthology with twelve stories that went on sale a day ago and with which they hope to help alleviate the effects of the pandemic, despite the fact that most of them also continue to suffer them in the professional field.
The writer from Elche Maria Leiva Guerrero is one of the promoters of this initiative that, although it began to take shape in recent months, was preceded by events in April when the health crisis did not allow the Book Fair to take place. It was then that this young woman organized an online fair on YouTube so that the spirit of Book Day was present and authors could disseminate their works.
In that format, several writers connected in such a way that they have formed this community to develop a book from a distance and coordinated based on video calls, taking into account that the stories are signed by writers from various parts of the country. "We are a team, we are not competition and therefore egos are not worth it", says María Leiva. In addition to the anthology, the group has designed all kinds of merchandising such as mugs, masks and T-shirts to raise funds in this way as well.
This writer recalls that when the central government decreed a state of alarm in March, she was caught with four boxes of her work "The shadows that I inhabit" without distributing "and it was a moment of despair, because now what do you do? you have to wait three or four months for shipments, presentations … and with the confinement I was so long at home that with the situation, the news, the close people without work, the head does not give … and there are colleagues who They have inspired and I could not.
Roberto Caldera, writer for La VilJoinssa, was also plunged into total uncertainty between four walls when the virus was gaining ground. He lost his job as a sheet metal worker, which was his source of income, and the deed was parked for him. «I suffer from anxiety and depression and seeing myself in the economic situation in which I saw myself with two children, I was not able to write or read a book with what I saw on the street … I was blocked with bream eyes when I sat in front of the computer and of the notebook ».
Caldera points out that participating in this anthology and coordinating the work is a personal challenge and a way to "get out of the blockade" that he has suffered. He also understands that with this show of altruism they can support, even with little, those people who, like him, have found themselves unemployed overnight, as well as those who have suffered from the disease and need support.
The stories shown in this anthology are diverse. They have all been written in the last months, and and they all agree that they have 2020 caption words to emphasize the year we left behind. From romantic genre with samples for equality to stories of suspense or terror. The authors also decided that the storyline should not revolve around the covid. "We tried not to have anything to do with the pandemic and confinement as relief, because enough bad moments have left us to put them in a book."
This anthology went on sale just a few days ago and can be purchased from Amazon. At the moment they are trying to give visibility to the project from social networks and have used "collaborators" such as the illustrators SaPittsitts or FFerrisrriz who have contributed their talent to the work.

www.informacion.es
Eddie is an Australian news reporter with over 9 years in the industry and has published on Forbes and tech crunch.