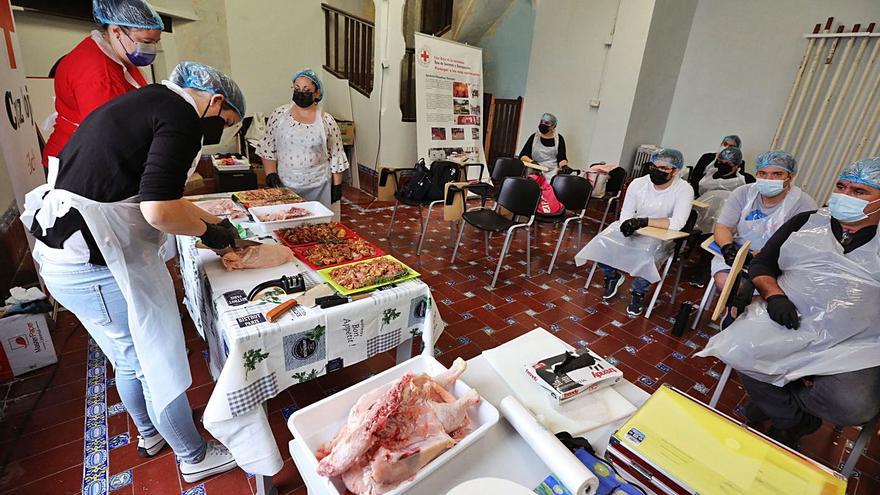 She is one of the twenty students who a month ago began the first training course in butchery and fishmongers that Cruz Roja Elche has implemented in the city in person, and which for now is a pioneering project of the organization at the national level. The aim is for long-term unemployed people to be able to apply for these jobs that are currently in high demand in the world of food. The initiative has been carried out in the new social classroom that the Red Cross has recently rehabilitated in the López Mezquita building.
Experts point out that today there is hardly any external training in this regard, so companies are finding it difficult to find qualified personnel in the cutting and preparation of meat and fish.
"We have been proposing the course for years in the assembly because there are many businesses that asked us for profiles, which are important, especially in certain campaigns such as Christmas," he points out. María Aránzazu Bres Hernández, technique of the Red Cross Elche employment plan, which hopes that when the course is held on these dates, it may motivate the Christmas campaign to be a bait to qualify for a position.
The formation It is theoretical-practical, 100 hours, and ended this week after the start on September 13. Most applicants came from the Red Cross bag itself although they also gave visibility to the initiative from other entities such as Cáritas or Elche Acoge, which is why there has been a diversity in the group. From young people no more than 20 years old to over 45 and from different origins. Although the majority are of Spanish nationality, they have also had participants from Venezuela or Syria.
Antonio Ramón Guilabert, president of the local assembly of the Red Cross, points out that they come from the commercial sector, footwear or cleaning. 75% of the participants are women who, for the most part, went to work as domestic cleaners and were unemployed when the state of alarm was decreed for the coronavirus.
The important thing about the initiative is that they "get out of the hole when they can't find a solution", and see that they can be valid to develop in other professional fields.
Rafa Boix is ​​one of the students. He has been unemployed for more than a year, has two children and his wife only works part-time. "I was forced to live with my parents because we couldn't afford a rent. This course is an opportunity because acquaintances always told me that if I knew about the butcher shop, I would go to work now, "says this 43-year-old from Elche. He understands that the trade he has been learning will be very useful to him in trying to find job stability, since his last job was in the field of pest control "But they only called me seasonally."
Yolanda Izquierdo, trainer, adds that "the students are motivated because they see a way out. They started without knowing anything and have grasped the basic notions of the types of meat and fish and the cut ». At this point he explains that this figure must have a good training because "for example, if a good meat is not cut well, it does not come out juicy and tender."
The Red Cross has financed this initiative with 7,000 euros and expects support from companies for the following editions. For now they are also planning a course of charcuterie and ham cut that could arrive in 2022, in addition to continuing with training in logistics or digital marketing.

www.informacion.es
Eddie is an Australian news reporter with over 9 years in the industry and has published on Forbes and tech crunch.