His dream a year ago was to get to London or Toronto; today, his future is in a small German municipality, Frankenthal. In September 2020, Ismael Yussefi and Masomeh Etemadi wanted to leave the Greek island of Lesbos to start a new life in an English-speaking country. It was the foreign language they had studied in Qom, in Iran. Germany was not an option for them, they did not even know how to place it on the map. In Lesbos they discovered that choosing was not within their reach, and that German Chancellor Angela Merkel was perhaps offering them the opportunity they so longed for.
The Yussefi family starred in a report in EL PAÍS in 2020. A year after arriving by boat on the island of Lesbos from Turkey, the migrant reception camp where they lived, that of Moria, was devastated by fires. Its 13,000 residents – the official capacity of the center was 3,000 people – had to be relocated to a new camp, Kara Tepe, built against the clock because unsanitary conditions reached the limit. Germany was the country of the European Union that promised to host the largest contingent of migrants from the island, 1,600. The Yussefis were elected and on March 26, 2021, after a year and a half on Lesbos, they landed in Hannover.
Ali, the Yussefi's eldest son, leaves school at four in the afternoon. On Tuesday, July 6, riding the bicycle that his father was riding, Ali explained that that day he had learned to say the months and the seasons of the year in German. He claims that he has already made friends in the three months he has been at school; He mostly persecutes his partner Gwan, both eight years old. Gwan comes from Iraqi Kurdistan and is a neighbor of theirs in the reception center where they reside. On the outskirts of Frankenthal (48,000 inhabitants), on a site in an industrial area, the City Council installed prefabricated modules to receive families who already have refugee status, such as the Yussefi, or who are awaiting the decision of the German authorities.
Photogallery: the change of life of the Yussefi
In Germany there are more than 80,000 asylum seekers, according to June data from the Ministry for Migration and Refugees. In 2020 there were 122,000, far from the record of 2016, when the country received 750,000 migrants, mainly due to the humanitarian crisis unleashed in the war in Syria.
The coronavius ​​pandemic and cooperation agreements between the EU and Turkey curbed refugee arrivals in Europe. The situation on Lesbos proves it. The UN Refugee Agency (UNHCR) indicates that 3,600 migrants have arrived in Greece in the first half of the year, and only a thousand, by sea. In 2020, the annual total exceeded 15,000 people, almost 10,000 by sea. In 2019, when the Yussefi reached the coast of Lesbos, 54,726 people crossed the Mediterranean from Turkey to Greece.
The Aegean islands have started the summer with less than 10,000 people interned in migrant camps, compared to 40,000 a year ago, Yvlas Johansson, EU Commissioner for the Interior, assured last June at a press conference. The Greek Minister of Migration and Asylum, Notis Mitarachi, appeared alongside her to announce the construction of new reception camps in Lesbos, Samos and Chios. Mitarachi had to respond to criticism from six Central European countries, including Germany, who have denounced that Greece allows its refugees to leave the country irregularly to settle in other Schengen states.
The German authorities granted 34% of applicants in 2020 some level of protection that allows them to reside in the heart of Europe. In Spain, the second EU country that received the most asylum requests last year – a total of 88,762, more than half from Venezuela and Colombia – the percentage was 31%, according to the European Statistical Office (Eurostat ). In the case of Spain, the very low rate of asylum grants is offset by reception for humanitarian reasons.
Syrians continue to be the largest group among asylum seekers in Germany, followed by Afghans. The exodus of the many of them who are Shiites began decades ago, also in the case of Ismael and Masomeh: their parents come from the Gazni region, controlled by the Sunni fundamentalism of the Taliban. She was born in Iran 31 years ago; he, 40, fled Afghanistan as a child. Both proudly display the diplomas they received from UNHCR for volunteering in an Afghan refugee camp in Iran. The ayatollah regime was not an option for them, they explain, because in Iran they were second-class citizens, forever considered foreigners, with no options to prosper professionally.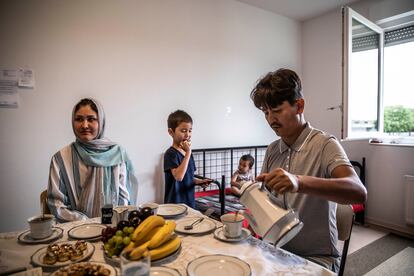 On the way to the reception center, Ismael and Ali stop at a supermarket. "Here the fresh products are better than in Iran", emphasizes the father with a tray of cucumbers in hand, "because you know that what you buy is in good condition". The Yussefis are experiencing the opposite of what Dante wrote in The Divine Comedy on exile: "You will taste how salty is the bread of others / and how painful it is to go up and down / the stairs of others exiled". Yussefi admits that he didn't like Frankenthal at first. Less boisterous than he wanted, with rainy weather and no friends to chat with, discouragement washed over him. Today, he points out, he has changed his mind because people treat them well, he can reach everywhere in a short time and, above all, he feels safe.
Masomeh would like to pick Ali up from school but he can't ride a bike. She stays in the apartment with Mohamed Matin, her two-year-old son. They greet father and Ali from the window. The landscape in front of them is made up of an electricity supply substation and a car park in the industrial estate. Mohamed Matin points to the parked cars while babbling words in English, Farsi and German: "This one is for Ali, that one is for Dad and that one, please, for Mom." The Yussefi home is a flat with a room to eat and sleep, a kitchen in the entrance hall, and a bathroom. They keep their belongings in three old cabinets from the changing rooms of some company.
The mother prepares a special stew based on beef and noodles because Ute Hatzfeld-Baumann, the volunteer who assists them with bureaucratic procedures, will have dinner with them. Hatzfeld-Baumann arrives with a gift for the children. He makes observations on issues related to German society, such as the division of tasks between men and women, or on the education of children, such as putting limits on the hours they can be watching videos on their mobile. He proposes to accompany them to register at a municipal library, and also offers to go buy a television with them. The Yussefis receive 1,360 euros of state aid every month.
The rent of their future home, as long as the State recognizes them as unable to get a job, will also be financed by the administration. Hatzfeld-Baumann admits that it is difficult to find landlords who want to rent flats to refugees. This is confirmed by Andrea Graber-Jauch, director of the Department of Migration and Integration of the Frankenthal City Council. Despite this, Graber-Jauch indicates that of the 935 asylum seekers who have been assigned to the municipality since 2015, 850 reside in Frankenthal with some level of protection: the vast majority of these live in their own homes.
Hatzfeld-Baumann, 70, retired in 2014 as an employee at a water meter manufacturing company. After retiring, she decided she wanted to dedicate herself to helping the community, and her moment came with the wave of refugees in 2015. "At that time, I was serving maybe 40 people a week; now it's 50 a year, "he recalls. Hatzfeld-Baumann accompanies the Yussefis in their first steps in Germany until they have a place in the compulsory integration courses. The most comforting moment, he says, is when one of his protégés gets a job.
Camilla Flöther is a retired high school teacher and volunteer German teacher for newcomers. He gives two hours of classes a week to the Yussefi. With her money, she has bought them a German-Farsi dictionary and says she is especially optimistic about Masomeh: "She is gifted with languages, she is very intelligent." Flöther and Hatzfeld-Baumann coincide in assuming as inevitable the problems of adaptation between such different cultures; For this reason, Flöther believes, Spain is lucky to assume a migration from Latin America that shares a language and cultural roots: "In Germany there is still fear of refugees. I can understand it, in older people, such a sudden change. It is fear of the unknown, as old as humanity ".
The Yussefi enjoyed their first picnic on 7 July at the Silbersee, the lake adjoining Frankenthal watered by the waters of the Rhine. They took advantage, like so many others, of one of the few sunny days in July to bathe and dine outdoors. Christian Wüst offered to give the children a ride with his paddle surf board. "Things have calmed down, even the push from the extreme right. The majority of Germans live the situation well ", said this young man from the area while trying the dishes prepared by Etemadi.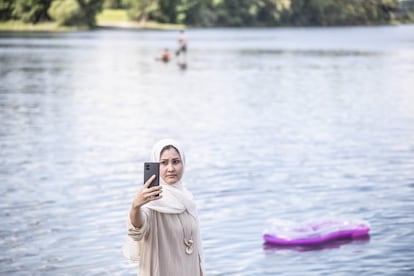 Mathias Middelberg, CDU's home affairs parliamentary spokesman, stated on the radio on 5 June Deutschlandfunk that the Chancellor's party expects Germany to end the year with 150,000 asylum seekers. "We cannot host so many people indefinitely, nor can we integrate or serve all of them," said Middelberg. "Receiving so many people is a challenge, yes, but it is manageable and we need it for the great demographic change that Germany is experiencing," replies Graber-Jauch, the head of migration for the Frankenthal City Council.
"The Taliban are advancing in Afghanistan and more people will come," Etemadi warns. Many acquaintances write to them to ask how they got it; they reply that it was very difficult and that there is still much to do. Their father-in-law, Ismael's father, recently spoke to them again after months of refusing to speak to them for having left Iran leaving everything behind. "My father assumed that we had no future there," sums up Yussefi. They understand reconciliation as a kind of blessing. "I think so, we will stay in Germany," she says without losing sight of her children, who are playing on the shore.

elpais.com
Eddie is an Australian news reporter with over 9 years in the industry and has published on Forbes and tech crunch.