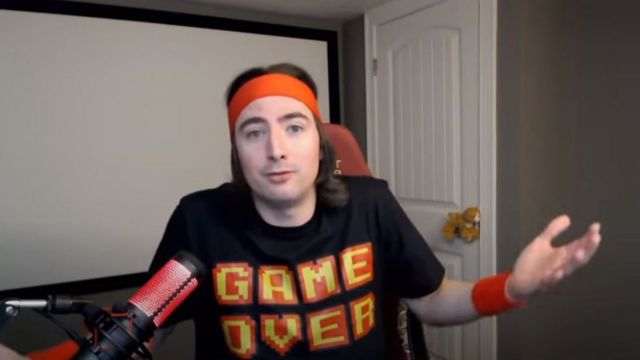 A man who became a key player in GameStop's frenzy in stock trading in late January is the subject of a class action lawsuit.
The plaintiffs accuse Keith Gill, known as Roaring Kitty ("Roaring kitten") on YouTube, from tricking retail investors into buying inflated stocks while hiding his sophisticated financial history.
Gill has downplayed his impact and denies breaking the law.
Gill testified Thursday before a US Congressional committee at a hearing on what happened to Reddit, Robinhood and the shares of GameStop and other companies in late January.
"The idea that I used social media to promote GameStop shares to unaware investors is ridiculous," Gill noted in his testimony.
"I was very clear in stating that my channel was for educational purposes only and that my aggressive investment style was probably not suitable for the majority of people who watch the channel."
But who is this man who has generated so much attention in recent days?
"Roaring kitten"
Keith Gill, who uses nicknames DeepFuckingValue on Reddit and Roaring Kitty On YouTube and Twitter, he is a 34-year-old American financial analyst and investor known for his posts on the Reddit subgroup #wallstreetbets.
Gill is licensed as a broker and specializes in equity market analysis.
In his speech this Thursday before the Committee on Financial Services of the US House of Representatives, Gill spoke of his humble origins and recounted that his foray into the world of the stock market grew out of a purely personal curiosity.
After graduating in 2009, in the midst of the global financial crisis, Gill explained that between 2010 and 2017 he had intermittent jobs combined with periods in which he was unemployed.
In 2019, the great opportunity came when he was hired by Mass Mutual, a company in which he worked until his resignation on January 28.
Gill's posts on financial market networks have been described as "candid and spreadsheet-filled" and he warns on his YouTube channel: "I am not offering personal investment advice or stock market recommendations in this broadcast."
This warning has not prevented you from being involved in the GameStop plot.
Earning with GameStop
In June 2019, Gill began to pay attention to GameStop, a company that he believed had great potential and whose shares he considered were undervalued.
It was then that Gill bought shares in the company from US $ 5 per share.
In his appearance on Thursday, the financial analyst indicated that, at that time, he thought that GameStop shares should be worth between US $ 20-US $ 25.
His analyzes of GameStop stock and its potential earnings posted on Reddit and YouTube were cited by many as one of the triggers for the video game store chain's stock surge in late January and as the spark for the subsequent madness. stock market.
As of January 27, according to screenshots he shared on Reddit, Gill's original investment of US$53.000 it was valued at nearly $ 48 million.
The stock's value continued to fluctuate wildly, Gill lost $ 15 million in one day and, at the close of the markets on January 29, The Wall Street Journal confirmed that their brokerage accounts amounted to US$33 millones.
In an interview with that newspaper, Gill said that he is not "an agitator with the intention of attacking the system, but someone who believes that investors can find value in unwanted stocks."
What do they accuse him of
Gill is accused of using social media to boost GameStop shares from $ 20 worth of early January to more than $ 400 in just two weeks.
This violated security laws against market manipulation, according to the lawsuit filed by Christian Lovin, a Washington state resident who bought GameStop stock.
In his defense, Gill insists that he used publicly available information to determine that GameStop was undervalued and that he shared this opinion with a "tiny" group of followers on social media before the huge increase in the value of the stock.
"It explained why I found the investment in GameStop attractive as I would in bar conversations between friends," he alleges.
The suit also cites as defendants Massachusetts Mutual Life Insurance Co and its subsidiary MML Investors Services, where Gill worked until January 28.
The company told Massachusetts regulators that it was not aware of Gill's outside activities.
Hearing in Congress
Gill responded to questions from US lawmakers on Thursday about what happened to Reddit.
Vlad Tenev, co-founder and CEO of Robinhood, the investment platform that restricted the purchase of GameStop shares during the maddening rise in value
Gabriel Plotkin, Founder and Chief Investment Officer of the hedge fund Melvin capital
Steve Hoffman, director and co-founder of Reddit.
What happened with GameStop was hailed as a victory for ordinary people against the greats hedge funds (hedge funds or hedge funds) on Wall Street that were betting against GameStop and other companies that were struggling financially.
Speaking in Congress, Gill reiterated that he did not cause all the commotion from a few weeks ago and lamented that retail investors lost large amounts of money.
The analyst said that last June one of his sisters died and that the immense earnings he obtained will help him to help his family in such painful moments.
Remember that you can receive notifications from BBC Mundo. Download our app and activate them so you don't miss our best content.

www.bbc.com
Eddie is an Australian news reporter with over 9 years in the industry and has published on Forbes and tech crunch.